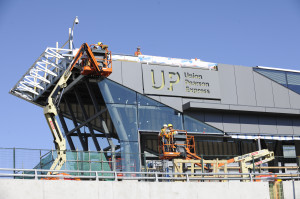 The Union Pearson Express station at Toronto Pearson International Airport's Terminal 1 is now 75 percent complete.
Construction has been going on for six months to build a new station to facilitate express transportation between Union Station and Pearson Airport. The contract for the project is being overseen by Metrolinx and Infrastructure Ontario, and the UP Express Station and corresponding spur line are being constructed by AirLINX Transit Partners Inc.
Because the site of the Union Pearson Express Station is beside the airport's Automated People Mover (APM); the APM (which is used both by airport passengers and Greater Toronto Airport Authority employees) was temporarily closed to accommodate construction. Alternative transportation arrangements were made. Now, use of the APM will be restored to the Greater Toronto Airports Authority.
The Union Pearson Express is slated to begin service in 2015, and currently construction is on track. It is part of Metrolinx's plan called "The Big Move" and the goal is to have the UP Express operational in time for the Pan/Parapan American Games.