Life provides a series of challenges for this
effervescent City Councillor and solutions seeker.
Words by Mike Douglas
Maybe, like me, you can remember those teens from high school who seemed older, wise beyond their years. Ron Starr was one of those precocious types for whom being involved was the important thing.
"I was into recycling way back. I was a junk man. My parents weren't too happy." But he made up for it as a singer. "I was part of The Monarchs, four guys singing doo wop in high school. People ask me, why would you do all these things?" He shrugs, "Hey, that's life."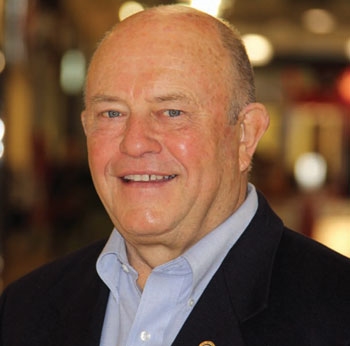 Born in downtown Toronto, Ron Starr's family kept moving west, eventually landing in Etobicoke. He bought and customized his first car at age 15, sold it at 16 and soon a pattern was set: buy them, fix them up and sell them. He left high school without graduating then went back to school years later through the University of Waterloo's co-op work/study program. He needed to understand how cars worked and chose engineering. He had hoped to go to Michigan Technical University on a hockey scholarship but found the university already had a goaltender by the name of Tony Esposito, a future Hall of Famer for the NHL's Chicago Blackhawks. So there would be no scholarship, but he did find that he loved the easily available hunting, fishing and camping.
That Will Be One Dollar
Starr liked the university and the problem-solving approaches he was learning, and after his sophomore year he married his high-school sweetheart, Elaine. A father by the time he graduated, Starr got a job as a research engineer with the Pittsburgh-based aluminum giant, ALCOA. One of their first challenges was figuring out how to make a beer can from one piece of aluminum. Ron and his team solved the puzzle and he signed a patent agreement with them for one dollar.
"ALCOA was good that way." He smiles. "I realized I didn't want to be an engineer. I liked the education but I really wanted to start my own business."
So he began a night school MBA program at University of Pittsburgh, but the birth of his second daughter made that impossible. Over four years in Pittsburgh, "I think we made 50 trips to Etobicoke, every third or fourth weekend. So we moved back and I started taking financial planning courses at night to prepare for a new career."
One Business Begets Another
Starr began working as a financial planner and living in the Dixie and Queensway area. When he and Elaine couldn't find a daycare centre for their daughters, they decided to start their own—eventually Elaine would be running seven daycare centres. In turn, when they couldn't find playground equipment suitable for little kids, they started a manufacturing company to make swings, slides and monkey bars. And Starr became president of Ressco Recreation.
In 1978, an opportunity to make a difference in his community came up with the City election and Starr decided to run for Council. He won, but two years later he lost to Dave Cook and took on another career direction.
Why Not?
"Too many people say, 'Oh I can't do it.' Yes you can. Apply yourself." Starr sits forward enthusiastically—this is his life's philosophy he's sharing.
"I always wanted to develop some land and so I started a development company, bought some land and lost a lot of money. But, we learned." He realized that other developers were like him, and needed guidance through the process. He decided to form Danlee Management Inc., named for their daughters' middle names. Their consultancy was perfectly positioned to capitalize on the accelerating development of Mississauga, and in two years Danlee came to the attention of a major developer. First Professional Management signed them to an exclusive contract to oversee the development of subdivisions. Immediately Danlee began hiring surveyors, engineers, architects and soil experts for their first project: building 1,550 houses in the area of Bristol and Creditview.
"Suddenly everything came in terms of millions. All the soil that makes the BraeBen golf course came from our subdivisions." He shakes his head remembering, "50,000 truckloads." They entered a five-year period of non-stop construction on another new project, developing 800 acres north of Britannia Road between the 9th and 10th Lines, a community with roads, schools, plazas and 4,000 new homes. Along the way, Starr served as President of the Board of Trade, and he volunteered for community festivals and hospital boards. "I needed to give back and get involved."
The Political Gamble
In 2006, two new City Wards were opened up for representation and he thought that Ward 6 needed a businessperson who understood development. He felt he had a lot to offer. His companies were in good shape, and "I thought, 'What's the worst that could happen'?"
He'd find out the hard way, losing the election and getting hurt in the process. On the night before election day, sheets of paper featuring a collage of headlines citing old fraud charges against him were stuffed in targeted mail boxes across Ward 6. Notably they omitted headlines about a lack of evidence and the charges being dropped. The effort may have helped a well-known Member of Parliament to defeat Starr by 1,500 votes.
"It's pretty easy to attack someone." His voice drops. "It was a sad part of our lives."
Bouncing Back
He was bitter, but not for long: in the summer of 2010, Starr went to work seven days a week knocking on doors in Ward 6 and was elected as their Councillor in October 2010. Now, after his first year back on Council, what's at the top of his to-do list?
"I intend to fix gridlock," he says. "We need a transportation committee to help seamlessly provide services across the GTA. And if people from Malton want to go to the waterfront, how are they going to get there?"
For this energetic Councillor, that's just another challenge in search of a solution.
---
Locating Ward 6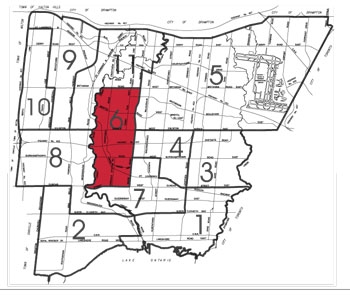 The Ward 6 boundary runs east along Britannia Road from the Credit River to Mavis Road, south along Mavis to Dundas Street, west along Dundas to the Credit River and north beside the Credit River to Britannia Road.
The biggest current issue is the number and nature of secondary rental units. Ward 6 has 22,000 homes, 79,000 residents, speaking 57 languages, including the City's largest Chinese community. Facilities feature River Grove Community Centre, Erindale Park and the Riverwood Conservancy.