Words by Colleen Munro
Cagneys has sat in the same location in the heart of Streetsville for 40 years and offers the unwaveringly friendly atmosphere of a family-owned business. However, those familiar with the restaurant will undoubtedly notice some major changes when they stop by nowadays.
After opening its doors in 1974, Cagneys became a favourite of local residents, and the look and feel of the restaurant stuck. Dishes like the Caesar salad became Cagneys signature, and regulars salivated over the steak and ribs. But as the restaurant's 40th anniversary approached, the Cagneys team decided it was time for a change.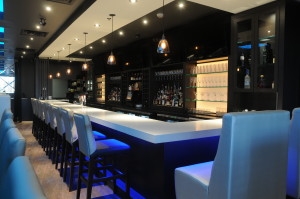 Co-owner Alexander Lassos (the son of one of the restaurant's original owners, Gus Lassos) brought a new vision to Cagneys, reimaging the restaurant as an elegant oasis in a neighbourhood with a small-town vibe. "I wanted to bring that downtown feel [to Cagneys]. Like you're not in Streetsville anymore," Alexander says.
With elegant lighting, sleek marble surfaces, and plush new seating, Cagneys looks dramatically different, and Alexander says that the process of choosing d?cor was very personal. "My father and I picked everything," he says. Alexander also cites his love of and experience with the restaurant scene as the inspiration for reimaging Cagneys. Born the same year Cagneys opened and working at the restaurant for much of his life, Alexander has turned it into his dream restaurant. "Everything came together," Alexander says. "I've been working towards this my whole life."
Having brought a more upscale feel to the restaurant, Cagneys followed suit with their menu. In addition to staples like the Caesar salad, the menu now offers innovative dishes like Chilean sea bass with a puttanesca sauce and the rack of lamb, both of which have become new customer favourites.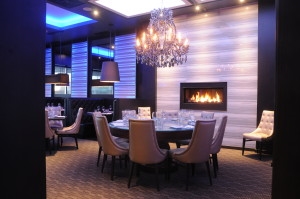 The secret, Alexander says, is keeping everything as homemade as possible. "Fresh, fresh, fresh – that's the key." Cagneys also brings this mantra to their drinks menu, which includes a variety of cocktails with fresh-squeezed juices, such as the maple bourbon lemonade.
However, despite the changes, Cagneys remains a close-knit operation. Alexander and father Gus work together closely to run the restaurant and, wanting to offer a more affordable option for families, Cagneys is planning to launch a new weekend brunch menu this spring. Cagneys may be a more upscale place now, but the family-minded approach holds strong. "You don't have to spend a fortune to still get a nice outing," Alexander says.
Cagneys
128 Queen Street, Mississauga
905-826-2311