You can be anything you want! This year's 2012 paint trend forecast suggests colour palettes to satisfy every mood: inspirational, whimsical, dynamic, optimistic or timeless.
Compiled by Kat Runnalls
February may be the shortest month of the year, but it can sometimes feel like the longest. With more time spent indoors, our focus changes to our immediate surroundings—so why not banish the winter doldrums with colour and refresh your living space to reflect your own character and aesthetic?
Paint is a quick and economical way to infuse a new dynamic in your living space and the trends for 2012 appear to present us with many choices. Choose the perfect colour to add pop to a room, give it sophistication or provide a sense of solace from the winter wonderland outside.
According to colour experts and designers, there are a number of palettes to choose from in 2012 ranging from calming neutrals and vibrant earth tones to lively pastels and jewel tones, plus blues, juicy reds, oranges and candy colours. Colour zoning or blocking—where a number of colours highlight various parts of the room—is also a popular trend for the New Year.
---
TURN UP THE HEAT
Vibrant tones are not for the weak at heart but for those who want something flamboyant, irresistible and dynamic all at the same time. These colours animate spaces with a lively sense of optimism and energy.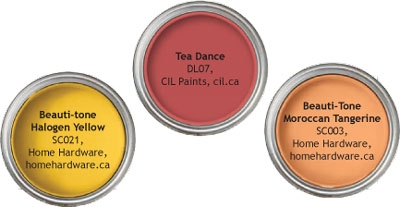 ---
TIMELESS AMBIANCE
Blues and greys in the 2012 colour forecast provide a sense of nostalgia and quiet intensity. Rooms exude elegant ambiance and serenity. These colours look fabulous paired with natural wood tones and whites.

---
CALMING NEUTRALS
Delicate subtle tones can stand alone or play well together. Create a calming and inviting impression with nude pinks or soothing neutrals such as whites and taupes for vintage chic or fresh sophisticated looks.