Dear Nicola,

Help! What colour countertops and tile do I pair with off-white kitchen cabinets?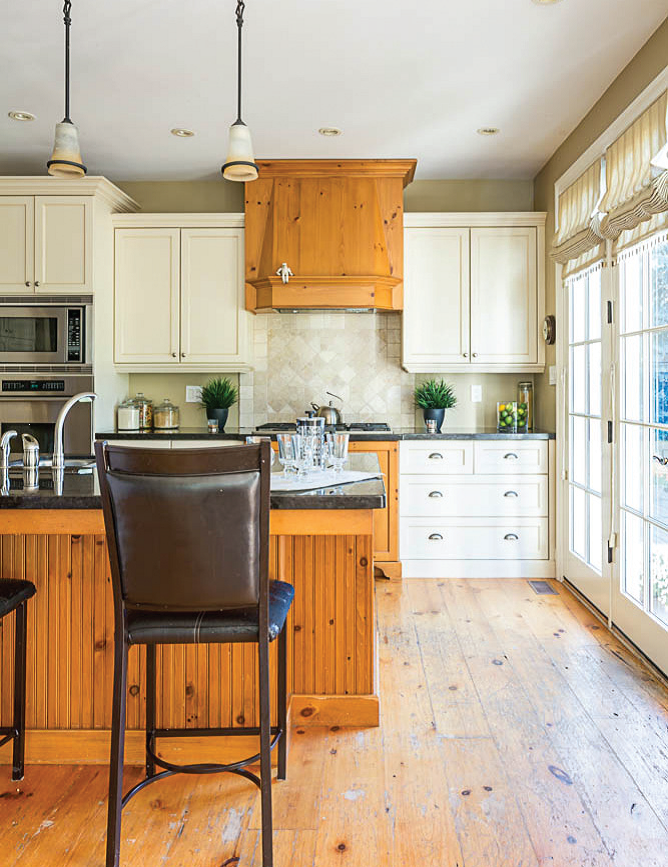 There are many things in life that never go out of style: good manners and white kitchens are two of them. White kitchens are always in vogue!
In fact, it's hard to find a design style that doesn't work well with white or off-white: modern, eclectic, French country, minimalist… the list goes on.
I firmly believe in making the design complement the home. For example, in my own home, a 200-year-old Ontario farmhouse, I used off-white cabinetry when I remodelled the kitchen, but varied the height to prevent the kitchen from feeling too fitted and to make it feel like it belonged with the age and architecture of the home. I used some pine cabinetry to complement the pine flooring as a contrast to the off-white cabinets. The space is very bright and flooded with light, so I used antique brown granite countertops for balance and contrast. I still love the result. This style, contrast and variety works well for my home but would not be appropriate in another.
I often work with clients whose spaces or tastes are more modern. When working with a client who was remodelling their townhome kitchen, we had a narrow, poorly lit space to work with, and we wanted to keep the kitchen modern and sleeklooking as well as maximize the visual space. We used fewer elements including glass subway-style tile in smoke grey for the backsplash, which added a little sparkle and the illusion of making the room feel larger. We grounded the room with a faux slate tile with matching grout to make the floor flow seamlessly. We kept the contrast low by using a solid surface countertop in bone with soft grey undertones, allowing the eye to follow the flow of the cabinetry to give the feeling of a larger space.
The key with light cabinetry is to determine the overall feel and look that you desire in your space. If you want a modern style, keep your elements, backsplash, counter and flooring simple and from the same colour palette. If you want a more traditional style, use a higher contrast in your countertop and introduce some natural elements, such as a wooden butcher block, or natural stone for the backsplash.
The allure of off-white cabinets is timeless, so take your time, research what you like, make sure it fits with the style of the rest of your home and have fun! Really, you can't go wrong with a white kitchen!
---
If you have an issue that Nicola, owner of Nicola Interiors, can address in the design advice column, we'd love to hear from you. Contact us at [email protected].