Words by Michael Spaziani (with apologies to Joseph Conrad)

"Going up that river was like travelling back to the earliest beginnings of the world, when vegetation rioted on the earth and the big trees were kings. An empty stream, a great silence, an impenetrable forest."- from Heart of Darkness
As Mike Douglas and I headed out one morning, lines from Joseph Conrad's Heart of Darkness and The Congo Diary flew about in jest. We were about to head upstream on the Credit River from its mouth in Port Credit to the north, as far as possible, uncertain about what we would find.
We had not penetrated above the first rapids before, just north of the QEW viaduct, through the sacred lands and manicured lawns of the Mississauga Golf and Country Club, reserved for men in colourful shorts, white legs, branded hats and membership cards. As with the fictional protagonists, we feared for our safety as errant white spheres whizzed past our unprotected heads like domesticated shrapnel.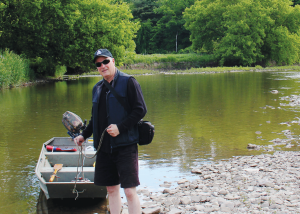 The Rapids
Our motor launch was modest: a flat-bottomed river skiff with a camouflaged outboard that needed to be spoken to in loving tones to keep running. It, of course, was useless as we approached the first shallow rapids. Following a rainy day upstream, the water was flowing fast and dense with dirty sediment. The only way to advance was to step out and manually tow the boat upstream to the next bay of deeper, calmer water. Then we could drop the motor and advance another 200 or so yards to the next set of rapids.
These rapids were more challenging, and again we towed the boat through the rocks upstream. After 260 yards of relative calm, we passed pipes spewing water from the west bank (possibly from the storm/irrigation ponds of the club), and we passed under pedestrian bridges with stout golfers waving.
Then we reached the big one: a raging torrent of rapids with hundreds of large rocks and swirling eddies. How to traverse these churning waters? Should we portage on the private lands, call "fore!" and trespass?
We persevered, stepping out onto the river bottom and trudging upstream through the rocks and rapids, into deep pools with remarkably strong currents; it was hard to stay upright. Finally we reached the top of the rapids, but not without casualties: Douglas lost a shoe; I broke a toe. The river had exacted its punishment.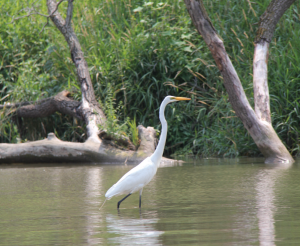 After wading another 800 difficult yards upstream, we reached our next goal—the Credit Valley Golf and Country Club. Here, the waters were smoother but still flowing at a rate that made paddling impossible.
After three hours and 3.7 kilometres upstream from our starting point, we paused to take in a sense of achievement in having reached the furthest northward point into our "heart of darkness." Yet in that moment of satisfied reflection, we considered what we hadn't seen on our trek: no other canoe, kayak or vessel; no one else out to enjoy this river (golfers didn't count); and aside from an egret, a blue heron and maybe a hawk, no evidence of wildlife—not even one deer, fish or turtle.
What caused this lack of life? Was this a consequence of the constant rapid flow? Was it running too fast to support wildlife? Do golfers scare away animals? Do people feel too much like trespassers in this privatized golf context? Were there any public access points?
I suspect all of the above conspired to get this result.
---
Now What If…
What could be done to return the Credit River to its glorious life-filled origins? Douglas and I brainstormed on those banks and imagined this:
What if the river was managed with certain environmental interven-tions that would tame the flow to minimize silting downstream and provide still-water habitat for all sorts of wildlife? There was a time when many dams existed in the valley for mill power reasons. Perhaps the introduction of new dams or fish ladders could regulate the river flow better in support of habitat creation by calming the flush?
What if a small section of each bank could be naturalized to control storm-water runoff, passively filtering all water that enters the stream?
What if a walking/cycling trail could be created that brought occasional public access to the river, providing a connection from south to north, linking the existing Culham Trail at The Riverwood Conservancy to the south? What if the Queensway was extended?
What if partnerships with the two golf courses could be forged that gave them development rights in exchange for the consolidation of the two courses into one world-class course that would again attract the Canadian Open, and a new generation of members that could get behind some of the major environmental benefits that might flow from ceding some of this river valley back to a natural state?
What if a memorial to the original First Nations settlement along the banks of the Credit could be re-established and made publically accessible?
Are we dreaming?
My firm is currently looking at the future of the York Downs golf course in Markham. This course has already moved once from its initial location in the Don River Valley near Bathurst and Sheppard, where it existed for 47 years. Now after 30 years at its second location at 16th Avenue and Kennedy Road in Markham, it is offering its land up for redevelopment. That redevelopment will return the river valley to its appropriate natural condition while introducing new public access as well as new, appropriate levels of development. Each move generates benefits to both the club and the public in a way that is mutually advantageous.
Yes, we can do this. Not only is it a time to dream, it is a time to act.