Words by Chris Carriere
This March, HGTV's Mike Holmes marks the 10th anniversary of his onscreen career. Since he got his start with Holmes on Holmes, which first aired in 2003, the brawny builder has become one of Canada's highest-profile tradespeople, and certainly this country's most outspoken advocate for, well, not screwing things up.
Holmes on Holmes has given way to three other original series, including Holmes in New Orleans, which saw the man himself partnering with reigning Hollywood monarchs Brad Pitt and Angelina Jolie to help rectify the destruction left by Hurricane Katrina. The philanthropy bug must've bitten the big man during his time in the Big Easy, because his newest program, Holmes Makes it Right, has got him rebuilding a playground after a tragic case of arson and designing an accessible deck for a deserving high school teacher after a hit-and-run accident.
Mike was kind enough to give us his thoughts on his career, his stardom, and his mission, onscreen and off.
Chris Carriere: The new series really emphasizes the stories of the homeowners. Why the move to a new format?
Mike Holmes: To me it was logical. What I liked about Holmes Inspection and Holmes in New Orleans was they were very story-driven shows. Take the show in High Park, with this fool who burnt down the playground. There are so many people involved: the police, the firemen, the government and many volunteers. This opens up a big opportunity—whether it's fixing a school or helping someone else deserving. I love it because it's story-driven, and I think that makes a huge difference.
CC: A lot of the jobs on Holmes Makes it Right aren't just negligent or botched—many are examples of criminal fraud. How can people looking to hire a tradesperson or contractor spot a crook?
MH: I call them the good, the bad and the ugly. Most of the time, we see the ugly coming. They're a very low percentage of the industry, but they're so good at taking your money. They don't look professional, they don't sound it, and they're very eager to get your dollars. Typically, if you're getting taken it's because you didn't do your homework. Calling the references is key.
CC: What do professionals sound like?
MH: The professionals want to talk about the products, and they want to get to know you first—they almost never talk about money right off the bat. When it comes to the bad and the ugly, the deal they promote is just too good to be true. We shot a show where there was a kitchen company that conned over 60 families. The kitchen was just too cheap! There's no way you can get a kitchen for $13,000, supplied and installed with granite countertops and kitchen cabinets, in two weeks! It's not real.
CC: You built a beautiful home in New Orleans for Gloria Guy—a Katrina survivor with an incredible and moving story. Are you still in touch with her?
MH: We always stay in touch with our clients. Gloria's emailed us many times; we've heard a lot about her grandkids being in the house. Hurricane Gustav didn't even scratch the house, though it did wipe out some of her garden. Other than that, the street is growing, I believe just over 70 houses have been built now.
CC: How much longer do you think the Make it Right project will continue?
MH: I don't see an end in sight for the Make it Right Foundation. It should have been a lot easier; it should have been hundreds of houses by now. Once we'd built the first six houses, people just started selling their properties because the real estate values went up. That was pretty sad. The idea was to build a whole area that was new, innovative, green—when people start selling their properties just to build houses and make money, it changes everything.
CC: So much of your work on television is about pushing back against the people who do what you do and do it badly, and the Holmes Foundation seems like an extension of that. Could you tell us about it?
MH: After a few years of Holmes on Homes, it became clear that it was time to start going a bit further. I'd already been working with the WIST (Women in Skilled Trades) foundation and had just started working with Skills Canada; this was just a logical extension. My goals were really simple: one, to give away scholarships and bursaries to get people into the trades; and two, to work with colleges and universities in any way I could, to make it easier to get into the trades. I'm starting to see a change in the perception of the trades, now—it's becoming cool. Before, you might've been labeled a dog just because you were a contractor.
CC: After 10 years, are you still passionate about TV?
MH: I hear it's a big thing to be on TV for 10 years! But it's not who I am, it's just what I do. I don't care about TV—it's not a thrill to me. But it's helped me to do what I needed and wanted to do: to educate contractors and homeowners, and educate young people. The idea that there are kids who want to be the next Mike Holmes blows me away.
CC: What's next for Holmes?
MH: I'm always working years ahead. I'm really proud to say that the Holmes Homes community in Alberta is finally going to break ground this year. It's going to be Canada's greenest community, and that's made it a lot harder than I'd imagined. I'll also be launching the Holmes Referral Program; I want to find the best contractors across Canada and offer customers three of them, so they can pick the one they want. I'm also producing The Fix-it Chicks, which will feature three women, including my daughter.
CC: Do you like producing?
MH: I've become a producer, and I didn't expect it. We're working on quite a few shows. I'm only going to be on television for so long, so I might as well start making replacements—better shows.
***
HOLMES HOMES COMMUNITY
What is the Holmes Homes community in Okotoks, Alberta all about?
Mixing old technology (e.g., skylights, cistern tanks) with new technology (e.g., sustainable solar energy)
Walkable and social—no 10-foot fences
A work-to-live area
Net zero—produces more power than it uses
Design around nature, don't bulldoze it
Houses cost the same as the inferior grade housing one community over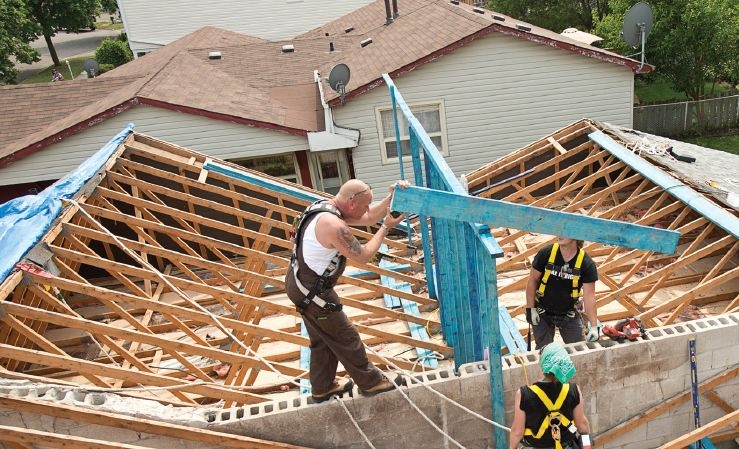 Mike Holmes has been taking on so many whole-house projects for Holmes Makes it Right that he's behind schedule. If you or someone you know is deserving of a smaller-scale renovation, visit makeitright.ca and tell them your story.