Every candidate has to have a first campaign and when running for Mississauga Council against a popular incumbent it can be a bumpy ride.
Words by Christine Simundson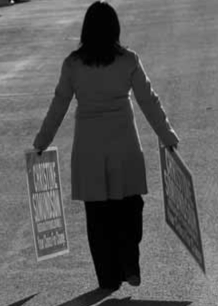 The morning of October 25, 2010 was unlike any I had ever experienced. It was Election Day and I was a candidate for Mississauga City Councillor in Ward 11. I woke up at 4:30 am to canvass at the Streetsville GO Station. Fog covered the city like thick soup and you couldn't see the commuters until they were just a few feet away. After we set up our poll scrutineers we had 17 hours until the results rolled in.
Just before 9:00 pm I was parked outside the Rogers TV studio waiting to go on air. Was my vote count embarrassing? When I walked in I was told I came in third with 800 votes. A smile stretched across my face.
Back in January when I put in my nomination for Council it was the first step in pursuit of a dream I'd had for 10 years. I'd been waiting for my age to catch up with what I really wanted to do.
Right away someone I admired and respected asked to meet me for coffee. I was excited to accept, thinking that they were going to offer to support me and give me some good hearted advice, maybe share some war stories about politics. WRONG! This person wanted me to withdraw and run some other time! They wanted to support someone they felt had a better chance against George Carlson, the Ward 11 incumbent, an experienced veteran and a lifelong resident of the community. They thought that perhaps I should start at the School Board Trustee level. They were right I hadn't been on any board of directors. I am young but I have a background in legal services and volunteer work and I am a lifelong resident of Mississauga.
I asked myself – what have I done! Could this person be right? Stressed, I fell ill. Serious soul searching began, tudying not only myself but the City. I obtained the City Budget, City Plan, copies of all minutes from the past 3 years! I needed to learn as much as I could as fast as I could. After two weeks in seclusion I went to dinner with two people I really respect and asked – should I continue my campaign? One said, you know you are making the right decision if your heart and your head are on the same page. I decided to go on.
Canvassing in Streetsville, trying to unseat an incumbent, well known for longer than I have lived, I heard people say they knew him as their Trustee or Councillor, or they went to school with him or worked with him. I was stuck in the middle of incumbent land. And it felt like walking through a fun house at the CNE with smoke and mirrors and slanted walkways. Once I got my bearings I started listening to what people needed and the fight in me grew. I was starting to make headway and gain support.
Things started to turn around, people were beginning to see what I had to offer, when I was approached again by an 'important person'. 'Back down' they said, wait until next time. You could be committing political suicide! Why are they trying to make me quit? Did I actually have characteristics that people were afraid would shine through? Perhaps, if it was someone from the incumbent's team but that was not the case. And at this point in the campaign there was only the incumbent and myself. They did not want me to run! But I had been through the doubts and I was not going to withdraw. My team and I were gaining momentum and people were starting to contact me about my platform. I felt I was gaining traction.
A few weeks later, supporters started to drift off and I asked myself – what have I done! Stressed, I fell ill. Serious soul searching began, studying not only myself but the City.
my work as a paralegal became overwhelming. My campaign had to go on the back burner, and my contact with constituents dried up. Every night before I went to sleep I said one more day and I'll be back at it. And finally after two weeks that day came.
The weather finally warmed and we started going door to door to door! The streets were never ending. I didn't have an income now, so food was minimal and walking was it. I dropped two dress sizes and thought – what a great way to lose weight.
I needed an army of people to diligently put up signs; only to have them stolen overnight. We replaced them so that the wind could knock them over, or the lawnmower man would run them over and then toss them into the dumpster. Hey! That lawn is prime sign real estate!
Two weeks from Election Day, Rogers TV aired our Ward 11 debate. This was a great moment for my campaign. The people I couldn't reach saw me on television and learned more about me. Now we had calls from people who wanted signs and to volunteer. I couldn't believe it. Everyone I spoke with offered support and said they were voting for me!
The days and nights went faster as Election Day grew closer. I actually was feeling that I could win the election. I thought my message had been received and constituents were going to check my name.
As you know I didn't win but I met with as many people as I could, I did everything I knew how to do and some things I didn't. I stayed true to myself and my supporters. And I got 800 votes and a smile.