From banqueting in style to curry in a hurry!
Ambiance of India

Everything here is authentic, from the traditional food to the imported Indian d?cor to the three tandoori ovens in the middle of the restaurant, where you can see your food being freshly prepared and infused with a delicious charcoal barbecue flavour. Owner Vishal Seth recommends the Spicy Lamb Vindaloo and the Tandoori Shrimp. Great naan bread too! Gorgeous handmade furnishings, a well-stocked bar, and good service round out the experience.
2157 Royal Windsor Drive — 905-403-9900
---
Avani
This place offers more in the way of fusion cuisine than straight-up Indian. The huge menu runs the gamut from spring rolls and wings to Biryani and Chicken Tikka, plus soup, salad, Paratha, Paneer, Pad Thai, tons of curry dishes and fried ice cream. They also have a wide range of tandoori dishes and a fairly extensive wine list.
801 Matheson Blvd. West, Unit #1 — 905-501-0021
---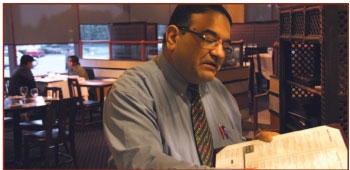 The Host
The Host has been racking up positive reviews for years, and with good reason: the food is great, as is the service. If you're unsure about what to have for lunch, try their weekday buffet and sample a bit of everything. What's more, if you want to learn to make their dishes, you can attend seminars and classes held by executive chef Sanjeev Sethi.
33 City Centre Drive — 905-566-HOST (4678)
---
Narula's
Narula's is closer to fast food than the other restaurants featured. Even so, "fast food" is a bit of a misnomer here; the food is cooked fresh to order and spiced the way you like it, so it can take a while—but it's worth the wait. Popular dishes include the Paneer Tikka Masala, Veg Kebabs, and they also make a great Butter Chicken.
6435 Dixie Road, Unit #10 — 416-315-9000
---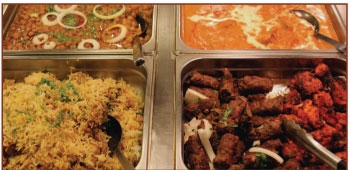 Sahara
You can find butter chicken in several places, but at Sahara it's the real deal. They offer a great buffet in a somewhat upscale atmosphere, featuring a wide variety of dishes. The Beef Karahi is also a good choice. Try the tamarind sauce, and if you have a sweet tooth, the Kheer (rice pudding) is not to be missed.
35 Brunel Road, Unit #1 — 905-568-9300
---
Tandoori Time
Waseem and Fareed Ahmad have been operating Tandoori Time since 1997. Billed as a "quick casual" concept restaurant, Tandoori Time is a local favourite, focusing on speed of service and great-tasting fresh food. Try the Keema Naan, a naan bread with ground beef inside. The Quarter Chicken Leg tandoori and the Seekh Kabab are also highly recommended.
848 Burnhamthorpe Road West — 905-276-5252
Did you know?
While the heat-seekers amongst us mostly associate curry and its kick with hot and spicy peppers, the original Indian curry did not have any peppers in it since chili peppers or red peppers were not native to India. It wasn't until Christopher Columbus brought chili seeds back from the New World and they were traded to India that they made their way into Indian cooking to become part of the spicy curries we know and love today.