Words by Mike Antinozzi

If you haven't caught wind of Nik Stauskas, he's the latest basketball phenom from our region, raising eyebrows south of the border. The Mississauga native is the go-to guy in Ann Arbor, Michigan, where he's the shooting guard for the University of Michigan Wolverines. For a sophomore, he shows tremendous versatility and a high basketball IQ which enables him to take over NCAA basketball games.
After Michigan's program lost key players to the NBA last year, Stauskas was leaned on heavily by the coaching staff—and the six-foot-six shooter hasn't disappointed. Stauskas is leading the team in minutes and points per game. As a result, he and the Wolverines are enjoying a solid start to the 2013–14 campaign, cruising through the Big Ten Conference.
TSN/NBA analyst Jack Armstrong believes Stauskas's leadership and work ethic has helped carry the Wolverines this season. "Nik deserves a lot of credit," Armstrong says. "His shooting is an example of hard practice and great mechanics. He has incredible shooting fundamentals and great form."
Those fundamentals were mastered behind his Mississauga home where there is no backyard swimming pool to enjoy in the summer, nor is there a makeshift playground. The young Stauskas didn't need any of that; his playground came in the form of a half-length basketball court that was cushioned and painted—a dreamland for any aspiring basketball player.
All those backyard jump shots have turned Stauskas into the sharp shooter he is today. "The backyard always gave me a place to play," Stauskas says. "No matter what time of day or what time of year, I was always able to take shots whenever I wanted."
With a handful of Canadians making a name for themselves in the NBA, Stauskas finds himself right behind them, playing amongst great Canadian NCAA talent including Kansas Jayhawks star Andrew Wiggins from Thornhill, who is expected to be the first overall pick in this June's NBA draft.
"Wiggins is a player with a great gift," Armstrong says. "He has an added element to his game. His vision is excellent and he always has a good feel for the game. His play reminds me of Tracy McGrady." It was all-star players like McGrady and Vince Carter who put the Toronto Raptors on the map, and helped grow the game of basketball in Canada. Armstrong believes that is why the game has quickly evolved here.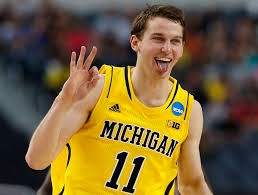 "If you were a young man growing up in Canada, you watched Vince Carter carry the Raptors," says Armstrong. "Now there is more TV coverage, more leagues and more knowledge for the game. You drive through neighbourhoods and you see basketball nets in front of homes."
Stauskas has come a long way from neighbourhood hoops, and his performance this season has impressed NBA scouts. If the shifty guard decides to turn pro at season's end, he will be yet another Canadian selected to enter the utopia of pro basketball.
"I'm focused on winning here at Michigan first," says Stauskas. "We've had a great start and I will take it from there." Stauskas is hoping that their good start can turn into a strong finish, as Michigan looks to avenge last season's defeat in the NCAA's National Championship Game. The Wolverines will begin their quest for college basketball supremacy when the NCAA tournament kicks off on March 18.