Lynda Reeves talks design, holiday decor and deciphers the secrets of "New Nordic Style."
Words by Kristy Elik
Canadian publishing magnate Lynda Reeves seems satisfied as she sits back and considers the media empire she's painstakingly built. More than ever at the top of her game, Reeves is synonymous with the House & Home trademark, a premier design, decorating and lifestyle brand that takes readers and viewers inside unique and beautiful homes in North America and abroad.
Since 1986, Reeves's beloved monthly magazine, Canadian House & Home, has been bringing style-minded readers the best and the latest in design trends, products and stores that inspire, and decorating advice to help create the homes you've always dreamed of. Her more recent creations, H&H Online TV and a massive online presence at houseandhome.com, have cemented her reputation as the country's ultimate design magnate. She's the Creative Director of H&H's Design Studio, which designs branded merchandise for the home, and select residences. She also has a French version of Canadian House & Home, called Maison & Demeure.
Spirit of the City caught up with Reeves at H&H's King Street headquarters, where she was busy assimilating feedback from the latest edition of Canadian House & Home while organizing her Thanksgiving plans. Here's what we discovered.
Kristy Elik: You're regarded as Canada's domestic deity, as it were; our very own authority of interior design, decorating and lifestyle trends. So what would you say is your definition of success? And have you arrived?
Lynda Reeves: I define success as achieving a life that is fulfilling on a day-to-day basis; feeling excited to wake up in the morning. Of course, it's important to strive for the big goals, too, but if you have a sandbox to play in and an arena to compete in, you'll enjoy the journey to reach those goals. I've definitely arrived! I love my life and I'm constantly striving to learn more. It's going to be difficult for the younger generation because people like me aren't going to move aside anytime soon to make room for them. We have to keep that in mind and provide opportunities for them.
KE: As a relatively new city that is transitioning from a greenfield to a more mature community, many homes in Mississauga are versions of the same basic builders' models. How can homeowners create unique spaces that reflect both the needs and wants of their families?
LR: My best advice is to avoid trying to make builder homes into mini-mansions. Instead, try your best to find your own style, one that's modern and friendly. While you're watching movies or television, watch for rooms that strike a chord with you— colours that make you feel cheerful and happy; casual, functional furniture—then copy them! And try layering your surroundings, mixing antiques with newer pieces.
KE: In the November 2013 edition of Canadian House & Home, you describe the latest trend in home design as the "New Nordic Style," a combination of rustic casual and bold modern. What's the easiest way to accomplish this fresh look?
LR: Start with a signature piece of furniture in that style and add patterns that are graphic and bold. Don't be matchy-matchy! Instead, layer elements so that the look is more eclectic. Here's a trend alert: a great way to update any room is to remove the shine from your hardwood floors. Sand them down and oil them to let the natural sheen emerge. It's a messy process so make sure you know what you're doing before you start, but the result is stunning.
KE: Are there any colour trends to watch for in home decor? Is there a "new white" we should be considering?
LR: Until I find something better, I will always recommend Benjamin Moore Cloud White CC-40 for a great, all-purpose residential interior white paint.
KE: The holidays are fast approaching and homeowners like me are always looking for creative new ways to dress up their domicile. Do you have any great suggestions for this festive season?
LR: I don't like a home that is overdone for the holidays. A few strategically placed items are all a room needs. Decide on a look that you like, whether it's natural, with lots of burlap and pinecones, or a more traditional red-and-gold. I'm fond of the "Raj look," all bright pinks and sparkly oranges. Take a look at the holiday issue of Canadian House & Home and you'll find lots of ideas. I spend my holidays at our country home in upstate New York, and a couple of months beforehand, I reserve bushels of fresh amaryllis. When we arrive, I place them in plain black tin buckets. When they bloom, the effect is stunning: so simple, yet so gorgeous.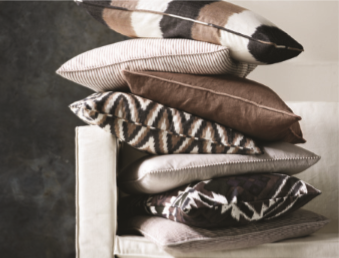 KE: What can condo dwellers do to create a home with personality, one that's more than just a box in the sky? Are there any hints for these small-space residents who would love to deck their halls for the holidays?
LR: Again, simpler is better. Do one thing, and do it well. Set a table that will knock your guests' socks off, or create a pillowscape on a sofa. Hang an interesting ornament on every doorknob. It's the small details that people will notice.
KE: This is a question from my mom, who fancies herself something of a Lynda Reeves superfan: Is wallpaper, largely regarded as old-fashioned and grandmotherly, back in favour? Where's the best place to use it?
LR: Wallpaper is definitely back in favour, but fair warning: use it properly! Don't use it throughout a whole room. There are some very interesting papers out there; for example, wallpaper that looks just like concrete for a loft. If you're choosing a more serious pattern, use it strategically and in small spaces, like a powder room.
KE: How about interesting hostess gift ideas for this season? What's appropriate, creative and on trend?
LR: I love giving—and receiving—a beautiful scented candle and holder, or a great cooking accessory, like a rolling pin accompanied by a favourite baking recipe. Anything homemade and edible, like squares or tarts, is a gift that's always appreciated. Be creative and make up your own basket. Personal is memorable.
KE: What's new at House & Home?
LR: Our online television series features new shows every Monday on houseandhome.com/tv, and we've just completed a series of 12 DIY Weekend Project videos together with the Home Depot. Some fun projects to try!
KE: Tell us about the home featured in this year's 2013 Princess Margaret Cancer Foundation Sweepstakes, designed by your good friend Brian Gluckstein.
LR: This is the first time in six years that I haven't designed the home for the sweepstakes. Brian did an outstanding job. His style is very soothing, and his goal—to create a tranquil environment to come home to—is realized here. You'll also see Brian's trademark use of symmetry, as well as his palette of greys and taupes. The result is stunning!
Kristy Elik is an award-winning freelance writer and editor whose passions for authenticity and laughter drive her every day. She is thrilled to have the opportunity to interview some of Canada's top designers.