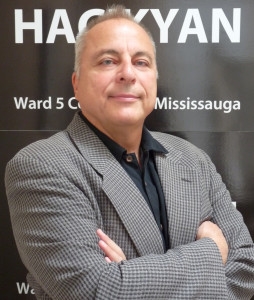 Herman Hacikyan
Why did you decide to run for Councillor?
My various career positions and experiences, as a police officer and businessman, have provided me with the knowledge and skills that will assist me in discharging my duties as Councillor for Ward 5.
What are the key fixes that Ward 5 needs and what do you plan to do to fix them?
Currently, Ward 5 is dealing with the following issues, among others:
I believe there are critical and chronic issues which require further attention and ongoing management, specifically economic development and traffic congestion.
Economic Development
If we want to maintain our present level of excellent city services, we must look to increase our tax revenues by attracting new business and manufacturing. This will also address the unemployment issue.
I promise to set up a blue-ribbon panel consisting of business and community leaders that would consult with all stakeholders with an interest in providing long-term solutions and incentives to attract new, and sustain ongoing, operations.
We need to prove to the business community that doing business in Mississauga is a seamless experience because we have cut down on red tape, eliminated excess spending and have programs and incentives managed by people who welcome business opportunities.
Traffic Congestion
Although there are some long-term solutions in progress for this problem, like the Hurontario/Main Street Rapid Transit Project, further short- and medium-term solutions could include:
In addition, we need to be willing to challenge our federal counterparts to finally deliver on their promises of funding for public transit.
What do you think Ward 5 will look like in the next five years?
I hope for an even better place for its residents to live, work and play. To help make this happen, my energies will be focused on supporting:
Is there anything else you think Mississauga should know about you or your ward?
My life experiences encompass both ends of a broad spectrum: early on, as the child in a family that was dependent on social-assisted housing, and later, as a senior executive at one of the pre-eminent advertising agencies in the country. I am proud and honoured to live in a country that offers such possibilities.
Once a young immigrant to Canada, I have first-hand experience with, and an appreciation of, multiculturalism. The city of Mississauga and Ward 5 are both fine examples of communities with citizens of many ethnic backgrounds living and working together happily and productively. Being of mixed heritage myself and multilingual, I am able to connect and relate to new Canadians.
Samantha Angel
Why did you decide to run for Councillor?
Through my involvement in activities like the Western GTA Summit, local community efforts and the Mississauga Arts Council, I caught the bug for civic engagement.
I realized things were really changing in Mississauga. We have a unique opportunity and we are positioned to create the city we want as we grow towards a million people.
Running for office is the most direct way to engage with the public and work to improve everyone's quality of life. One refrain that pops up again and again when I chat to people is "We need fresh faces in City Council!" So I hope the residents of Ward 5 are willing to give me a chance.
What are key fixes that Ward 5 needs and what do you plan to do to fix them?
In the next 20 years, 175,000 more people will bring 40,000 more cars to Mississauga. Where will they go? We have to fix the way people get around. Traffic is brutal in this ward, and transit issues loom large. The Hurontario LRT is the top priority—it will relieve congestion and create new transit hubs as well as bring new business and increase property values.
We need to attract a better mix of businesses that will offer advancement opportunities to our current workforce, plus newcomers and students from Sheridan College and U of T.
Lastly, we suffered a lot of flood and ice damage. Flood mitigation measures will help us to anticipate inevitable extreme weather events. I think insurance companies ought to foot part of the bill since they are among those that benefit most. Keeping our trees healthy will be key as well—they play a major role in flood prevention, and they help control pollution, heat and wind.
What do you think Ward 5 will look like in the next 5 years?
I have so many hopes for this ward.
The Britannia Farm and Schoolhouse and their grounds could be a public tourist draw; a highlight stop along the LRT. We could create something that is part farm, part heritage buildings, and part theme park.
Communication is very important to ensure constructive dialogue. For example, in addition to continuing the excellent Town Hall meetings, I'd also love to change city planning notification posters to make them more visual and interactive.
I hope to see a thriving creative class emerging, which could lead to a modern and exciting character for our city. We can also have many more options here for families to do things together.
Is there anything else you think Mississauga should know about you or your ward?
Our ward contains about 40 percent of all businesses in Mississauga. We are a very productive and active area.
Overall, 65 percent of Ward 5 residents are newcomers—over 10 percent higher than the rest of the city. This presents challenges, such as barriers to employment. Mississauga is indeed a modern 'port city' and we are the port of entry.
I'm devoted and committed to serving the people of this ward. I am new to politics, but not new to the issues facing this area and the people who live in it. I have lived here almost all my life—I have run businesses here and I have chosen to raise a family here. I know how to work in a team effectively and I know how to actively listen.
For more information on these candidates, visit hermanhacikyan.com and votesamanthaangel.com.
Read more candidate profiles!