Warning: The following review may trigger an urge to drop everything and visit Browns Socialhouse right now. We are not responsible for any consequential weight gain.
Words by Jordan Villanueva
It's no surprise that the Spirit of the City—MississaugaLife team loves food.
I mean, yes, we love eating (a team that eats together stays together, right?), but we also share an admiration for food that is well prepared and executed, and made with passion. We want to find the best Mississauga has to offer, not only to fulfill our insatiable hunger but also to let readers know that you don't always need to make the trek into Toronto—there are great restaurants at home.
Mississauga is evolving. More and more restaurants are opening up that are run by people with a serious love for good food. One such place (that has just celebrated its first month in Ontario) is Browns Socialhouse.
(Tl;dr version: this place is phenomenal; but c'mon, let's get into some detail, shall we?)
We were greeted by our server, Nadia, who was super attentive, enthusiastic and fun—she made the entire experience that much more enjoyable. Gary, the general manager, also popped by our table and explained the origin and concept of Browns Socialhouse.
Browns Socialhouse began in British Columbia and has since expanded in Western Canada. Its Erin Mills location is the first one in Ontario and is the second corporate store (there are 33 locations in total). One notable tidbit: they will retry recipes over and over until they're just right. For example, the Roast Beef French Dip sandwich (more on this later!) went through 18 different cuts of meat before they decided on prime rib.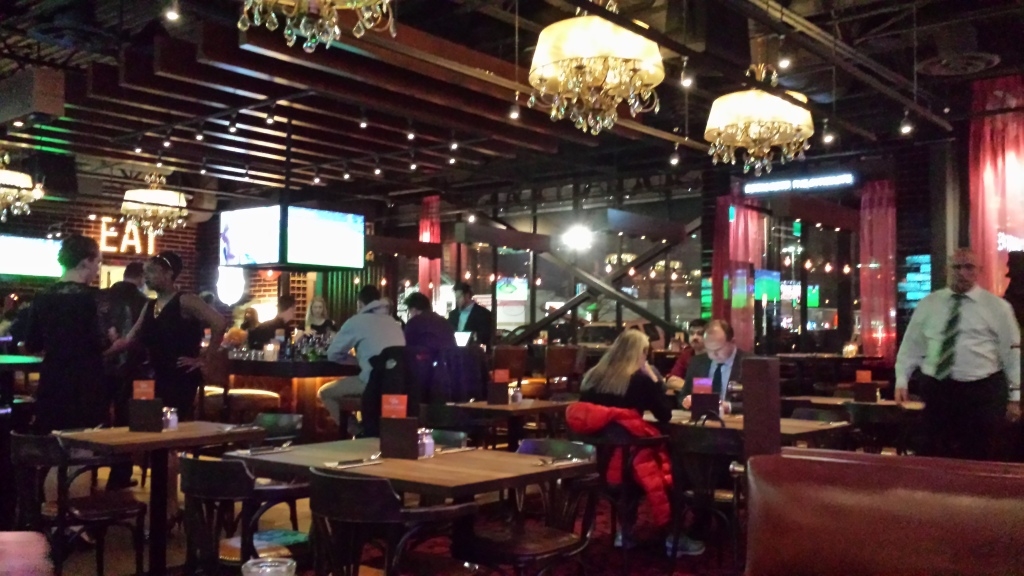 The look of Browns Socialhouse is trendy but unpretentious. The vibe was mellow, comfortable and played to both sexes, which was part of the goal, according to Gary. And the staff made you feel even more at home. There are booths, four-seat tables and a long "family-style" table for couples to mingle with other couples. That's what Browns Socialhouse is all about—socializing and having a great time.
Gary and Nadia explained that they would graciously start us off with a sampling of their drinks. We tried the Social Lager, which I found to be smooth, light and refreshing. Leo (our associate editor) and I ordered a sleeve each after the sampler, and it paired very well with everything we got to sample.
Next, we tried the Social White wine and Social Red wine. Fun fact: Browns Socialhouse uses local winemakers for their Social wines; Jackson Triggs makes the Social wines for this location. The Social White had a light, coconut smell to it but tasted more like a Sauvignon Blanc. The Red was great and provided a nice contrast to the white. Nadia then brought over a Cucumber Martini made with vodka, muddled cucumber, lime juice and green tea—if you love cucumber and green tea, you'll definitely love this drink! We also sampled "The New Mr. Pink," a martini made with raspberry vodka, Alize Red, orange juice and muddled raspberries—it was fruity, tangy and packed a punch. Next (yes, there was more!) we tried a Bellini made with rum, champagne, sangria and peach schnapps. It was dangerously good, as Sarah (our account manager) said, because it was too easy to drink.
Then came the moment we were all waiting for: the food.
Gary and Nadia explained that Chef Chris would be preparing appetizers for us to sample. We assumed they would be dainty sample plates, but oh no. Are you ready for this, readers?
Round One
To start, we were presented with the Dynamite Roll, Lime Pepper Grilled Halibut Tacos, Chipotle Chicken Tacos and General Tao's Chicken. The General Tao was fantastic: the chicken was tender and juicy but crispy, and the sauce had just enough kick to complement the chicken, not overpower it. The tacos, oh for the love of tacos! The cilantro cabbage slaw on top of those bad boys really balanced the spiciness from the chipotle. At this point we were beginning to feel a pound or two being added to our waists and to our delight and surprise, a second round of "appetizers" were brought over. I say "appetizers" because they weren't really appetizers.
Round Two
Chef Chris, who at this point joined our table to talk about his training, background and passion for food, prepared for us the wickedly delicious Tahitian Tuna salad bowl, the Blackened Chicken Kale Caesar and the Roast Beef French Dip (a recommendation and favourite of Gary's).
The tuna had a great crust and was cooked so perfectly I could feel it melt as soon as it hit my tongue. The Blackened Chicken Kale Caesar was also executed very well and the roast beef sandwich—well Gary, you were right, I don't think the team has ever had or will ever have one just like it! Friends, this is not your average dry-and-tough roast beef sandwich. This is a legit sandwich, the likes of which you'd see on the Food Network being recommended by Guy Fieri. It was—at the risk of overusing this word—phenomenal. When you stop by (let's be honest, you know you will) order it, enjoy it, and thank us later.
By this point, you'd think maybe we'd overstayed our welcome and stretched our stomachs past our limits. But we're not quitters, Mississauga. And neither was the Browns team—we still had the mains to get through, after all!
Round Three
The menu is only one page, so deciding on our entr?es wasn't an overwhelming experience. We ordered the fettuccine carbonara, the steak sandwich, the Hickory Burger, the #28 Dragon Bowl and the chicken and shrimp pad thai.
The fettuccine with blackened chicken was really flavourful and the steak on that garlic bread was super tender. Leo (who is also our in-house burger connoisseur) loved the Hickory Burger and almost didn't share with the rest of us [I stand by my decision—Leo]. The #28 Dragon Bowl was devoured in minutes (a serious favourite for me and Jay), and the pad thai was tangy and full of flavour.
We were almost defeated. I was crying from joy, Jay was sweating and Leo was taunting us about how "weak" the rest of us were. It was a bittersweet struggle, trying not to succumb to the sweet food coma, but dessert awaited. Yes, readers. Dessert.
Round Four
The Oreo Jar. A heavenly glass jar full of a light Oreo cheesecake and whipped cream. It didn't take us long to realize we could "suffer" through dessert. Have you ever had Oreo cheesecake, Mississauga? It was sublime. After one bite, Jay announced that he was no longer full from dinner, and we all dove into the dessert. A perfect end to a great meal.
So, for an exuberant yet casual atmosphere with a dash of elegance, and some wonderfully tasty food, check out Browns Socialhouse Erin Mills. We promise you'll love it just as much as we did.
---
Browns Socialhouse Erin Mills will be accepting donations of  new children's pyjamas on December 7 in support of the Christmas Pyjama Drive. When you bring in a pair of pyjamas on December 7, you will receive 50 percent off your food order.  
Browns Socialhouse
2525 Hampshire Gates, Unit #2B
Oakville
905-829-2727