Words by Tara Pepper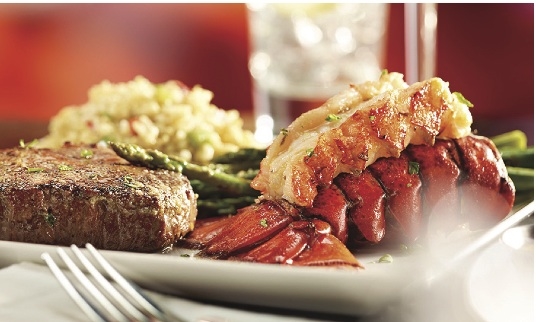 Have you ever had one of those nights when you wanted to go out for dinner but just didn't know what you wanted to eat or where you wanted to go? We had one of those nights recently and decided to get dressed up and check out Topiary's, a restaurant we'd driven by many times when going to the airport. We don't usually venture up there for dinner but it's really not very far when you make it a destination! It's located on an unassuming stretch of Derry Road, and if you weren't specifically looking for it, you could easily drive right by. I'm sure glad we didn't and can't wait to tell you about the wonders of this special place.
Topiary's is situated in a building that looks like every other building in the area, so I was unprepared for our entrance into the restaurant. The massive wooden doors under the canopy opened easily to let us into a stunningly gorgeous space. When the doors closed behind us, I felt like we had entered another world, one of opulence and elegance reminiscent of times gone by.
A foyer of dark wood paneling opened into a beautiful dining area. To the left, a space that looked like a greenhouse; to the right, a large, impressive fireplace surrounded by more shining dark wood. Cozy tables with chintz-covered chairs were arranged to accommodate lots of diners, but also had enough space between them to maintain privacy and allow for intimate dining. I don't think there was a bad seat in the house! We chose a table in the corner beside the fireplace so that we could watch the sunlight stream through an unbelievable floor-to-ceiling stained- glass window at the end of the room. I was mesmerized by the kaleidoscope of light patterns reflecting throughout the area.
I couldn't stop looking around! The coffered ceiling above was an interesting architectural detail and the huge crystal chandeliers added an old-world charm. Bobby and I settled in with a classic martini and a Cosmopolitan and let the ambiance transport us. A plate of the best kosher dill pickles, salty kalamata olives, fresh, crumbly feta cheese and a wickedly good garlic bread allowed us to take our time and enjoy our surroundings.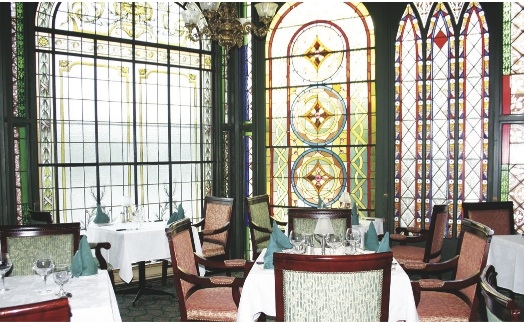 We were excited to see what was on the menu. Topiary's has been in business for 24 years and our waiter, Tom, has been there since the beginning. Talk about loving your job or maybe, as he said, they just liked him! We got a good chuckle out of that one. As it turned out, Topiary's is a classic steak and seafood restaurant with offerings diverse enough to make even the most finicky diner happy.
Appetizers ($9–24) focused mainly on seafood, however, Caesar, Greek and spinach salads were also available as well as a French onion soup. I decided to have the jumbo shrimp cocktail ($24) and couldn't believe my eyes when four colossal shrimp were placed in front of me. They were huge, a meal in themselves. The cocktail sauce that accompanied them had a nice tart/sweet kick that complemented the sweetness of the shrimp.
Bobby ordered the Seafood Combo: one of those over-the-top shrimps broiled in garlic butter; a plump, juicy sea scallop wrapped in bacon and broiled; and an Oyster Rockefeller on a bed of steamed spinach glazed with a silky smooth hollandaise sauce that was excellent. We probably should have stopped eating right there, but we were too excited to see what treats our main courses would bring.
Though Topiary's offers every kind of steak you could ever want, there were lots of other things to choose from in the meat department: lamb chops, veal parmesan, Chicken Neptune (with crab) or broiled ($24–42). The seafood selections included everything from Alaskan king crab legs, shrimp scampi, scallops, salmon and Dover sole ($34–45, though some items are at market prices). Bobby opted for one of his all-time favourites—a peppercorn steak ($41). It was a New York strip covered in sharp, spicy peppercorns with a rich, velvety wine sauce on the side. The charcoal broiling of the meat added a wonderful smoky outside crust, and of course it was cooked to perfection, medium- rare, pink and juicy on the inside.
I, as usual, couldn't make up my mind whether I wanted steak or seafood, so I had both: a New York strip, cooked in the same way as Bobby's and an enormous sweet, succulent lobster tail. There's nothing like a piece of lobster, slightly crisp on the outside, dipped in melted butter to send me to heaven! It was marvelous! Bobby's dinner was served with fluffy baked potatoes, mine with a great rice pilaf and perfectly steamed asparagus, cauliflower, carrots and broccoli. You can always tell when something is really good when seems even better the next day in a sandwich—which is exactly what Bobby did!
We were so full after our meals that dessert was out of the question. We were disappointed because they had many different types of cake: cheesecake, truffle cake, mousse cake and carrot cake from Dufflet Pastries as well as a house-made cr?me caramel that I'm sure would have been delicious. But we just couldn't do it!
The wine list was impressive. I can't remember the last time I saw such a well-priced list ($28–100) and we decided on a Wyndham Estate Shiraz for $40. It turned out to be a great addition to our meal and paired well with our food choices.
The next time you're looking to go somewhere elegant and refined, take a drive to Topiary's. I guarantee you'll be glad that you did!
Topiary's
3215 Derry Rd. E.
Mississauga, Ontario
905-677-3640
www.topiarys.ca