Words by Tonia Wilson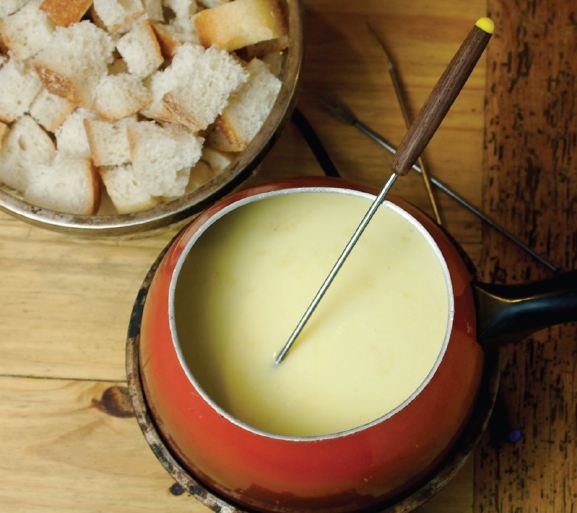 It seems like all things old are new again. It certainly is a sign of my age when I walk down the street and see young ladies wearing styles I wore two decades ago, some of which haven't gotten any better the second time round! Vintage and retro styles are the order of the day for all things cool at the moment—in clothes, furniture, appliances, toys and even facial hair. (Has anyone else has noticed the comeback of the manly '70s beard?) So in the spirit of nostalgia, I thought I would dust off my fondue set. I'm not sure there is a food item more retro than fondue. (Well, maybe shrimp molds… but who wants to eat that?)
Fondue has a rich and lengthy history. The word itself is French and means melted, referring to the original dish centred around melted cheese. In the days before refrigeration and preservatives, fresh breads would harden quickly and become stale. In an attempt not to waste food, the peasants of the Alpine regions in Switzerland, France and Italy would make a delicious communal pot of fondue. This was prepared by melting together scraps of aged, hard cheese, white wine and garlic. They would then dip the hardened bread into the cheese mixture to soften it, and voil?, a wonderful tradition was created.
Over the years the term fondue has broadened its meaning to incorporate beef, chicken and seafood fondues. All of which could be cooked in either a pot of broth or oil. It was in Burgundy, France that the beef fondue (fondue bourguignonne) was created many years ago. This was in an effort to feed hungry men working in the vineyards. There would be a large pot of oil boiling at the side of the fields, and when the vignerons were hungry they would cook themselves a hearty snack with the beef. Another more contemporary version of fondue is chocolate fondue: a real treat and the perfect dessert for a romantic dinner (hint, hint: Valentine's Day is coming).
FONDUES AND DON'TS
It doesn't matter what type of fondue you choose to make, they will all be delicious. Here are a few "Fondues and Don'ts" to consider:
The Real Deal
Do make your fondue with only good quality ingredients; your cheese needs to be tasty (and should be from France or Switzerland if possible).
Love Me Tender
Don't use a tough cut of meat; your beef needs to be tender.
Take Stock
If you are doing a broth-based fondue, make sure the broth has good flavour before going into the pot.
Opposite, you'll find a recipe for classic Swiss fondue, along with condiments that will help fill out the table. The winter fris?e salad is a refreshing accompaniment to the fondue, and will give you something to nibble on while dipping your bread.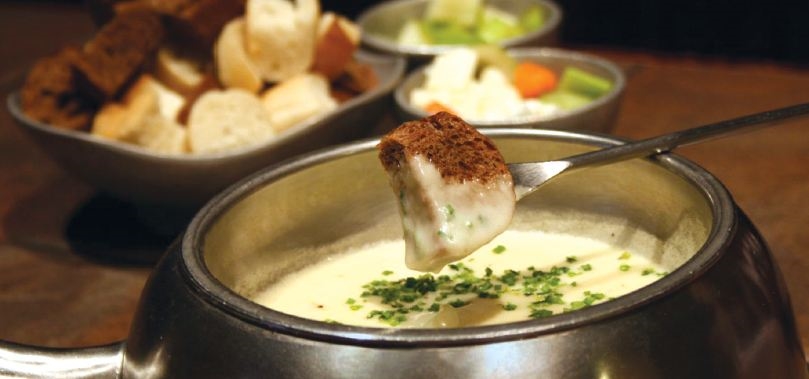 CLASSIC SWISS FONDUE
Ingredients
• 1 lb Alpine-style cheese, grated (can be one, or a combination of Gruy?re, Emmental, Comt?, Beaufort and/or Jarlsberg)
• 1 garlic clove, halved
• 1? cups dry white wine, a lighter-style Chardonnay, or the wine suggested (right)
• 1 tbsp cornstarch
• 2 tsp cherry, apple or plum brandy (cherry is the tradi­tional choice but all three will work; apple juice will work in a pinch)
• Crusty bread chunks, vegetable crudit?s (such as raw mushrooms and red pepper strips) and boiled, halved new potatoes for dipping
Instructions
1. In a large, heavy-bottomed pot heat wine over medium heat until lightly simmering. Add garlic halves.
2. Stir together cornstarch and brandy; set aside.
3. Gradually add cheese into simmering wine, stir back and forth (not circular) until cheese has all melted. Stir in cornstarch mixture.
4. Let simmer over low heat for 10 minutes, then remove garlic halves and discard.
5. Pour fondue into waiting fondue pot and serve with accompaniments and salad.
Quick tip: Make sure to get good cheese for this. It'll cost more, but remember you don't have to spend much on the things you dip, i.e., bread and potatoes.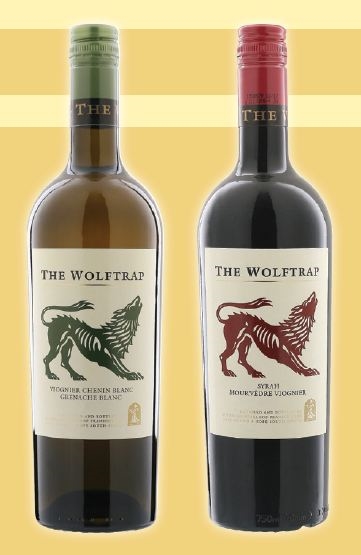 PLEASANT PAIRING
The Wolftrap (white), Boekenhoutskloof, South Africa, LCBO 292532 | $14
The Wolftrap (red), Boekenhoutskloof, South Africa, LCBO 292557 | $14
Traditionally, white wine is always served with cheese fondue. It's even been heard that some restaurants in Switzerland won't serve you anything but white wine, even if you ask nicely! I have chosen this wonderfully fragrant blend of Viognier, Chenin Blanc and Grenache Blanc. This South African wine's zesty streak of acidity will be a great complement to the velvety lusciousness of the cheese fondue.
As always, there will be those who prefer to enjoy a glass of red wine with the fondue, and this Wolftrap white has a similarly satisfying red partner. The red version is produced with Syrah, Mouvedre and Viognier and is just as delicious. Both of these wines are well-made, easy to drink and are stellar values.
WINTER FRIS?E SALAD
Ingredients
• 1 tbsp Dijon mustard
• 2 tbsp maple syrup or honey
• 3 tbsp cider or red wine vinegar
• ? tsp salt
• ? cup olive oil
• 12-14 cups of winter greens, primarily fris?e lettuce, but also radicchio, escarole, and/or romaine, washed and torn into bite-size pieces
• 1 red pear, cored and diced (skin on)
• ? cup red onion, finely diced
• 1 cup red, seedless grapes, halved lengthwise
• 3 tbsp hazelnuts, toasted and coarsely chopped
• ? cup real bacon bits (optional)
Instructions
1. In a large bowl, whisk together mustard, maple syrup, vinegar and salt. Slowly whisk in olive oil.
2. Add greens, pear, onion, grapes, hazelnuts and bacon (if using) to the bowl. Toss to combine and let rest for 10 minutes for the flavours to marry and the fris?e to soften slightly. Toss again and season with additional salt if needed.
Quick tip: Don't be afraid of bitter greens—they are delicious and healthy, and are perfect for this time of year. And the subtle sweetness of the vinaigrette helps to temper their edge!
Serves 6