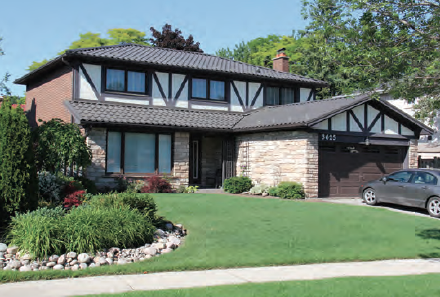 Applewood is an established residential area situated in the east end of Mississauga. Its borders are Burnhamthorpe Road in the north, the Etobicoke Creek in the east, Dundas Street in the south, and Cawthra Road in the west.
History
One of the oldest communities in Mississauga, Applewood's origins began back in the 1800s, with the villages of Dixie and Burnhamthorpe serving local farms and orchards. In the 1950s, Applewood's first subdivision was developed by G. S. Shipp & Sons Ltd. at Dundas Street East and Tomken Road. Around the same time, the south end saw an influx of industrial development, which brought in new businesses.
---
MORE RELATED TO THIS STORY:

Sweet Home Mississauga: Erin Mills

Sizing Up: Choosing the Right Fit
Refresh Your Space
---
Neighbourhood
Popular for its large lots, parks, the Applewood Valley and easy access to highways and public transit, the area is experiencing a growing trend of children and grandchildren buying back family homes or moving back into the neighbourhood. Applewood offers a variety of housing types: detached (about 2,500 square feet) and semi-detached (1,500 to 1,800 square feet) splitlevels, bungalows and two-storeys, low-rise rental buildings and even a mobile home park. Many of the semi-detached and detached homes also feature side entrances, ideal for creating secondary units.
Amenities
This community has always been popular with new immigrants. A diverse collection of ethnic grocery stores, fruit markets and restaurants give great character to Applewood. St. Mary's Ukrainian Catholic church stands out as a beacon and is well known for its handmade perogies. Another landmark is Wisla Plaza at Burnhamthorpe Road and Dixie Road, featuring the Burnhamthorpe Fruit Market. Aurora Meat & Cheese offers Italian imports and the John Paul II Polish Cultural Centre's dances may have a higher marriage match rating than match.com!
Applewood also offers a number of primary, middle and high school choices including the top-rated Tomken Road Middle School as well as opportunities in French immersion.