Words by Tara Pepper
There's no better time to go out for dinner than… well OK, there are no two better times to go out for dinner than 1.) when your house is under construction, and 2.) when you have a friend visiting from out of town. Unfortunately, my house is under construction, but fortunately my friend Debbie is here from Texas! The house is being painted and the mess is driving me crazy, so out we went to Rocco's Plum Tomato on The Queensway east of Park Lawn Road in Toronto.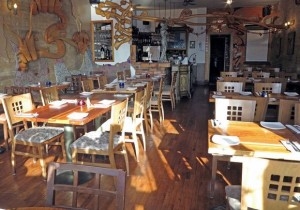 What a week for Debbie to be here from the Texas heat. The –15°C temperatures brought back some memories for her from when she lived here, but she said she still loved Toronto! I don't know about that—if I had the opportunity to live in Austin, I don't think I'd be coming back to T.O., except maybe in the summer! It was great to see her.
Rocco's has been around for years and is consistently delicious. It's one of my favourite restaurants because I'm guaranteed a good meal, cozy and comfortable ambiance, and a place to just sit back, relax and chat.
Of note this time around were our appetizers of grilled shrimp, eggplant Parmigiana and grilled calamari were all deeply satisfying. Debbie thoroughly enjoyed her pasta with pesto, and Bobby opted for spaghetti and meatballs. While good, he said his meatballs were better. And you know what? He really has perfected the art of making meatballs, if I do say so myself.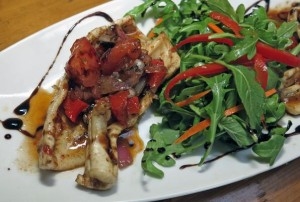 So what did I order? My favourite gnocchi in a rose sauce with grilled shrimp. I know Rocco's gets its gnocchi from Queen's Pasta in Etobicoke, but they are the most perfect pillowy little nuggets of potatoey goodness that I'm still striving to re-create in my kitchen. I wasn't disappointed—it was amazing!
There are two Rocco's locations that I know of in Toronto: the one on The Queensway and another on Islington Avenue. Both serve the same scrumptious food and have the same great atmosphere. If you're looking for a great spot for a yummy dinner, give them a try. I guarantee you won't be disappointed.
'Til next time,
Tara
Rocco's Plum Tomato
164 The Queensway
416-255-5081
and
1068 Islington Avenue
416-234-5555