Words by Tara Pepper
I'm not a big television watcher but when I do indulge, I like to tune in to the Food Network. One of the shows that I truly enjoy is You Gotta Eat Here! The host, John Catucci, claims he's not a chef but he knows good food—just like me! And he's hilarious—just like me? Well, maybe not. John's quest is to find the best tasting, most delicious comfort food he can, and he visits greasy spoons, mom-and-pop joints and out-of-the-way places all across Canada. If you haven't seen the show, tune in—it's a great time!
The Harbour Diner
Last year, Bobby and I decided that we'd do some road trips and find some of the spots Catucci has been to. We wondered if we'd have the same experience. The first one was The Harbour Diner in Hamilton. It's a great little spot. Very homey and comfortable and the service was excellent. Bobby had the Harbour Diner Meatloaf with mashed potatoes, saut?ed mushrooms and peppercorn gravy. It was very good. I chose the lobster mac and cheese and was thrilled with creamy, cheesy macaroni and an abundance of sweet lobster. Delicious!
That Little Place by the Lights
Next, we took a road trip from our cottage in the Haliburton Highlands to Huntsville and went to That Little Place by the Lights. It's a cute little family-run Italian spot, and it's literally—you guessed it—right by the lights! It was great. Catucci had lasagna on the show, but when we were there it wasn't on the menu. I asked our server though, and lo and behold, they accommodated! It was yummy, with layers of meat, noodles, cheese and a delicious tomato sauce—all that I hoped for. Bobby opted for the pizza of the day: salami with arugula (if I remember correctly) and the soup of the day, minestrone. Fantastic! Definitely worth the trek from the cottage.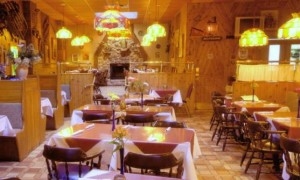 The Musket
This past weekend, we decided to head out to Etobicoke to try out The Musket for German/Austrian food. It's a little out of the way on Advance Road; if you weren't looking for it, you'd never find it, but that's what a trek is all about! Decorated like a German ski chalet all in wood and with—of course—muskets adorning the walls, we settled in for an interesting meal.
To start: German beer. Bobby opted for a dark Hacker-Pschorr. It was creamy and smooth, not as heavy as Guinness. If there's a next time, I'll try it. I chose a Hacker as well; mine was a pale ale with that Bavarian bitterness that you'd expect.
For lunch, Bobby chose the Leberk?se. It's a German meat and pork meatloaf of sorts; finally ground meat formed into a loaf with a fried egg on top. It tasted like good bologna to me! It was served with rye bread, Dijon mustard and delicious fried onions and potatoes. I opted for the Wiener Schnitzel and was pleasantly surprised by a sensationally crispy piece of very tender veal served simply with a lemon wedge and those same delicious potatoes. Mmm, mmm good!
So what's next? I think a trek to Uncle Betty's in Toronto is in store. It looks like a funky place to try out. Stay tuned!
'Til next time,
Tara
The Harbour Diner
486 James St. N.
Hamilton
905-523-7373
That Little Place by the Lights
76 Main St. E.
Huntsville
705-789-2536
The Musket
40 Advance Rd.
Toronto
416-231-6488