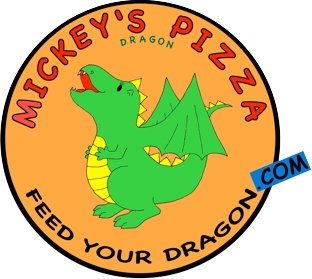 Where does one get great pizza in Mississauga when the mood strikes? That's a question I've been pondering for a while. For the last 20 years, Bobby and I have always ordered our pizza from Giovanni's and loved every single bite of it. Gus, the owner, used to deliver to us and we'd always have great conversations with him. Unfortunately, Gus got ill and sold his business. It was taken over by one of those chains and they didn't adopt the pizza recipe that Gus used. The greatest pizza of all time had sadly disappeared.
So we've been trying to find a replacement, but it just isn't the same. Until a few weeks ago. We tried Mickey's Dragon Pizza in Clarkson (Lakeshore Road and Inverhouse Drive), and what a delightful surprise! Finally! We've ordered from them three times so far and it's definitely is my new favourite—and one of John Catucci's too, as Mickey's was featured on You Gotta Eat Here.
They have two different offerings of pizza: Killer King Dragon (a.k.a. Chicago-style deep dish) or Traditional (grilled thin crust). The first time we tried it, we had the thin crust and it was delicious. The second time we had both grilled and the Killer King. The Killer King is unbelievable: deep-dish crust about two inches high, filled with whatever you choose and a massive amount of cheese. It weighs a ton and was very good. My favourite, though, is the grilled pizza.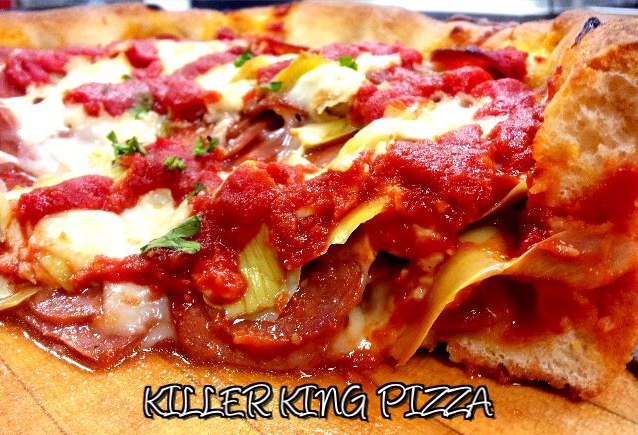 They have all kinds of choices on the menu: Texas Holdem: pepperoni, meatball, strip bacon, green pepper and barbecue sauce. Yum! Or how about the Smokey Dragon: pepperoni, strip bacon, crumble bacon, smoked mozzarella and barbecue sauce. Doesn't that sound amazing? There are lots of vegetarian choices available as well. What a treat!
I decided to craft my own. Picture this: the crispiest grilled thin crust you can imagine topped with pepperoni, bacon strips, sun-dried tomatoes, caramelized onions, fresh mushrooms, black olives and extra cheese. The guy making it said it was a masterpiece! And it was oh so delicious. I think next time I'll forgo the black olives; they added a bit too much salt for my liking but everything else was truly amazing.
This is the kind of pizza you can eat with your hands, or with a knife and fork if you choose, and if you haven't mastered the art of using a fork yet, you could have someone you love feed it to you! That's romance just waiting to happen!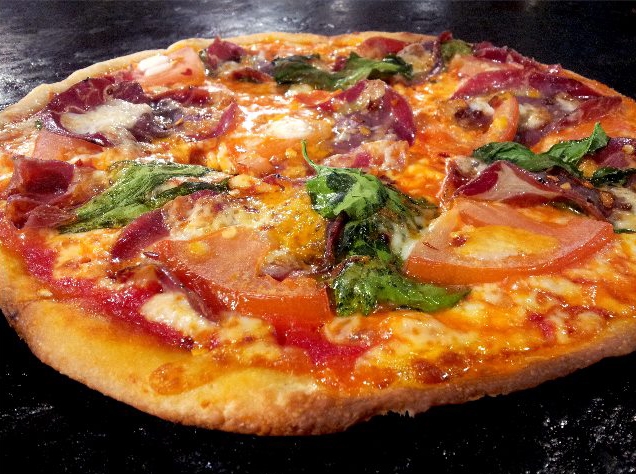 While I was waiting for my pizza to cook, I had a conversation with the owner (at least I think it was the owner). He took the time, even though they were incredibly busy, to answer all my questions and describe the cooking process to me. I really appreciate that.
They have a unique New York pizza oven which is really a grill. Think about a revolving slab about two inches thick over a fire pit. He told me it was the only one of its kind here and that it only takes about 15 minutes to heat up; and it's really, really hot. I've never seen anything like it. The grilled pizzas are cooked right on that and the deep dish spend a bit of time in an Italian pizza oven before finishing on the grill.
Anyway, next time you're in the mood for great pizza, try out Mickey's Dragon Pizza. I guarantee you're in for a taste sensation you won't soon forget. I wonder whether you'll prefer the grilled one like I do, or the Killer King? Either way, you'll love it! I know we'll be back—probably sooner than later!
'Til next time,
Tara
Mickey's Dragon Pizza
1900 Lakeshore Rd.
905-822-1411
feedyourdragon.ca