My friend Lise and I met for dinner this week, and we decided to go for Indian. But where to go? There are several good places, but my all-time favourite, and hers too, is Nirvana: The Flavours of India. I wrote about it in Secret Diners quite a while ago and I wondered if it held up. I was pleasantly surprised: it's exactly the same. Absolutely outstanding!
We started with samosas and I was struck by the wonderful, flaky pastry that covered the potato and pea filling. Usually they're dry and hard but these almost melted in my mouth. Topped with two chutneys—mint and tamarind—it was a great start to the meal. We decided to have the usual butter chicken because I'm hard-pressed to ever go to an Indian restaurant and not try it; believe me, some are better than others and the one at Nirvana is really good.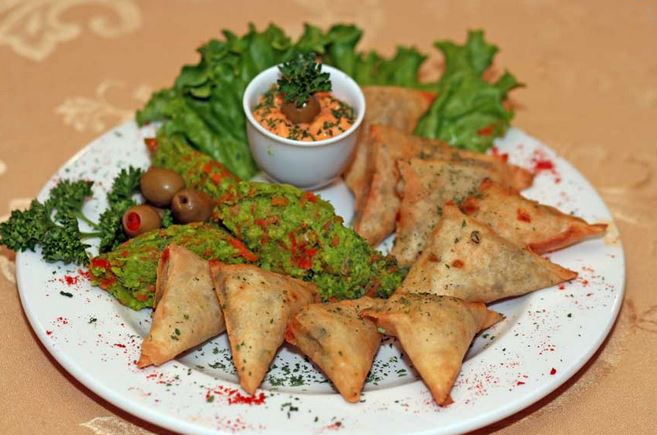 I chose the palak paneer (cubes of fresh cheese simmered with spinach). I love it; Lise, not so much. She chose aloo ghobi masala with its pieces of cauliflower, potato and fresh ginger. It's always a favourite. The dish I found most interesting, though, was the chicken dum biryani. It's chicken and rice in a pot covered in pastry. Our server cut around the rim, lifted off the pastry and the aroma that wafted towards me was simply divine. Garlic naan bread rounded out our meal.
Everything was superb. The service was great and the atmosphere was warm and friendly. I even ordered lamb vindaloo and hot-and-sour soup to bring home for Bobby and he told me he thoroughly enjoyed both—even the blasting heat in the vindaloo!
Next time you're looking for something exotic, give Nirvana a try. I guarantee you'll enjoy it.
'Til next time,
Tara
Nirvana: The Flavours of India
35 Brunel Rd., Unit #5
905-501-5500
nirvanatheflavoursofindia.com