Words by Jeanylyn Lopez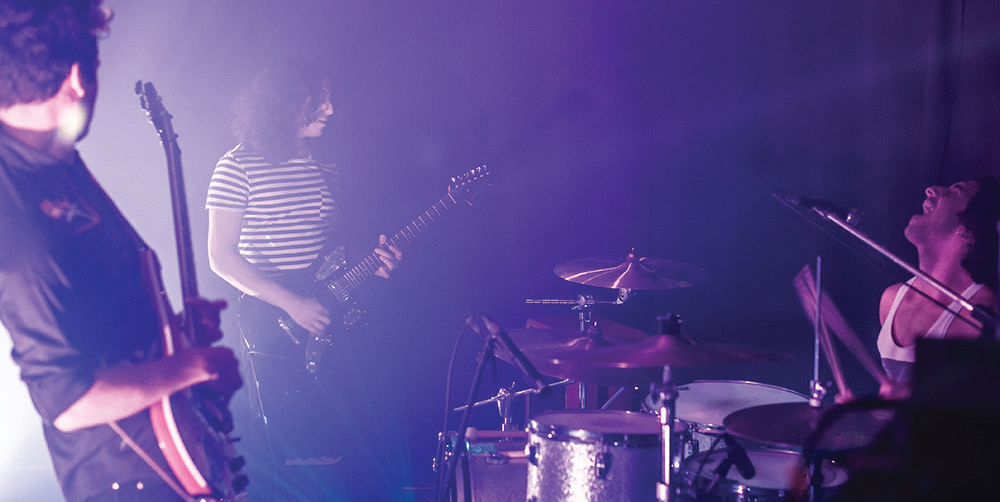 The BallRoom Babies are a Mississauga-based, classic-rock-influenced band. This past May at the Living Arts Centre, they were presented with a MARTY award for Emerging Performing Arts Group.
Bassist Nathan Colucci recalls the experience. "For me, it was about feeling the support of the community; knowing that they're behind you and recognizing the work you've put in," he says. "You don't always get that as an artist."
"You put your head down and you go to work for so long, but you never really pop up to see how things are going," adds his brother Steve, guitarist. "It was refreshing to know we did something good here."
The three Colucci brothers, Mike, Steve and Nathan, all sing for the band. Their sound has hints of classic rock, some bluesy elements and a bit of punk. "If you mixed Pink Floyd and Nirvana, you'd get something close to what we're going for," says Nathan.
"It's also interesting in terms of chemistry," says drummer Mike. "All three of us have played with other people, and that's a different experience. We're a lot more together and in sync than anyone else I've ever played with."
The band started five years ago doing cover gigs, but eventually they started writing their own material and made the decision to switch to all original songs. Their first album, Change to Silver, was released in 2013; the title comes from a song title on the record, which also summarizes the theme of the album.
"A lot of the album is about the trials and tribulations of being 20 to 25 living in Ontario," says Nathan. "'Change to silver,' that line in particular, holds some significance in that your focus at that age starts to turn a little bit towards money. It's just a fact of life as you grow up." Steve explains that it's about change in yourself. "Today there's a lot of pressure with what you do. It's hard to be an artist, and not have to work two or three jobs to be able to do your thing."
The brothers hope for continuous growth with the band. "It's a process, gaining new fans and building relationships with other bands," says Nathan.
Mike sees it as taking a passion and making something out of it. "It's a lot of hard work, but it's worth it when you see people singing back your lyrics, showing up to shows and sharing your videos. It's a pretty cool experience."