Fine dining for culinarily clueless romeos.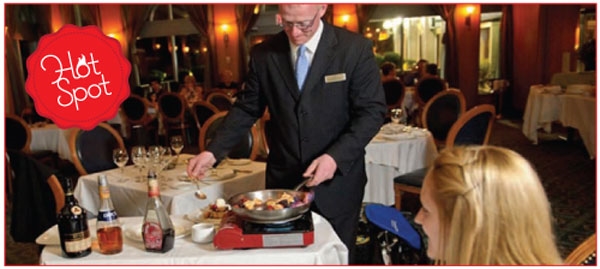 The Breakwater Restaurant – Waterside Inn
The elegant Breakwater Dining Room welcomes its guests with tables set with sparkling silver, fine china and crisp linen—a perfect setting for superb cuisine. Each dish is an inspired, skillful blend of the finest ingredients, artistically presented and complemented by a bottle of wine from their extensive wine cellar.
15 Stavebank Rd. S. | 905-891-6225
---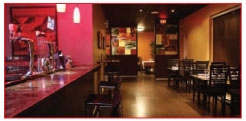 JFK's Restaurant and Lounge
If you like modern interiors with funky art, this is a great choice for you. The food is fresh, fun and inventive, with plenty of gourmet-inspired twists on classic dishes. JFK's is a great option for Valentine's Day, a romantic dinner or a first date.
4230 Sherwoodtowne Blvd. | 905-272-5357
---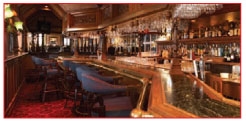 La Castile
This enticing castle-like setting, fresh out of centuries past, will not disappoint those with romance in mind. The atmosphere is enhanced with timeless cuisine that thrills as much today as it did when La Castile opened in 1968, whether it's a romantic dinner for two or a feast with friends.
2179 Dundas St. E. | 905-625-1137
---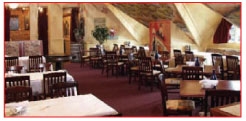 Rosewood Bistro
Rosewood Bistro's experienced executive chef, James Robertson, leads a team of highly skilled staff to create fresh bistro food from the finest ingredients. Enjoy wine and cheese from around the world in a fusion of French-inspired culinary delights.
1900 Dundas St. W. | 905-855-3913
---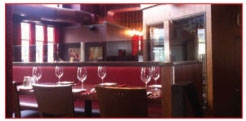 Ten Restaurant and Wine Bar
Signature soups, hand-cranked fresh pasta dishes, seafood selections and steaks are just a few of the menu offerings available at this Port Credit
hot spot. Ten also features a fixed-price lunch menu, Sunday evening multi-course dinner options and a Happy Hour Afterwork menu.
139 Lakeshore Rd. E. | 905-271-0016
---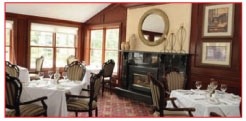 Terrace on the Green
Terrace on the Green is a fine dining establishment that caters to you. Enjoy the beauty the restaurant has to offer as you eat and drink your way through their fine dining selections and wine list. Be sure to ask for the Daily Chef's Creation.
8672 Mississauga Rd. | 905-459-4447
Did you know?
The origin of Valentine's Day has nothing to do with Saint Valentine, but rather with the Lupercalia festival in ancient Rome. Blood from animal sacrifices was smeared across the foreheads of members of the Luperci—the brothers of the wolf—who then dressed in goatskins (to imitate the wolf-god Lupercus) and ran through the streets wielding whips attempting to beat and ensnare the objects of their desire. However, with the rise of Christianity, the meaning of the festival slowly shifted through the centuries towards sanctified monogamous love. Once adopted by the European aristocracy, scented gifts, decorations and the drawing of "valentines" (also derived from ancient traditions) became the norm.