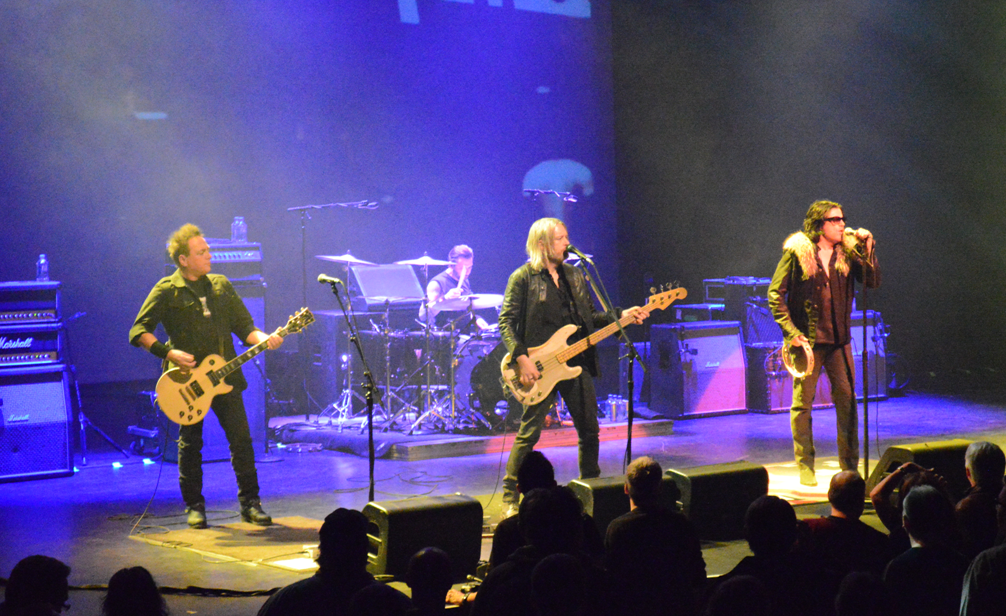 Mississauga's Living Arts Centre may seem like a slightly odd choice of venue to host bombastic UK rockers The Cult, who first made a name for themselves in the '80s with infectious hard-rock hits. But as the nearly sold-out crowd at Tuesday night's show proved, clearly there is a place for rock 'n' roll (and a bit of nostalgia) in Mississauga.
Hot off a sold-out show at Toronto's Danforth Music Hall this past weekend, The Cult rolled onto the stage of the LAC's Hammerson Hall fashionably late for their 8:00 p.m. show. Frontman Ian Astbury, sporting a long, flamboyantly fur-trimmed leather jacket, immediately proved to be a lively and charismatic front man as the band opened the night with "Wild Flower," marching around the stage and tossing his impressive locks.
Astbury proved to be a spirited frontman throughout the night, offering several apparently impromptu monologues between songs. Whether denouncing Facebook (though the band is cool with both Twitter and Instagram) or revealing himself as an unlikely fan of the Canadian indie band Broken Social Scene, Astbury was full of opinions that he articulated in an entertaining, mostly coherent fashion.
The audience skewed noticeably older, and the band seemed happy to oblige their long-time fans by playing lots of earlier material, with tracks from the band's 1987 third album, Electric, dominating the night, and the band's more well-known songs garnering the biggest responses from the crowd. For example, fan favourite "Sweet Soul Sister" evoked a fist-pumping sing-a-long as the audience was bathed in blue light. However, it took the euphoric opening guitar riff of 1985 megahit "She Sells Sanctuary" – the last song the band played before their encore – to truly invigorate the appreciative but slightly subdued crowd.
The Cult did also show diversity by offering tracks from throughout their career, including a few songs from their latest album, 2012's Choice of Weapon. They also delved into a couple of deeper cuts, including the rollicking "Zap City", which was a great showcase for their guitar-heavy sound.
Astbury and the entire band offered a precise skill and blistering showmanship, which is always a winning combination. The Cult, while obviously seasoned pros, had an energy that you might not expect from a band that has been in the business for over 30 years. Their sound has aged surprisingly well, and in a live setting, they give off the impression of a band that is more or less still in their prime.