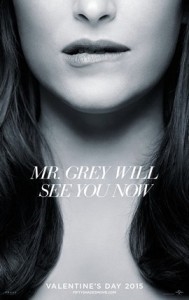 I won't claim to be an expert or even a fan of the 50 Shades of Grey phenomenon. In fact, I've made it a point to avoid that particular bandwagon at all costs because I already fell from grace when Twilight was the thing, and I just crawled out of that hole a year or two ago.
I am, however a fan of films made from books (whoa, simmer down book fans, don't ridicule me—go read all of A Song of Ice and Fire twice and then we'll talk), but I'll most likely wait and watch 50 Shades on some sort of, er, home media. However, I know there will be a horde of 50 Shades fans lining up on Valentine's Day to watch it on opening night. So I'd like to offer some reasons why you—that one percent of readers—should go see it. (The following list will also include handy tips for watching the film that night because honestly, I can barely think of even 10 reasons to see it.)
Christian Trevalyn Grey. OK, so after reading a quick Wiki synopsis about the plot, I'm going to say, "Hot damn, Mr. Grey!" Christian says he's not a "hearts and flowers kind of guy," which is, you know, super cool and all since chivalry and romance is dead in our modern hookup culture. But I totally see the appeal of the character: he's calculating, mysterious and a hard nut to crack, and girls, we all know how much we love a good challenge. (And that middle name, though. So #unique.)
Jamie Dornan, a.k.a. the actor who plays Christian, a.k.a. the obvious reason to go see the film. Have you seen the trailers? Have you felt this Irish actor's piercing stare from the other side of the screen? He's a real Kegel-muscle-clencher, ladies.
The film will premiere in February, the month of long johns and matching cute mittens, scarves and hats. Baby, it's cold outside. Go to the theatre and stay warm.
TIP: Extra butter on your popcorn means extra warmth. That's science.
TIP: Get there in time for the previews—they're the best parts of seeing movies in the theatre.
Dakota Johnson, a.k.a. Anastasia "Ana" Rose Steeles. She's just so cute and vulnerable and quirky and insecure. Ugh! You just want to watch Christian do something to her to make her feel better about her life.
Maybe fulfill some curiosity about BDSM, despite the heat the books and film have taken from the BDSM community about inaccurate portrayals. This could lead to…
Maybe sparking an interest in BDSM. Maybe you'll discover your masochistic side, but if you ask me, you've already discovered it by going to see the film. Surely the epic, theatrical performances and intriguing plot will stave off disaster, though. Right?
I find that watching particularly well-done movies like Vampire Academy and (without a doubt) 50 Shades is the perfect time to reflect about important, dare I say life-changing, questions, such as what foodstuffs can be dipped in nacho cheese aside from nacho chips.
The movie premieres on Valentine's Day. I guarantee you there will be hordes of crazy, hot and bothered young females/males who will be unknowingly searching for their Mr. Grey/Ana Steeles post-film. If you're with a date, I'd say your odds for nookie after the movie are pretty high. Upgrade that to 100-percent-guaranteed if you go alone.
TIP: Bring a decent yet inconspicuous bag to the theatre. Make a quick trip to Bulk Barn and load up on snacks. Boom, we just saved you $15.
Left boobs.
Right boobs.
Get a jump start on the 2015 fashion trends! I foresee leather being incorporated into all the hottest trends for spring/summer 2015. In fact, I'll be damned if I can't rock a gorgeous pleather dress in August and be ridiculed for it.
TIP: Tuesday brings half-priced movie admissions. Forgo the novelty of seeing 50 Shades on premiere night and go when you can save money and not have so many witnesses to your shame.
Submit a movie review about 50 Shades on www.mississaugalife.ca and we'll consider publishing it, depending on what shade of grey you use for your text colour.
For the Gen-Xers watching 50 Shades: reminisce about watching softcore adult entertainment on fuzzy semi-blocked-out channels when you were in your early teens, and think about how much better this movie is. I'm not afraid of heights, which is why I'm jumping to this totally accurate conclusion.
The must-have 50-Shades-themed-take-home popcorn bucket. They still give those out, right?
TIP: Use your 2-for-1 coupon and bring your grandmother. Bonus if you both wear every other colour except grey.
You mistakenly thought the plot was about watching 50 layers of grey paint dry, which is surely more substantial and entertaining than the actual story.
21–50. Potential nudity—let's be real, that's the only reason why you're going. Also see reasons #12 and 13.