The new Mississauga Summit pursues game-changing solutions for big-ticket issues.
Words by Brian Crombie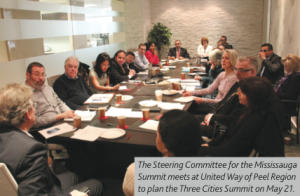 Mississauga has grown tremendously over the past 30 years, and with our growth has come some significant challenges.
Now in 2013, we are at risk of losing some of the key advantages that made us great in the past: abundant cheap land ripe for development; low residential and business property taxes; and close proximity and quick access to Toronto, Pearson Airport and the US via uncongested 400 series highways.
With a past that relied on cars and highways, supporting low-density suburbs with zoning that separates residential from business, retail and industry, nearly everyone has to drive to work, shop and play. Now we have the most clogged highways in Canada and some of the worst commutes in North America.
The lack of new land to develop in Mississauga cuts our income from development fees dramatically. Combined with ongoing needs for investment in infrastructure and resistance to either increasing taxes or reducing services, the City will be going into debt for the first time. Does this mean we may be in economic gridlock? Some 10-year projections predict future debt at hundreds of millions of dollars! Our financial success is at risk.
How Will We Move, Live and Thrive in the 21st Century?
This theme will be explored at the Mississauga 2013 Summit, an important opportunity for you to listen, learn and have your say on these crucial issues impacting your life.
For the first time, Mississauga, Oakville and Brampton will be actively represented by their Mayors: Hazel McCallion, Rob Burton and Susan Fennell, respectively. The Mayors will serve as Honorary Chairs of this special Three City Summit on May 21 at the Mississauga Convention Center.
Community, business, City and social services leaders and residents will be invited to learn about and engage in these issues. This is an opportunity for the three municipalities to participate and work together towards solutions and common ground.
The Mississauga Summit originated in 2007. There have been four summits since, which led to the formation of task forces focusing on big ideas such as advancing waterfront redevelopment and revitalization, building stronger neighbourhoods, diversity and inclusion, post-secondary education, and jobs and innovation. We have presented our five big ideas to the community, City Council and the Province with many of our initiatives either in implementation or close to it.
The summit's past speakers have included John Tory, Joe Berridge, David Crane, David Suzuki and Naheed Nenshi.
This year, the keynote speakers will set the context for questions on economic gridlock and address some of the solutions. In smaller groups and round-table discussions, participants will actively engage in working together to further analyze three subsidiary questions and their ensuing issues:
1. How will we move? What will our integrated transit, road and air transportation networks look like, and more importantly, how will we pay for them?
2. How will we live? What will our neighbourhood and city growth look like? Do we require changes in zoning, density and urban design? What about the call for an end to growth?
3. How will we thrive? How will we fight poverty and homelessness? What innovations and employment opportunities will we create for youth and diverse communities to ensure everyone has a chance to thrive?
There will also be various alternative development scenarios up for discussion and debate, to encourage a shared dialogue and create a common vision.
This special Three City Summit's goal is to accelerate progress in determining outcomes for some of the most important issues of our time. Get additional information on past summits at mississaugasummit.ca.