ERIN MILLS TOWN CENTRE CELEBRATES PROM WITH THE SPARKLE PROJECT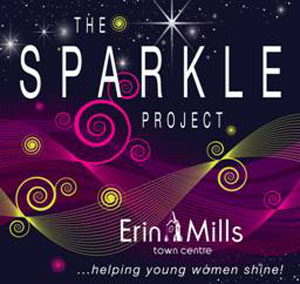 For many young women, prom is the highlight of their high school career and creates long-lasting memories. For others, the high costs associated with buying a dress, shoes, and accessories can make the event a cause of stress rather than a time of celebration. Erin Mills Town Centre (http://www.erinmills.ca/) is asking the community and its own retailers to donate current, gently-used dresses and accessories to The Sparkle Project. Created and hosted by the popular Mississauga-based shopping centre, The Sparkle Project aims to outfit 50 deserving students from the surrounding area, chosen by their high school's guidance counsellors, and give every woman the chance to shine at her prom.
"We wanted to create something that people of all ages could participate in to benefit the vibrant youth in our neighbourhoods," says Tahira Tayyab, marketing coordinator, Erin Mills Town Centre "Many young people work very hard in school and at part-time jobs, even some here at Erin Mills, to help support their families. Prom should be a magical moment for every young woman, regardless of her financial situation."
SPARKLE PROJECT PROM DRESS DONATIONS
Erin Mills is asking everyone to start their spring-cleaning early and look through their closets for:
• Gently-used dresses (preferably dry-cleaned)
• Accessories such as evening handbags and jewelry in excellent condition
For every dress the shopping centre receives, the donor is entered into a draw for a $500 Erin Mills Town Centre gift card. Dresses can be dropped off at the mall's Guest Services (located on the lower level by the Erin Centre Blvd. entrance) bagged and on hangers until April 30, 2012.
ERIN MILLS PROM MAKEOVER CONTEST
In addition to the collection of prom dresses for 50 pre-selected young women, Erin Mills is also offering a chance for all students attending a high school formal/prom to win a full prom makeover. Prize package includes a new dress, shoes and accessories, hair and makeup services, photo spread in Mississauga Life, styling tips from expert fashion consultant Robin Keeler and a chance to appear as a model on CHCH News Hamilton. To apply, contestants must imaginatively demonstrate why they deserve to win the chance to shine before the prom begins! Judges are open to creativity- to enter candidates must go to (www.erinmills.ca/sparkle) and apply using the method of their choice (i.e. short story, video of a poem, rap, dance, etc.) before April 5. Three winners will be selected on April 9, 2012.
---
About Erin Mills Town Centre: Conveniently located in the heart of Mississauga, Erin Mills Town Centre is an inviting and relaxing community hub with a large selection of stores and services. It currently offers over 220 stores, three anchor retailers and five restaurants. Erin Mills Town Centre has easy access from the 401, 403 and 407 highways and is open Monday to Friday, 10 a.m. to 9 p.m.; Saturday, 9:30 a.m. to 6 p.m.; Sunday, 11 a.m. to 6 p.m.