New Executive Director of Mississauga Arts Council brings fresh belief to her post.
Words by Mike Douglas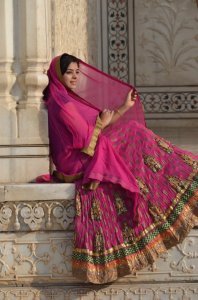 "Mining my subconscious…finding my inner child and sharing that with others."
This is a fragment of an underlying philosophy that animates the new Executive Director of the Mississauga Arts Council: the artist and entrepreneur Anu Vittal.
Her confidence is palpable: "As a member of the community and an artist, my role will enhance the work that MAC does as an umbrella organization, enhancing the legacy of all disciplines of art for all of our diverse cultures."
Vittal is very comfortable with the marriage of art and promotion. "I'm a builder. I build relationships and businesses and prefer collaborations." She points to businesses she has built around consulting work, facilitating market entry for companies in her native India wishing to do business in Canada.
Her community connections are wide and varied. She has been a voluntary Festival Director for the Mosaic Festival, one of the largest multi-disciplinary South Asian arts festivals in North America. Vittal is also the former President of the Mississauga Arts Society, a director on the boards of Access Employment and Sampradaya Dance Creations, and was Chair of the Diversity and Inclusion Forum for the Western GTA Summit.
Born in Bangor, India, Vittal has lived in Canada for 10 years. Her consulting firm provides marketing support and strategy development for overseas companies to grow their markets in North America. She has over 17 years of corporate experience in marketing and supply-chain management, working with companies like 3M and Maersk Line. She is also a certified ISO–9001 Auditor and Six Sigma specialist.
"As a child, one of the easiest ways for me to communicate was by writing and painting. I'm an abstract expressionist inspired by Kandinsky. I found that along the way, most of us forget that we are born artists and as we age and go to work we lose that part of ourselves. Fifteen years ago I felt I'd lost that part of my life, and coming to Canada I thought I could meet more people through art—I volunteered for events at MAC and joined."
Vittal's work with the Mosaic Festival, in particular, has informed her views on the changing demographics of Mississauga and how much volunteers from different communities can do working together for something they believe in.
Belief in oneself is a crucial tenet in Vittal's personality—she wants all of us to nurture that special spark that makes us unique and help it to flourish, in order to do our best for ourselves, the community and the planet.
"We need to increase our GCP—gross conscious product. I'm trying to find a better version of myself, and that's important, but most people don't have time for that and we have to address that."
Anu Vittal artist profile: