Words by Jay Kana
The wonderful folks over at BMW Canada were kind enough to give me an early and extended Christmas present this year by letting me have the striking 2015 M4 hardtop convertible for three beautiful weeks.
Now this being Christmas and all, everyone's out and about doing this and that and I'm definitely part of that group. With that said, there's no way I could put together a single review on my three weeks with the M4 (December 15 to January 5) without blowing through a couple thousand words, which is like Jenga-esque stacking a regular sized dinner plate with a 100 extra spicy chicken wings and eating them in one menacing sitting. Instead, I've chosen to put about 10 wings per plate via chapters making it easier for you to digest.
I picked up the M4 at 1:30 p.m. on  from BMW's head office. Knowing it was a convertible, the first thing I did was lower the roof because, well, that's what you do with a convertible car. I would've driven back to the office like that but Mother Nature strongly suggested that I really shouldn't.
Reluctantly, I put the roof back up, got in the car and adjusted my seat position. As I have long legs and a regular length upper body, my seating position is really quite easy to configure; seat all the way back and I crank it as high as it can go for the best, safest possible line of sight.
Second on my list was setting my side and centre mirrors as only women have eyes in the back of their heads.  And finally, I did phase one of setting up the equalizer on the booming Harmon Kardon sound system.  Phase 2 was done later Monday evening and finally on Tuesday morning, after 20 minutes of adjustments, I had everything perfectly balanced. And does it ever sound great!
I popped over to No Frills to get food supplies for the company Christmas party on Tuesday afternoon and later that night I did a solo trip to Walmart for groceries and round one of Christmas shopping.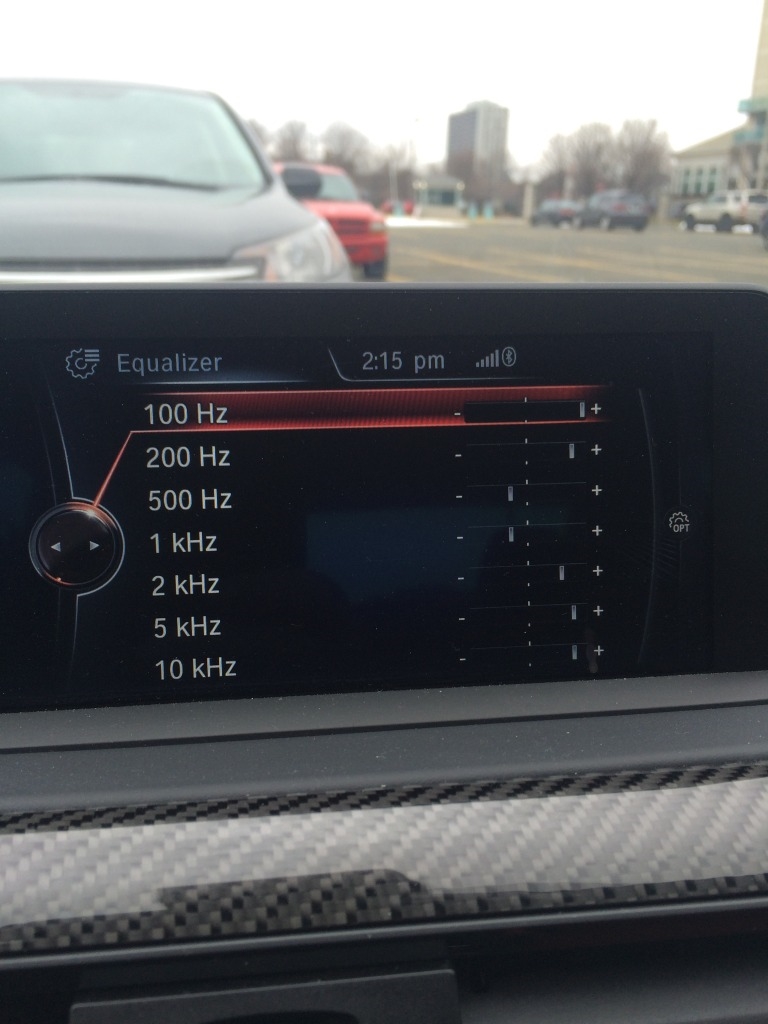 After dealing with the craziness of Walmart, it was such a good feeling sitting down in a BMW and being hugged by leather seats knowing that home is a short drive away.
Wednesday night I had a smooth drive up to Milton for a quiet yet enjoyable night in the country and that brings me to Thursday morning. Not too bad for the first three days.
Oh, and my goal of having the top down as much as possible is still being sought after. If it stops raining, that top is coming off ASAP.
So far, it's been a dry three days in the M4.
---
Click for a larger image.