Words by Jay Kana
Photography by Jay Kana and Laura Q.
Going to a golf resort in late February doesn't seem like an ideal weekend getaway on the surface. The weather is seasonally accurate and it'd be easy to lose all your golf balls on a course covered in snow.
However, that didn't stop Laura and I from spending a weekend at beautiful Cobble Beach, which is nestled on the shores of Georgian Bay, just a touch north of Owen Sound.
Arriving Friday evening, we were warmly greeted at the front desk by the owners Rob and Rosie McLeese. We were given the Blue Heron room, which was wonderful on its own; never mind the scenic view of the water we had. A comfortable bed, large bathroom with shower and tub and a second floor loft with a Murphy bed and couch, gave the room an inviting atmosphere.
Once we got settled in, we had dinner with the McLeese's right beside a toasty fireplace at the on-site Sweetwater Restaurant, headed by Executive Chef Tim Johnston. The service was absolutely wonderful and our food was delightful! We started with a Caesar salad and calamari (both great!). Laura ordered the gnocchi and I had steak for our mains.
The McLeese's are very humble folks and there was a consistent sense of pride in what they've created at Cobble Beach. The scenery alone is enough to warrant the short, two hour drive from Mississauga, let alone the vast amenities. Their hard work and dedication shines through as they spoke of the history of Cobble Beach, the efforts it took to get it from concept to design to reality, how they've become a premier Canadian golf destination and how bright the future looks.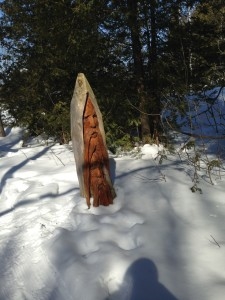 Saturday, Laura and I got facial massages at the on-site, five star Vichy Spa after a great, classic bacon and eggs breakfast. After another great meal at Sweetwater, (seriously, I could easily eat there seven days a week the food is that good!) the four of us ventured off for an afternoon of cross country skiing which took us through the golf course. The circuit was about 3k and it took us a couple of hours at a leisurely pace. There were some beautiful sculptures chiseled into trees, a great view of the bay and picturesque scenery through the trail. Oh and yes, there were some slips and falls between Laura and I; hers more graceful than mine. I'd be standing still, blink, and then fall over.
After a well-earned shower and nap (seriously, we should've been smarter and scheduled our facial massages after the cross country skiing), Laura and I headed down to dinner where we decided we'd happily come back for golfing and relaxation once the weather warmed up. If Cobble Beach is this attractive in the winter, imagine how enticing it must be year round.
As we continued chatting, the conversation turned to very preliminary thoughts of what it would be like to have a home in Cobble Beach. There are plenty of houses, many of which are for sale, with a strategic expansion plan in the works over the next few years. And the pricing structure makes it so that your jaw isn't close to the floor either. Oh, and the few model houses we saw were truly breathtaking.
When Rob first explained the housing plans, my first question was, "With an expansion plan on top of existing houses, aren't some of the folks that buy houses near the end of the plan going to have their scenic views compromised?"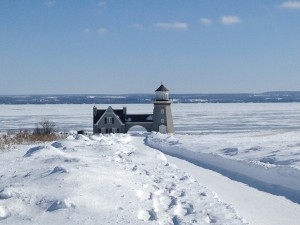 And I'd barely gotten the question out when Rob said, "We've planned accordingly for that and will ensure that proper view corridors are maintained for all our residents." Because really, the view is breathtaking as is the entire feel of the community and if you're considering having a place in Cobble Beach, you want to make sure it's everything you want, and that's exactly what they're striving for.
So while we didn't do any golfing, there's a state-of-the-art golf simulator on-site so you can practice your game. The simulator also collects stats for each motion you make, making for an active and fun way to get you through winter and prepare you for the real golf course come warmer weather.
Cobble Beach is a 600-acre piece of paradise that's close to the GTA. Do yourself a favour and head up there for a weekend getaway, some golf, a vacation, or perhaps you may even consider it as a place for your second home.
Click for a larger image.