Helping companies tell their story, 5th business is a catalyst for corporate reinvention.
Words by Kristy Elik
In the forward of the classic book Fifth Business, Canadian author Robertson Davies describes the title character's role as "neither that of Hero nor Heroine, Confidante nor Villain, but which is none the less essential" to the story's denouement.
That's exactly the role coveted by successful Mississauga company 5th business®: to act as a catalyst, helping clients drive forward their unique story.
A full-service strategic marketing firm that helps organizations identify new prospects, attract new customers and retain existing business, 5th business provides strategy development, market intelligence, comprehensive communications support, interactive programs and direct response initiatives.
Founded in 1997 on the basis of solid market strategy, the firm has completed an amazing 1500 projects in the past two years for a veritable who's who of clients including Black & Decker, Canada Blooms, Skyservice, the Mississauga Board of Trade, Ontario Flower Growers, NOW magazine, RBC Royal Bank—and Mississauga's energy provider, Enersource.
"We're all about identifying where you've been, who you are in today's busy marketplace and then discovering together how you can do better," explains 5th business president Stuart Lewis, a firecracker of an executive whose enthusiasm, excitement and passion for his role is evident with every mention of his clients and his team.
"We've been able to assemble a team of highly pedigreed, extremely bright professionals who are collaborative problem-solvers," says Lewis. "When a company approaches us for help—and our new business is mainly through referral—we sit down together and dissect how we can address their specific challenges."
When Enersource approached 5th business in January 2010, it was with a specific agenda: to modernize and better integrate their communications with their clients and their employees—and to reinvent the Enersource brand at the same time.
"Enersource is an amazing company," says Lewis. "They're technologically advanced, extremely safetyoriented, best in class, really. "But people weren't thinking about them unless something went wrong."
One of Ontario's most trusted, reliable energy providers, Enersource serves almost 200,000 residential and commercial customers across Mississauga. The company needed to communicate that it provides much more than just energy: that it helps educate about electricity safety, offers programs for conservation and through its website, helps customers manage their Enersource account easily.
With the help of 5th business and its complex brandbuilding process, Enersource was able to identify how it should define itself moving forward, "as modern, progressive, environmentally responsible—'More than energy'," Lewis says.
With a new tagline, the next essential component of rebranding the company's image was to assess its logo. "Taglines and logos are brand pillars," explains Lewis. A key element in Enersource's logo design was to understand the ramifications of where it would appear; not only on company letterhead and communications but on every vehicle in its fleet.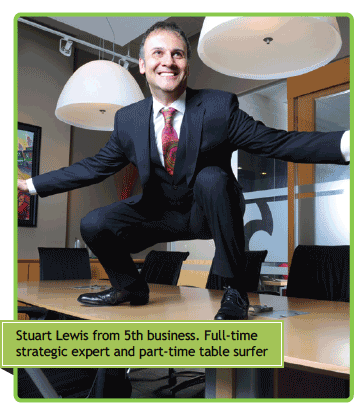 Plus, "90 per cent of the company is owned by the City of Mississauga," says Lewis, "so it was very important to be mindful of the political optics."
Add to the mix of challenges the fact that 50 per cent of the region's population was born outside of Canada, and so the concept had to transcend language barriers. Despite the myriad intricacies behind its creation, though, it turned out the simplicity of the logo contributed to its beauty.
"We gave the Enersource logo several different treatments and tested them to see which would resonate most," Lewis says. "The logo that stood out by far was friendly, inviting, balanced— it inspired confidence."
Next steps for Enersource involved the launch of its reinvented brand to its employees.
"For Enersource, and for any company, the fact that they're investing in their brand cements the team spirit of the people who work there," says Lewis. "It's a bonding experience, everyone can be proud of the improvements and also rewarded by the resulting success."
After its internal launch came the public launch, including a whole new website.
"A major piece of the puzzle was the redesign of the Enersource website," says Lewis, "because it's a key element in its customer relations."
"The site had to be extremely user-friendly while projecting the collective spirit of the company. There's also a major community ingredient that needed to be included."
The result for Enersource, after a long process of self-discovery with the help of catalyst 5th business, is a refreshed and reinvented image that will surely lead them well into the next chapter of their story. For more information about 5th business and to view samples of their work, visit www.5thbusiness.com.
To see the newly launched Enersource logo and website, visit www.enersource.com.