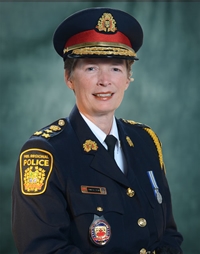 Female leaders have always played a huge role in Mississauga's life. On September 25, 2012, Peel Police Service Board Chair Emil Kolb announced the appointment of the first female Chief of the Peel Regional Police, Jennifer Evans. We contacted the new chief and asked her to sound off on the challenges that the Peel Police face.
Chris Carriere: Peel Police were cited for being reluctant to investigate misconduct by its officers. We asked Chief Evans for her view on accountability.
Jennifer Evans: Public trust and confidence is the cornerstone of the Peel Regional Police. We will continue to hold our members accountable for their actions and are committed to being a transparent organization.
CC: With only 14 percent of Peel Police identifying as racial minorities, representativeness is another key issue.
JE: While our recruiting efforts continue to address diversity issues, all members are fully capable of connecting with our diverse community mosaic. This includes participating in cultural and community events, providing diversity training and youth education programs (such as Peel Children's Safety Village and the Youth in Policing Initiative), and making our services more accessible. We continue to ensure our programs and partnerships are meeting the needs of the diverse community we serve. In 2011, there were 212 new hires (70 uniformed and 142 civilian) which included 0.9% aboriginal and 0.5% persons with disabilities. From 2010 to 2011, racialized hires increased from 28.8% to 45.8% and female hires increased from 45.9% to 48.1%.
CC: We asked how her experience as a violent crime analyst would influence her approach to the top job.
JE: The opportunities I've had in my career have enhanced my sense of being accountable to the public for my decisions. Policies and procedures are important to ensure that everyone within the organization is performing consistently under the same guidelines. I am very proud of the work done by the men and women of the Peel Regional Police. My past experience has taught me that, while the responsibility is mine, most often the path to success is through collaboration and teamwork.
CC: Turning the tables, we also asked Chief Evans what she needs from the community.
JE: Sir Robert Peel, the founder of modern policing, famously said, "The police are the public and the public are the police." We look for the public to continue to work in conjunction with Peel Regional Police and together we can pursue a safer community. Our website has some great info on many PRP-related topics, and our Crime Prevention Bureau has a number of fact sheets available that will help residents better protect themselves.
(All items sourced from 2011 Annual Performance Report.)