1. Electric or gas. How big is your backyard? Electric trimmers are great for a narrow townhome lot; not so much for estate grounds. They're also quieter—treat your neighbours to the sound of silence.
2. Plug-in or rechargeable. Batteries have come a long way, baby; battery-powered trimmers can now operate at peak level for 35 minutes. You'll lose some maneuverability due to increased weight, but you won't have to do battle with the extension cord.
3. Two-cycle vs. four-cycle gas-powered trimmers. Gas-powered trimmers work a little harder relative to their heft and offer unlimited operating time. The two- cycle/four-cycle dilemma largely comes down to taste: two-cycles have more muscle, while four-cycles are quieter and vibrate less.
4. Curved vs. straight shaft. Less expensive trimmers often come with a curved shaft; good for lighter jobs. Straight-shaft trimmers offer less vibration and more flexibility in type of trimmer heads and brush blades.
5. Trimmer line. Trimmer line diameters range from .060 for electric trimmers up to .155 for heavy brush removal; the most common width for grass trimming is .080. The diameter will also dictate the type of trimmer head you'll require. Be careful with some of the thicker line or be prepared to apologize to wounded trees and fence posts!
6. Engine size. Engine sizes range from 21.5 cc (smaller curved shaft trimmers) to 56.5 cc (heavy-duty brush cutters). Most homeowners won't need the heavy weaponry for everyday lawn care. For multi-duty applications, consider investing in a larger engine to avoid heartbreak (or heart failure) when using heavier- gauge trimmer line or brush-cutting blades.
7. Combination units. Most manufacturers offer the option of buying the power head separately from the attachments, which allows the user to add additional tools at a much lower cost. Make sure you buy a unit with a superior quality connection system between the power head and the attachments, and you'll have the Swiss Army knife of trimmer on your hands.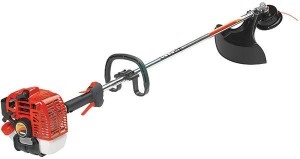 8. Attachments. You can purchase attachments for grass trimming, brush cutting, hedge trimming, cultivating, pole pruning, edging, blowing and brushing. Additionally, you can add extension poles to increase your reach up to 15 feet. No more risking life and limb climbing ladders with heavy tools for hedge trimming and pruning!
Maintenance is important to ensure the trimmer will start easily and operate properly when needed. Change the air filter and spark plug annually, use fresh gas (less than three months old) and ensure you use the proper mix of oil and gas.
Safety is paramount with these tools. Always wear eye and ear protection and wear long pants. Your shins will be enormously appreciative.
There are many options on the market and getting advice from your local independent dealer can make the difference between years of enjoyment and years of chiropractic treatment.