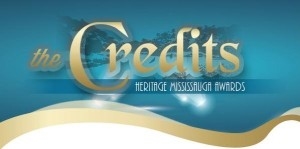 Have you submitted your nomination for Heritage Mississauga's The Credits?
The Credits is Heritage Mississauga's new awards program, dedicated to honouring community dedication and achievements. Nomination categories include: Lifetime Achievement, Heritage Youth, Heritage Champion, Community Heritage and Natural Heritage.
The opportunity for nominations will close on August 30, with an awards ceremony on November 21 at the Mississauga Grand Banquet and Convention Centre. An Aboriginal drum will begin the night, and Mississauga youth will entertain guests throughout the evening.
For ticket ($65) information, visit Heritage Mississauga's office, or email them.
To nominate someone you know, visit the Mississauga Heritage website to download the nomination form.
UPDATE (November 14)
The Credits are a week away, and tickets are going fast! Nominations have closed, but you can still buy tickets for the big show. The reception begins at 6:00 p.m., dinner will be served at 7:00 p.m. and the awards ceremony will follow. Tickets are $65 and include dinner.
Heritage Mississauga
1921 Dundas St. W.
905-828-8411