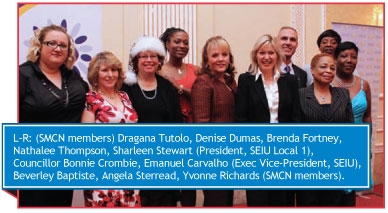 On Dec. 2, 2011, at the Versailles Convention Centre, members of SEIU Local 1 were honoured at an event celebrating the accomplishments of their new initiative, the SMCN (SEIU members' Multi-Faith & Community Network).
These healthcare workers have been taking time out of their schedules this past year to make a positive difference in the lives of others. They have raised funds for the Kidney Foundation and the Shoulder to Shoulder program, plus they organized a Christmas toy drive.
Wheelchairs, walkers and medical supplies were collected and sent to a hospital in Jamaica and a home for the disabled in Grenada, and school supplies were donated to an inner city school on International Children's Day (June 1).
The members of SEIU Local 1 are a shining example of how we can all make a difference.