With the launch of her new HGTV show and signature range of fabrics, Sarah Richardson's star is burning brightly.
Words by Kristy Elik
To style-conscious Canadians, the name Sarah Richardson is ubiquitous with design.
Known for the creation of innovative, award- winning design solutions that speak directly to the tastes of a contemporary audience, Sarah is the host, co-creator and co-producer of four celebrated HGTV series watched by fans in over 100 countries. Room Service, Design Inc., Sarah's House (and Sarah's Cottage), and Sarah 101 are a collection of lifestyle television series dedicated to tackling the demands and design challenges of modern living.
Her brand-new HGTV show, Real Potential, debuting on September 19, is an amalgam of all of her favourite renovation platforms. This Spirit of the City writer (and huge Sarah fan!) caught up with the busy doyenne of style amid her family relaxing at her gorgeous Georgian Bay cottage after her whirlwind trip to NYC to promote her new fabric line for Kravet.
Kristy Elik: Congrats on your new show—tell us about it!
Sarah Richardson: There are property, renovation and design shows, but Real Potential is a fresh combination of all three. I uncover the hidden potential of not-so-pretty houses by touring three homes with prospective buyers. I share my real estate know-how, my construction and design experience and advice, and my innovative thinking on matters of style to help buyers see past the one disaster room that's preventing them from seeing themselves living in the home. Once they buy, a whirlwind of renovation follows, at once transforming their chosen house into their dream home!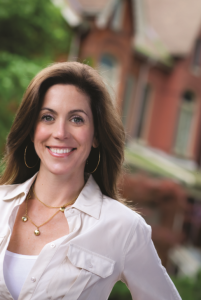 KE: What's your ultimate goal when it comes to design?
SR: When designing interiors, I think about how I can offer a unique experience to every client so they are left with a completely customized home. When creating television programs, I strive to offer inspiration, education and empowerment so that viewers at home can embrace the ideas and interpret them in their home. When it comes to product design, I want to ensure that every item designed by me is something I would be proud to have in my own home, and fulfills the goal of blending design integrity, quality and value. And when it comes to my brand, I'm 110 percent invested in every aspect of what I share with my audience. Above all, I believe you should live in style and love your home!
KE: Mississauga is a relatively new and ever-expanding city, which means many of its residents live in what can only be described as cookie-cutter, builder- imagined homes. Any advice for folks who want to add a little character to their houses?
SR: When it comes to customizing builder homes, the beauty will be in the details. Trim details and interesting architectural features add huge value and impact to a home. Get creative! By installing inexpensive exterior panelling, high baseboards, chair rails and even crown moulding, you can make your home look like a designer masterpiece. Think of your panelling as another opportunity to experiment with colour—it doesn't have to be white! You can create a more noticeable contrast in colours if you accent the chair rail and baseboard with white trim paint, and use a warm grey for the panelling.
And size matters here. The rule of thumb with trim and baseboard details is that bigger generally looks better. Under- scaled trim details make the architecture of a home look cheap, whereas chunkier profiles will help frame your home in style! Even in a home with standard eight-foot ceilings, you should still use a baseboard at least seven inches in height. With a bit of know-how, you can give your rooms the character you always wished they had. Look for classic details when selecting your hardware for your doors. A simple, round knob is a timeless choice and can be brought up to date with the finish selection. An aged pewter tone can easily be mixed with black, steel or antique brass accents, so it's a good choice for any home!
KE: Mississauga's City Centre is fast evolving as condo central. By 2021, an estimated 40,000 people will make a condo their home. How can small-space dwellers make their box in the sky more beautiful?
SR: Think tall! Making a little room both look and feel bigger than its pipsqueak proportions is all about tricking the eye and maximizing what you've got to work with. By emphasizing the vertical proportions of a space through furnishings (such as tall lamps and floor-to-ceiling curtains) and accents (like a wall-filling mirror), you can squeeze a lot into a tiny room without making it feel cramped. A glass-topped coffee table will add to the illusion of space, while side tables with drawers and a shelf offer handy spots for storage.
Also, it's wise to invest in customized solutions. Sometimes, a single piece of furniture just won't do the trick, but a well- planned built-in providing surfaces, seating and storage space can help fulfill a number of goals by combining various functions.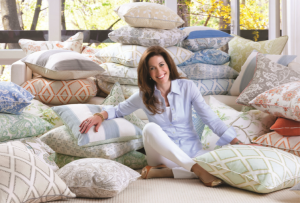 KE: Your new website, sarahrichardsondesign.com, recently launched. How's the feedback?
SR: It's been amazing! I partnered with the brilliant minds at Design Lab in Toronto and what they have built is incredible! Our goal was to improve and expand on the things people love and to make the site even more user-friendly: bigger pictures (and more of them), lots of work from our portfolios, features about our incredibly talented team and new content all the time.
The website also gives us many more opportunities to work with brands. I've had great experiences working with a number of companies in the past and I believe that the future lies with authentic connections between consumers and brands. The new site allows me to leverage the great work we do with our partners and to build out more unique and interactive opportunities.
KE: What trends are you anticipating when it comes to home design and room makeovers for the coming season?
SR: Pantone's colour for 2013 is emerald green, and we're still seeing that trend everywhere. Ticking stripes are a great pattern for fabrics and another pattern I'm loving is marbling, in everything from glass vases to wallpaper.
KE: Tell us about your new fabric line for Kravet.
SR: Viewers will know that for me, a beautiful fabric is usually a launching pad for the palette I will incorporate into a room. My new line for Kravet features patterns as well as a variety of colour palettes that are anchored in serene blues, fresh greens, foggy greys, warm oranges and buttery yellows.
The layering of prints in a room is a signature element of my work, and I designed all the fabrics in my Kravet collection to work with one another. I strived to combine beautiful designs and fresh colour palettes with references that are classic and timeless and easy to live with. The inspirations came from the patterns and colours that I love most. There's a variety of large-scale florals mixed with fun paisleys, plus geometrics, stripes and playful patterns. It's the epitome of all that I love about fabric!
A Little Something About Sarah
Since launching her first television show over 13 years ago, Sarah has over 250 episodes to her credit.
Sarah started out in 1995 working behind the scenes as a prop stylist and set decorator.
Sarah also runs her own successful design business, Sarah Richardson Design Inc., which transforms commercial and residential spaces.
She holds in BA in Visual Arts from the University of Western Ontario (1993).
Her family consists of entrepreneur husband Alexander Younger, their two young daughters, and an adorable Wheaten Terrier.
Kristy Elik is a (somewhat style-challenged) award-winning writer and editor whose passion for authenticity and truth, plus a love of goofy fun, drives her every day.