A city's character is built by its best.
Words and photography by Mike Douglas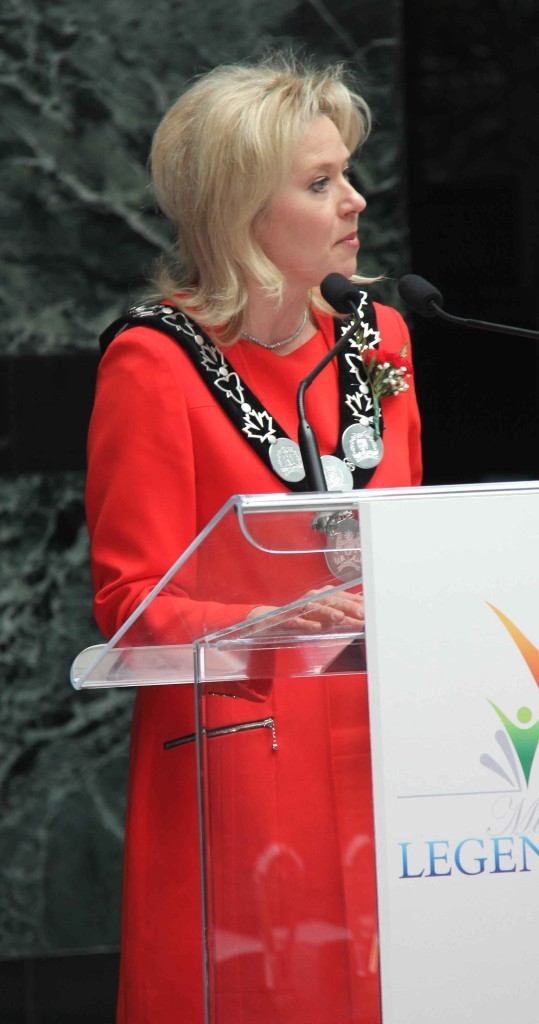 On January 17, 2015, the Mississauga Legends Row Induction Celebration was held in the Great Hall at Civic Centre to recognize and congratulate the Class of 2014. Mayor Bonnie Crombie listed the Legends and welcomed their guests to this special and often touching event.
This is a proud family occasion like no other in our city, and attendance is by invitation only. A full house of dignitaries and family members were on hand to mark the induction of their relative or colleague as an outstanding citizen in the history of Mississauga.
The ceremony began with Master of Ceremonies Ron Lenyk welcoming the guests and introducing Peel Region Police Chief Jennifer Evans to introduce NHL Legend—and Mississauga's 90-year-old Honorary Chief of Police—Johnny Bower, who, amongst other things, helped to lead the Maple Leafs to their last Stanley Cup win in 1967.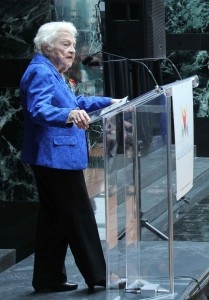 After receiving his glass trophy, the kindly former Leafs net-minder shared his recent activities, helping others to achieve their dreams as he had done. This set the tone for this generous-minded event.
Next up, Mississauga's past mayor Hazel McCallion—a legend in her own right—stood to introduce her old friend, the late Harold Shipp, the great home and office builder so central to the making of Mississauga. Shipp Construction is a proud and famous family name in Mississauga and daughter Kathryn Wells was on hand with her children and brother Harold Shipp, Jr. to accept the award and touch on some of her father's many interests.
One historic point of pride was his generous contribution to the Mississauga Hospital. Mr. Shipp declared that he would match the rest of the community's donations up to 6 million dollars and this extraordinary commitment and challenge led to the donation of 12 million dollars to the hospital.
John Siscos of Woodbine Entertainment Group took pleasure in introducing Canada's most famous and successful racehorse jockey Sandy Hawley. Can you imagine winning anything 6,449 times? That's the number of horse races this amazing man achieved. In one year he won over 500 races, and in one day he won seven! Sandy Hawley is in the conversation as the greatest jockey of all time and he tears up, remembering how much he and his wife Lisa enjoyed living in Mississauga.
Sportsnet TV's web editor and hockey broadcaster Scott Morrison stepped up to introduce remarkable talent agent Elliott Kerr, the leading representative of television sports talent and professional athletes through his company Landmark Sports Group. He founded the Mississauga Marathon, is owner of the new Mississauga radio station CKNT, plus the OHL Mississauga Steelheads and former owner of Twins baseball team—named for Kerr's children.
This was a humbling experience for Mr. Kerr, a widower who remembers well his inspiration: his late wife Jane Rogers, and the thrills he felt as a young boy in St. Catharines who dreamt of owning a hockey team.
It's hard to imagine what the Mississauga arts scene would look like today if not for the tireless efforts of the first executive director of the Mississauga Arts Council, Laurie Pallet. Laurie both led and served for 17 years and was the catalyst for the development of arts organizations like Visual Arts Mississauga, the Living Arts Centre and the Art Gallery of Mississauga.
Fran Rider, executive director of the Ontario Women's Hockey Association, introduced a great friend of women's hockey in Canada and a fitting addition to Legends Row: Don Cherry. In a TV special a few years ago, Cherry placed in the top five for viewers' choice for outstanding Canadian of all time.
As it was a Saturday afternoon, it wasn't surprising that Cherry was unavailable, so the audience enjoyed anecdotes and insights provided by his daughter, Cindy. Kimberly Boyle, of Enersource (a key sponsor for the event), presented Cindy with Don's award. Ms. Boyle, as an active hockey goaltender, personifies one part of the Cherry legacy in Mississauga.
One of the benefits of an event like this is the opportunity to learn about a great talent you may never have heard of. Photographer George Hunter was a giant in photography around the world and his dedication to his craft as a brave documentary photographer was recalled by his colleague Bert Hoferichter.
Bert's story of George flying his own plane while taking photographs and then falling out the open door onto the wing, before crawling back in to resume taking photographs will be remembered by all who heard it.
Congratulations to Ron Duquette and the distinguished Board of Directors responsible for this important step along the path to forging the unique and memorable identity of Mississauga.
Mississauga Legends Row is one of the foundational pillars in building a city's cultural strength and identity. It showcases the strong character-in-action roots of our city through its most distinguished citizens and provides an authentic answer to the question: who are we at our best?
For the full photo album from this event, visit and like us on Facebook!