The Brogue Inn
Let's start on the northwest corner of Hurontario and Lakeshore with The Brogue Inn, a popular neighbourhood pub with a friendly atmosphere. On Thursday nights, guests have to make reservations to enjoy Brian MacIntyre & the Rogue Brogues. Slap the tables and sing along to family-friendly Irish folk music!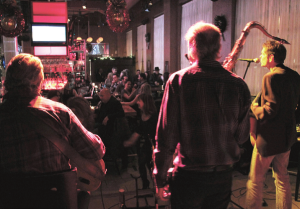 Ten Restaurant & Wine Bar
Across the street you'll find Ten Restaurant & Wine Bar. No matter how cool it is outside, it's hot inside. The stylish layout and lighting support a great variety of music, and for seven years on Tuesday nights one of Canada's most recognized jazz musicians, Chris Smith, takes the stage. "Music is a language," Smith says, "and we put it out there." Check the website because there is live or recorded music on every night.
Roc'n Doc's
Just two blocks west on Lakeshore Road, visit the unofficial blues HQ of Mississauga: Roc'n Doc's. For 15 years, this venue has hosted live music most nights and on Sunday evenings. Blues legend Chuck Jackson plays with his All-Star band and remains connected to his hometown through this small bar with a big musical tradition. "They know how to make musicians feel appreciated here," he says.
Shore Grill and Grotto
Keep trekking west on Lakeshore to Shore Grille and Grotto. On Thursdays through the weekend, join the crowd being entertained by talented solo performers like Glenn Groves. Groves is a master of blending electronic tracks with his own guitar and vocals to perform popular country tunes that get people dancing in the aisles.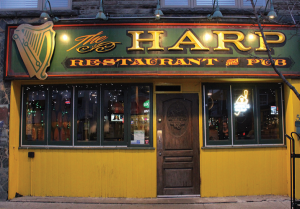 The Harp Restaurant & Pub
A few doors down, Maureen O'Neill, owner of Shore and The Harp Restaurant & Pub, provides an alternative to the Shore with a full-band experience at The Harp. The crowd is an easygoing mix of generations that is typical in Port Credit, as young and veteran musicians attract their respective patrons.
Spice Lounge and Tapas
Across the street from The Harp is Spice Lounge and Tapas. On Sunday nights at 1:00 a.m., the place is packed with young people enjoying eclectic musicians playing upbeat original music amidst the red-lit ambience of a small bistro.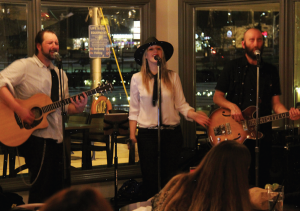 Snug Harbour
Walk south on Stavebank Road, and you'll see the Snug Harbour restaurant sign glowing. On the Friday night we visited, Lori Nuic was playing. A talented singer and songwriter, Nuic regularly tours Europe and the States and plays at Snug twice a month. Owner Roy Clifton enthuses that, "People love live music—it creates a special feeling in the air."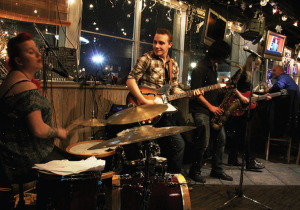 Lakeaffect Comfort Food and Music Lounge
Across from Snug Harbour at the Port Credit Harbour Marina sits Lakeaffect Comfort Food and Music Lounge. Lakeaffect features popular veteran bands and remarkable up-and-coming youngsters like The 24th Street Wailers, representing the next generation of musical talent to animate the stages of Port Credit.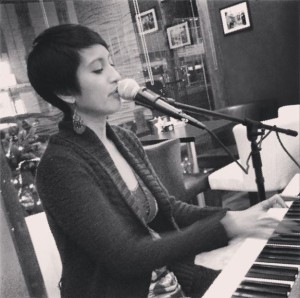 Dunk'n Dip Resto & Chocolate Lounge
Venturing east of Port Credit, you'll find a sweet treat at Dunk'n Dip. A chocolate lover's dream, Dunk'n Dip also features live music. Stop by from 7:30–9:30 p.m. on Tuesdays for local songstress Arlene Paculan, who plays a great mix of cover and original songs and is always happy to take requests. On Wednesdays, check out local saxophone player Patrick Panus from 7:00–10:00 p.m