Che si mangia oggi? (What are we eating today?)
The Open Cork — 2101 Dundas St. E. | 905-624-9777


This restaurant features Italian and Californian fusion cuisine, which is traditional Mediterranean cuisine combined with inventive fresh food combinations. Twelve years old, they boast the largest patio in Mississauga with a great selection of pasta, pizza, steak, seafood and lamb. If you don't like the standard menu items you can order off menu. Their extensive wine list is accompanied by a large selection of beer.
---
Il Porcellino
The name means the little pig, and the food is wonderfully authentic. Chef Antonio Tucci cooks all pasta dishes to order, so you won't find overcooked steam-tray cafeteria food here. This is a family-owned lunch place, but they also book private functions on evenings and weekends. Il Porcellino has been in business for 15 years and they just won the Top Choice Award for Best Italian Restaurant in Mississauga.
6720 Davand Dr., Unit #1
905-696-9755
---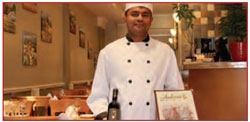 Andiamo Pasta Plus
A small, cozy and personable restaurant with great service and even better food which is always fresh and homemade. Andiamo Pasta Plus has close to 40 pasta dishes on their menu (35 regular items, plus daily specials), and they're all at reasonable prices. They also feature spelt, gluten-free, rice and whole-wheat pastas, so they can satisfy many special dietary needs. Try the Butternut Squash Agnolotti.
135 Queen St. S.
905-826-4904
---
Il Pescatore
This upscale ambient restaurant serves gourmet Italian food. One of the house specialities prepared by chef Davide Gutto is Giovanna di Napoli (Joan of Naples), a sweet potato gnocchetti with braised rabbit, mushrooms and double-smoked bacon; it comes highly recommended. Il Re dei Re (The King of Kings) is an excellent 60-day dry-aged rib eye. An extensive wine list complements any dish.
231 Lakeshore Rd. E.
905-278-8009
---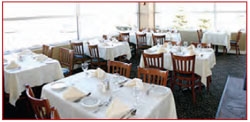 Tosca Ristorante
Classic Italian cuisine is on the menu at this elegant restaurant. Their pizzas are stone-baked, and their meat and seafood selection is impressive, including lamb, filet mignon and a fish of the day. There are also vegetarian options and they can accommodate special requests. If you're unsure of what to have, try the pasta mista—you'll get three different kinds of pasta, in three different sauces.
6990 Financial Drive
905-821-9334
---
Bella Cucina Italiana
At Bella Cucina Italiana, there is a lot of variety. Their pizza menu alone has 33 items and the bruschetta pizza makes a great appetizer. The menu also includes pasta, meat, seafood and risotto dishes. Try mouth-watering gourmet selections such as Patate alla Crema (roasted potatoes and cream), Spinaci (with spinach, pesto and feta cheese) and Primavera (eggplant, zucchini, and red peppers).
5029 Hurontario St.
905-712-2058
Did you know?
Contrary to popular belief, Marco Polo did not discover pasta. Although Marco Polo wrote about eating Chinese pasta, he didn't introduce pasta to Italy. In fact, there's evidence suggesting the Etruscans made pasta as early as 400 BC. A little further down the pasta timeline, the 13th century saw the Pope set quality standards for pasta. Yet it wasn't until the 1700s that tomato sauce was included with spaghetti in Italian kitchens. Today, the average person in Italy eats more than 51 pounds of pasta every year compared to the average person in North America who eats around 15 pounds per year.