New people-mover covers the essentials in style.
Words by Jay Kana
Prior to my week in the new Mitsubishi RVR SE AWC, I didn't have much experience with Mitsubishi except for seeing a handful of them on the road and occasionally passing by their head office on Matheson Blvd. Never drove one, never knew anyone who had one, etc.
What I do know is that their warranty commercials are chuckle-worthy. Their 10-year warranty is a great selling point for them—Mitsubishi is so confident in the longevity of their vehicles that they're doubling the industry standard. Sure, that may impact new vehicle sales volume over a short period, but they're taking a huge leap forward towards creating a lifelong partnership with their drivers. It's a gutsy move, but if you're trying to break from the crowd, this is one way to do it.
So let's get to the RVR, shall we?
For me, it was "like at first sight" with its well-positioned stance and clean lines. Neighbours and colleagues commented on the slick design of the RVR, from its front end to its smooth, clean and powerfully simple rear light housing.
The RVR wasn't designed to break any speed records; it's designed to be a good-looking people-mover. And that's exactly what it is. It's got a modest 148 horsepower with 145 lb.-ft. of torque married to a 2.0-litre MIVEC engine. What the heck's a MIVEC? It stands for "Mitsubishi Innovative Valve-timing Electronic Control" system. So it's kind of like a CVT. Here is a page from Mitsubishi explaining it.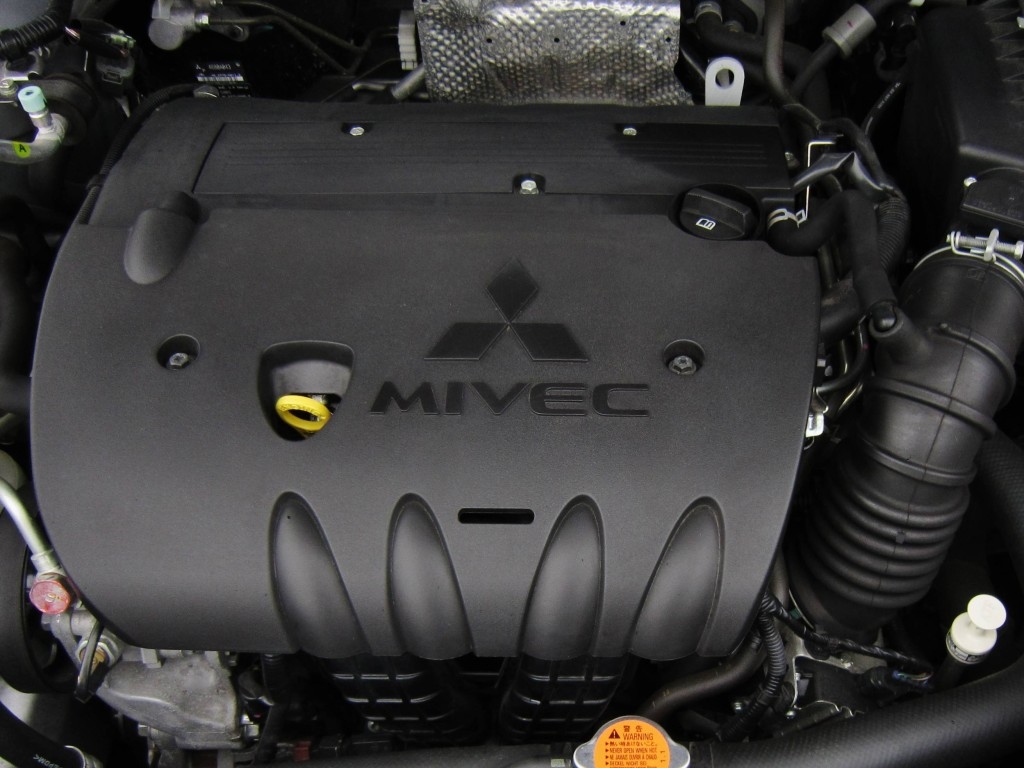 There are large, silver, sturdy six-speed paddle shifters on the steering wheel and when engaged, it creates a more desirable driving experience by making the shifting smoother and reducing the dragging effect of the MIVEC. And there's a nicely sized 4WD button just below the gearshift for rougher terrain, as currently found on, say, Dixie Road by the 401.
With the RVR, it's all about setting realistic expectations, and as such there was no disappointment when I didn't do 0–60 in 3.5 (sorry Rihanna, it just doesn't work like that with this car). I did have to put a bit of "right-foot oomph" when getting on the highway, and with a slight delay the RVR revved high and hard and we safely and semi-sluggishly got up to highway speeds.
On the flip side, slowing down/braking felt good. Not too spongy and not too harsh. The RVR reacted well to controlled, sudden stops. Ride comfort scores a solid B+, seat comfort gets a B, and backseat space/comfort also gets a B. I squeezed about 500 kilometres out of the 60-litre tank; those kilometres consisted of 80 percent city driving without using the A/C, which isn't too bad at all.
My tester came in at $26,498 and didn't have any upgraded options included. Which to me, in this case, is great. Why? Because it allowed me to get a feel for a model which I presume would be a popular seller in the compact SUV market. Car buyers are fickle folk. I can only speak for myself when I say that I like bells and whistles… but I'd be happy with bells. And a new guitar. And maybe a lobster dinner every couple of weeks.
It even came with this strange, short metal object that I believe you're supposed to insert and turn into an ignition slot to start the car. I did some research on the vehicle and found out that it's called a "car key." Talk about a blast from the past! I'm only kidding Mitsubishi—but it was actually cool to have to turn the key to start the car.
If you're in the market for a CUV that is good at being itself (a people mover, as opposed to a sports car hidden in bulky packaging), has respectable fuel economy, good looks, and a solid stance, the RVR should definitely appear on your list of test drives.
For more information, check out spec sheet and pricing breakdown. All photos provided by Mitsubishi Motors Canada.
Read more of Jay's car reviews: