Words by Jay Kana

I'll start this off by saying I'm the automotive black sheep of my family. My brother drives a 2000 Maxima, my sister a 2005 Altima and my mother a 2011 Infiniti G37X. And then there's me, with my 2010 Mazda 3 GT Sport as my daily driver. I'm not 100 percent certain that there was any intention for us to be a predominantly Nissan-based family, but that's how it panned out.
When I had a chance to drive the 2014 Rogue SL AWD for a few days, of course I jumped at it to see what the Nissan appeal was for myself.
Powered by the previous year's 2.5-litre 170-horsepower four-cylinder engine and that "love it or hate it" CVT (I'm not a fan), the Rogue has appropriate power to both propel you on the highway and gently get you through congested city streets. Here are my gripes with the CVT: it reduces responsiveness, it's noisy, and frankly, it takes the fun out of driving. But since we're all rightfully concerned with fuel efficiency, the CVT's benefits ensure that it's here to stay.
Rolling on 18-inch tires, the Rogue offers a smooth ride and the ride comfort is good, not great; the suspension should be a bit softer. I'd give it a strong seven out of ten there.
My nighttime Belfountain route was relatively good as I had a chance to really open up the engine; the Rogue does well at higher speeds. The big issue I have with nighttime driving in this car is the projection of the headlights: they're angled far too low to allow for safe vision on rural streets at night. Mississauga Road north of Mayfield is a pretty dark route; I had to flip the high-beams on to feel safe. Yes, they're quite bright, which is a plus, but even though Nissan says they have an "Auto Levelizer," I personally like more forward visibility at night. Adjusting the lights to sit a few degrees higher would be a good start.
While we're on the subject of lights, the LED DRL offers a nice touch of style to the front end. Let's be honest, Nissan isn't about to win any "styling of the year" awards this year, but they're making heavy progress to cut through a crowded segment. However, it's not ugly by any means and the new design is attractive. It's best described as a slightly smaller version of its big brother Pathfinder, which in itself is a fairly handsome vehicle.
I had the Premium Package which came with an array of great features such as a Bose nine-speaker audio system, navigation via a seven-inch color touchscreen centre console with voice recognition, a power lift gate, and my favourite, an around-view monitor which splits the screen into four, offering a view of all sides of the car. There's the good ol' blind spot warning system, moving object detection system and the lane departure warning system, an unofficial name for which is the "stop texting and driving" system. Seriously folks, don't text and drive.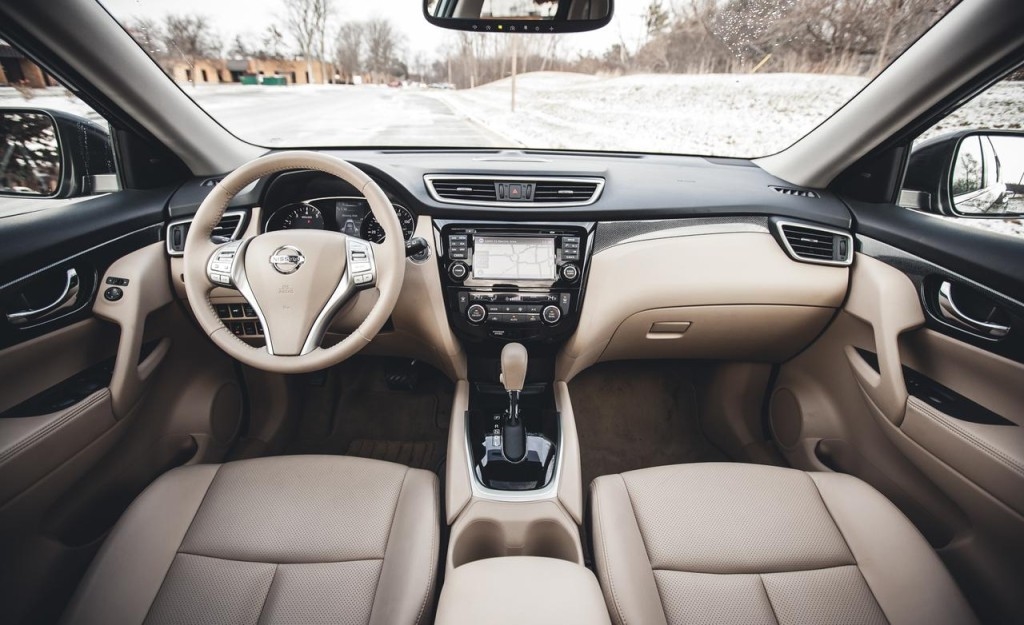 The info-tainment system is well laid out, easy to operate and the voice commands responded well to my silky smooth voice.
My Cayenne Red tester had the panoramic sunroof which helped the car feel much bigger than it is.
The NASA-inspired seats are comfortable, adjustable up to six ways, and heated. (Or four ways and heated if you're a front-seat passenger.)
A cool feature Nissan has is their Divide and Hide storage where you have 18 different combinations of dividers and shelves to keep all your stuff separated and organized. Heck, I know some people who should buy the Rogue based on that feature alone!
So aside from the personal request for higher angled low beams, I like what Nissan has done with the Rogue. Fully loaded, it's a Wendel Clark away from $35,000 and that's a fair investment for what you're getting. If you don't want all the upgrades, a base Rogue S is a toonie shy of $24,000.
I didn't get a chance to pop by my parents' place and create the "Nifty Nissan Branding Quad" on their driveway, but once they read this, I'm sure they'll agree that Nissan continues to make solid vehicles all the way from that 2000 Maxima to the new incarnation of the people moving, sport "ute," looks amazing in red, fuel efficient Rogue.
To save you time digging for their brochure, I've helpfully put it right here for you.
Read more car reviews by Jay!