Words by Jay Kana
"If I had a million dollars, if I had a million dollars,
I'd buy you a house, I would buy you a house.
If I had a million dollars, if I had a million dollars,
I'd buy you furniture for your house, maybe a nice Chesterfield or an Ottoman.
If I had a million dollars, if I had a million dollars
I'd buy you a 2015 Jaguar F-Type R in Italian red with 550 HP, a 5.0 Litre, V8 engine that does 0-100 km in 4.2 seconds."
Truthfully, I'd buy it in any colour.
If I did have a million dollars (up front, in full—none of that installment nonsense), I'd finally be able to put my game of "What if I won the lottery?" into play. While I won't tell you everything that I'd do, I will say that there will be many additions to my wall of guitars, a lot of travelling, some charitable donations and at least one F-Type R.
During my week with the F-Type, I certainly felt like I was part of the million dollar club. The looks that I got, well, the looks the car got, were unmistakeable. There's absolute beauty that radiates from this car and Jaguar has taken such care in crafting such a gorgeous sports car.
I took a trip up to Barrie for dinner on Saturday night and the first part of the night's conversation centered around the car, and I happily obliged about how my past few days have been in the F-Type R: how smoothly it drives, how well it's put together, the attention to detail and how I wish I could take it on the autobahn for a few hours. I took a couple of the guys in attendance for a quick drive after dinner and it's safe to say that they were quite impressed.
The parking lot attendant at the office was speechless when I drove in to work Monday morning. My mother was thrilled, the neighbours slowed down, and me, well, it was a helluva week driving something with 550 HP. I was tempted to speak in a British accent for the week, have an extra dry sense of humor, and watch Top Gear again and again while sipping on tea and munching on crumpets for every meal.
I also took a separate trip up to Barrie to record my annual Christmas album and I managed to fit two guitar cases on/around the front seat. There's hardly any room in the boot… errr, trunk, but then again if you're driving this car, it's probably for pure exhilaration and excitement opposed to how many groceries you can fit. But hey, if you want to make it to the grocery store, by all means, go ahead.
Just don't count on buying more than some milk, pop tarts, eggs and a four pack of yogurt.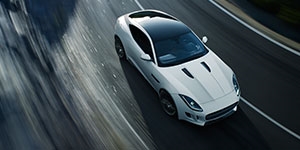 With cars like this seldom coming into my test drive schedule, I made sure to maximize my time in the car and enjoy every single moment in it, both alone and with my driving partner.
To bookend this piece nicely, or at least in my attempt to do it nicely:
"If I had a million dollars, we wouldn't have to walk to the store
If I had a million dollars, we'd take a Jaguar F-Type R 'cause it costs more."
(In reality, it's not too expensive though, especially for a sweet, sweet Jaguar performance vehicle.)

Read more of Jay's car reviews!
2015 Volvo V60 Drive-E T5
2015 BMW X3 xDrive28d
2014 Jaguar F-Type