Words by Jordan Villanueva 
Cancer patients in the Peel and Halton regions will now have a new brachytherapy program at Trillium Health Partners, allowing patients to be treated over a shorter period of time and closer to home.
"By carefully choosing where to place our resources and always striving to be an effective and efficient hospital, we have been able to respond to the most pressing needs of our patients including offering new services, like the brachytherapy program, closer to home," said Michelle DiEmanuele, President and CEO, Trillium Health Partners. "This new program is the latest step in helping us to realize our mission of "a new kind of health care for a healthier community".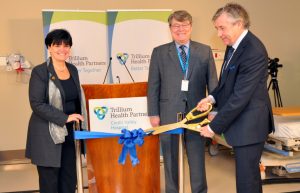 Michelle Di Emanuele, President & CEO of THP; Dr. Craig McFadyen, Regional VP, Mississauga Halton/Central West Regional Cancer Program and Chief of Oncology at THP; Dr. Tom McGowan, Radiation Lead, Mississauga Halton/Central West Regional Cancer Program and Medical Director of Radiation Therapy at THP at the facility's ribbon cutting ceremony.
As part of the Mississauga Halton/Central West Regional Cancer Program, brachytherapy (also called implant therapy) is a form of radiation therapy that places a radioactive substance (like cesium, gold, and iodine) either into or very close to the tumour using special applicators, thin wires, catheters, needles, capsules or small seeds. The radioactive material gives off a high radiation dose to the tumour while reducing the radiation exposure in surrounding healthy tissue. This form of therapy results in less tissue damage and a shorter treatment period for patients.
Brachytherapy is commonly used to effectively treat cervical, prostate, breast and skin cancer, as well as tumours in other areas of the body. The term brachy is Greek for short distance—and this is precisely what brachytherapy is: radiation therapy given at a short distance making it localized, precise and a high-tech form of therapy.
The new program, housed in the Carlo Fidani Peel Regional Cancer Centre at Trillium Health Partners—Credit Valley Hospital, will offer the most advanced High Dose Rate (HDR) treatment for skin cancer. The Brachytherapy Suite itself boasts the largest treatment room in the province with over 700 square feet of space. With a full operating room, medical teams will be able to practice all forms of brachytherapy. The program will also support research, like HDR treatment for cervical, endometrial, prostate and breast cancer, which is currently in development at the Carlo Fidani Centre.
"The Regional Cancer Program can now offer the most advanced and highly targeted form of radiation therapy for patients in our region," says Dr. Tom McGowan, Radiation Lead in Mississauga Halton and Central West, and Medical Director of Radiation Therapy at Trillium Health Partners. "Our communities will not only have the convenience of having this innovative treatment in their own backyard, but our patients will have such added treatment benefits as: less treatment duration for certain cancer types—which means less time in the clinic—and reduced complications to healthy tissue."
Carlo Fidani Peel Regional Cancer Centre
Credit Valley Hospital
2200 Eglinton Avenue West
905-813-2200
1-877-292-4CVH (4284)