Words by Chris Carriere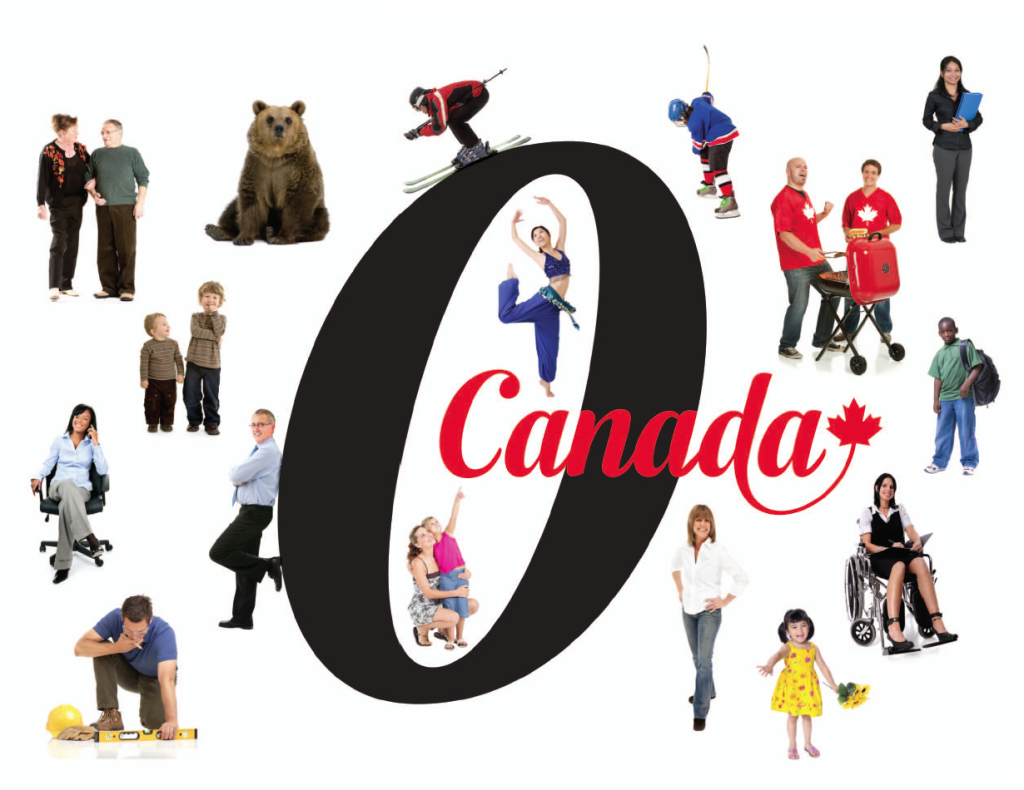 What does it mean to be Canadian?
Journalists, educators, critics and artists have been mulling that question for generations. Something about sitting to the immediate north of the world's cultural and economic epicentre seems to have filled us with a nationwide existential dread, a fear that we are somehow formless and vague.
"Canada," Marshall McLuhan famously opined, "is the only country in the world that knows how to live without an identity."
"One disadvantage of living in Canada is that one is continually called upon to make statements about the Canadian identity, and Canadian identity is an eminently exhaustible subject," Northrop Frye purportedly claimed. Why the decades of hand-wringing? Why are we so hung up on attempts to define ourselves—attempts that seem destined to fail from the outset, doomed by a self-fulfilling pessimism?
One simple reason is that, when it comes to writing, insoluble problems are a lot sexier than telling people that everything is OK. There's nothing inherently cool about fawning over Canada—we're not edgy, dark or intense. We don't do braggadocio or machismo. Well, enough is enough.
I'm going to go out on a limb and propose something pretty radical: that Canada's identity, far from being nebulous or obscure, is clear as day. That we, as Canadians, intuitively share a common vision of who we are that is distinct, positive and powerful.
Imagined Communities
Political thinker Benedict Anderson saw all nations—not just countries as geographically and socially diverse as Canada—as imagined communities. His reasoning is pragmatic: a nation, unlike a village or town, cannot be based on face-to-face interaction. The imagined community of Canada, then, is a collective dream, a communal self-image. It's projected in television shows, in newspapers and magazines and in everyday conversation. Yet we find it difficult to articulate this image, perhaps because part of being Canadian is not wanting to impose your ideology onto other people.
For the May/June issue of Spirit of the City, I wrote "The Diversity Debate," an article that asked a lot of difficult questions about how multiculturalism works, or doesn't work, in Mississauga. Despite their differences, every interviewee was united in the belief that Canada is a wonderful place to live—that the struggle to make it better is worthwhile, because Canada is inherently worthwhile. With Canada Day upon us and "The Diversity Debate" behind us, I felt motivated to point out to our readers what I think is a very reassuring truth: that despite our differences, Canadians do hold a common set of humanistic values. We approached a series of prominent Mississaugans and asked them for their thoughts on what it means to be Canadian. I was pleased, but not surprised, to find that their responses had much in common with my own feelings on the Canadian spirit.
We Contain Multitudes
Neil Pasricha is Mississauga's foremost appreciator-of-things. The creator of 1000awesomethings.com and, now, bestselling author of The Book of Awesome, started his Webby-winning website as a sort of personal therapy. When a close friend took his own life and his wife left him, the Harvard graduate redoubled his focus on the project and transformed personal tragedy into a global phenomenon. Who better to start guiding us towards a clearer appreciation of Canadianism?
"When I think of Canada, I think of two things," Pasricha says. "One is that there are 7 billion people in the world, and 35 million in Canada. Divide 35 million into 7 billion and you get 1 in 200, which means our odds of being here are 0.5 percent.
"The next thing I think about is the United Nations Human Development Index and other quality-of-life rankings. Canada is always at the top or near it. This is the greatest place in the world to be, and we're so lucky to be here."
But Pasricha is practical; he acknowledges that we seem to struggle to parse our own identity. For him, that's because Canada, to paraphrase Walt Whitman, contains multitudes. "The beauty of Canada is that you can find anything. We have trouble defining it because it is whatever you want it to be—but that's awesome," Pasricha says. "Debate is embraced, views are encouraged, opinions are asked for; the basis of our dialogue inthe country is creativity, innovation, liberal-mindedness, ingenuity, changing the world, entrepreneurship."
This same astonishing multiplicity was one of the key points that arose out of "The Diversity Debate." But our tolerance for multiplicity goes beyond issues of race. This nation, sometimes criticized as being too demure for its own good, sits on the cutting edge of social politics; we were the fourth in the world to legalize gay marriage. Gay, straight, transgendered, black, white, East Asian or Indian, Canada has a place for you to build a life. Scholars and theorists will rightfully point out that inequalities remain, yet our recent track record is stellar.
A Just Society, a Civil Discourse
Which brings us to another pivotal Canadian question: just how do we manage to get along, despite our differences? One popular myth of Canada is that we don't have guns. Well, I'm here to tell you that we do have guns; we just don't point them at one another and pull the trigger. In terms of per-capita firearm ownership, we are ranked 14th in the world. Yet in 2007, Canada was ranked 34th in the world in terms of gun-related homicides. Is civility, then, a part of Canada's DNA?
John Fraser was Peel's Director of Education until he retired in 1994. For young residents of Mississauga, he's probably best known as the namesake of a public high school across the street from Erin Mills Town Centre. For those of us who have met him in person, he is a frighteningly spry and clever octogenarian, capable of besting this young man with a barb when the occasion calls.
"I like to think of Canadians as being civil, in a world where civility is somewhat hard to find," Fraser says. "I'm disappointed when I see people who could be statesmen in this country—prime ministers, for example—who fail to act like statesmen."
It might seem disparate to equate a lack of violent crime to the expectation of civility, but to me, both are bound up in a singular system that results in what we see on the street, day after day, and perhaps take for granted: people respecting one another. When we interviewed Mississauga sci-fi genius Robert J. Sawyer about his latest novel, Triggers, Assistant Editor Leo Graziani asked about his decision to set the book, which hinges on a presidential assassination, in the United States. His reasoning underscores Canadian respectfulness: an assassination plot is incredibly difficult to imagine here. That level of antisocial rage just doesn't exist.
"There are lots of people who are furious at Stephen Harper, just as there were lots who were furious at Jean Chr?tien before him," says Sawyer, "but the notion of a Canadian actually eliminating the prime minister through assassination…just goes against the grain of who Canadians are."
It's an attitude that extends into the way we engage in discourse in this country. Stuart Keeler is the Art Gallery of Mississauga's new curator, but over the course of his professional life he's lived and worked in Atlanta and Chicago, two of America's most racially divided cities. "In Atlanta, there's a black mayor, a black city council, and all of that is great and empowering and I loved it. But being the only gay Caucasian male in the room…well, reverse racism in Atlanta is a matter of course."
One of the things that attracted Stuart to the AGM curator post is Canada's lack of the sharp, polarizing divisions that characterize American race relations. "Chicago was very divided along ethnic lines, but the main conversation is between black and white, north and south. When people from the States come and visit, they are always surprised and delighted by the non-issue; that there isn't that polarity."
"A Canadian doesn't need to wave a flag to feel like he has a lot of pride in his country. Patriotism here is done in a quiet, more understated way; yet it's as solid as any patriotic feeling could possibly be in this world." —John Fraser
A Quiet Pride
One school of thought says that what undermines Canadian identity is our reticence towards displays of nationalism. But I'll be honest: I like the way we do things, and I don't think that gentleness or an absence of chest-pounding equates to weakness. Having experienced eight years of scary Bush-league imperialist rhetoric during the noughts, I think most of us will agree that there's a fine line between pride and prejudice—between liking where you're from, and buying into Manifest Destiny. And it doesn't mean we aren't proud.
"A Canadian doesn't need to wave a flag to feel like he has a lot of pride in his country," says John Fraser. "Patriotism here is done in a quiet, more understated way; yet it's as solid as any patriotic feeling could possibly be in this world." Mississauga's Billy Bridges is arguably the most dominant sledge hockey player in the world of Paralympic athletics. While spina bifida confines Bridges to a wheelchair, his indomitable will has made him the star of Canada's champion sledge hockey teams for 10 years. Asking what Canada means to him prompts an immediate smile.
"Canada means so much to my wife and I that we decided to get married on Canada Day. I've been all over the world and to be so well received wherever I go, just because we're Canadian—well, it means a lot."
Or, consider famed Canadian skater Barb Underhill's moving recollection of the Lake Placid Winter Olympics in 1980. "Every time that I look at our flag or hear our anthem, I remember the whole place at the Olympics going crazy for Canadians because of what was going on. [The Canadian embassy had smuggled Americans out of Tehran in what became known as the Canadian Caper.] I just felt so proud to be a Canadian, because it gave me a chance to achieve my dream. Now, as a coach, I'm so fortunate to do something I love every day and to play a small role in helping other people's dreams come true."
Aspiration and Inspiration
After all of this backslapping, I can already hear the niggling, pessimistic voice that's erupting at the base of your brainstem right now. Don't worry, I hear it too. It probably sounds a lot like what Occupy protestor-cum-spokesman Kevin Konnyu told us when we asked him what he thought about Canadian identity: "As a kid I would have said being Canadian means standing for peace, justice, equity and human rights. The Underground Railroad. Peacekeeping. The Charter of Rights and Freedoms. Opposition to apartheid. But as we soldier on in our 11th year of war in Afghanistan, as First Nations communities struggle in third-world conditions, as police round up the largest mass arrest in Canadian history in 2010 at the G20 summit and the response by many is 'You should have stayed at home'…you realize that Canadian identity is a series of narratives that tell the nice bits but can leave out continuous threads of great, systemic and ongoing injustices."
And, of course, he's right, isn't he? Canada is not without its original sins, its foibles, its quagmires and quarrels, its injustices. Then again, no nation is. Konnyu's words illustrate something critical about this search: that part of what seems to restrain us from embracing a positive sense of identity is our inherent modesty—but that modesty is important, as well. Because, to confront just one of Konnyu's examples, although some might place the blame on the G20 protestors, I think the majority of us feel that what happened during the summit represented a tremendous failure of a major Canadian institution, over which heads should, and will, roll.
In the end, it's our ability to be critical of ourselves, to look in the mirror and evaluate honestly, to demand more, that drives Canadians to be ever in search of the elusive "just society." And that, I believe, is the image of ourselves we should cling to.
 ***
Our Mayor and City Councillors on Being Canadian
"I'm proud to live in the best country in the world where individuals enjoy many freedoms, multiculturalism is encouraged and celebrated, and people co-exist in relative peace and harmony."
—Mayor Hazel McCallion
"To me, being a Canadian means we don't have to live or work in fear. We are a peaceful nation, where everyone has a right to education, employment and social support. Canada is one of the world's most respected nations—I'm very proud of the country we are helping to build."
—Councillor George Carlson, Ward 11
"Canada today is the world in a teacup. It's known for the Charter of Rights and Freedoms, and it's a beacon where people of different races, religions and cultures can live, work, pray and play together in peaceful and respectful co-existence."
—Councillor Bonnie Crombie, Ward 5
"Being Canadian is about demonstrating acceptance for who we are and where we've come from while at the same time enjoying the freedoms and responsibilities that come with living as caring citizens and residents in this beautiful country we call home."
—Councillor Sue McFadden, Ward 10
"To me, being Canadian means being free in a safe society that provides unlimited opportunities for personal and professional development for everyone. I am proud to be a Canadian because of Canada's contribution to the peace of the world which has earned the world's respect."
—Councillor Pat Mullin, Ward 2
"Every morning I'm thankful for three things: that I'm married to a woman like Lee, that we have a wonderful son like Daniel and that I was born in Canada. Being Canadian means everything to me."
—Councillor Jim Tovey, Ward 1