The Ontario Election is coming up in just eight days, so in light of that, we have compiled the main points from the platforms of the Progressive Conservative party, the Liberal party and the New Democratic Party from their websites.
Progressive Conservative
"Here's what I believe," says Tim Hudak on the Progressive Conservatives' online platform. "Government is not just about politics, it's about people and potential. Ontarians want good jobs, a chance to earn higher pay, public services of which we can all be proud, safe communities to live and work in a future in which our children are better off than we are today. We have a plan to create one million good-paying jobs and get Ontario working better."
– Review every government program, keep those that work, fix those that require it and cancel the ones that don't give taxpayers good value.
– Reduce the number of ministries and the number of cabinet positions from 27 to 16.
– Implement a two-year pay freeze, by legislation if necessary, that will apply to all public servants, including MPPs, senior civil servants and the more than 4,000 collective bargaining agreements across the entire public sector as part of our comprehensive plan to control government spending.
– Decrease the number on government payroll by 100,000, about 10 percent based on the size of government in 2009. Vital frontline services such as those performed by nurses, doctors and police will not be affected.
Health Care
– Build a health care system that treats chronic diseases.
– Deliver care closer to home by expanding home care and long-term care availability.
– Give patients more choices under OHIP.
– Make mental health a priority.
– Keep our children active.
Education
– Introduce province-wide standardized testing for Grade 8 and a strong financial literacy curriculum.
– Give every student top-quality math education.
– Reduce non-core areas of spending. In Ontario, $8.5 billion is being spent on education compared to what was spent 10 years ago, to teach 250,000 fewer students.
Liberal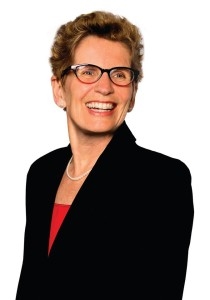 "Immediately prior to this election, on May 1, we presented our 2014 Budget: Building Opportunity, Securing Our Future," says Premier Kathleen Wynne. "Our 10-year plan for the economy focuses on investing in people, building modern infrastructure and supporting a dynamic and innovative business climate. It lays out a plan to balance the budget by 2017–2018, while making strategic and fully costed investments in key public services and to help grow the economy."
– A 10-year, $2.5 billion Jobs and Prosperity Fund that will help Ontario grow key sectors by attracting and partnering with business and creating jobs.
– A 10-year, $130 billion commitment to infrastructure projects that will support 110,000 jobs each year. This includes $29 billion in dedicated funding for transit that will help Ontario build much-needed transportation projects across the province as well as $11.4 billion for major hospital expansions or redevelopment, and $11 billion in new schools and repairs.
– A made-in-Ontario solution to the looming pension crisis. The Ontario Retirement Pension Plan will begin in 2017 and help Ontarians retire with greater income security.
– Investing $1 billion in Ring of Fire infrastructure to support smart, sustainable and collaborative development in the area.
– Introducing a primary care guarantee that, within four years, will provide all Ontarians with access to a primary care provider.
– Improving quality of care and reducing job turnover by increasing personal support worker wages by $4 an hour over the next three years.
– Ensuring quality childcare outside of the public school system by providing a wage increase of $2 an hour over the next two years for early childhood educators.
– Providing better services for people with developmental disabilities and increasing support for caregivers and their families, with investments of $810 million over three years. Part of the investment will include $200 million to support wages for front-line workers.
New Democratic
"This is my plan," says Andrea Horwath. "We can make life more affordable for families. We can create jobs by supporting our local companies and small businesses. We can end the waste of your tax dollars and invest in healthcare and education."Reward job creators and small businesses, fostering emerging industries and attracting manufacturing jobs.
– Reward job creators and small businesses, fostering emerging industries and attracting manufacturing jobs.
– Investment in public transit to decrease commute times and congestion.
– Reduced hydro and auto insurance rates; also promises to stop unfair hikes on natural gas bills.
– Invest in transit, local hospitals and more childcare spaces.
– Cut ER wait times in half and make health care a priority.
– Invest in health clinics, hire more nurses and guarantee home care beds are available within five days to ensure timely care.