The Ontario Election Leaders' Debate aired Tuesday night on major news channels featuring Premier Kathleen Wynne for the Liberal Party, Tim Hudak for the Progressive Conservatives and Andrea Horwath for the New Democratic Party, in a question and answer battle which replied the most popular questions Ontarians had for the leaders.
The main topics of the debate included the gas plant controversy, energy and electricity, jobs and economy, debt and the deficit, transit and infrastructure, and education.
Prior to the debate, Ipsos polled about 3,000 Ontarians who were planning on watching and asked which leader would win the night. From the poll, 32 percent thought Wynne would win, with 24 percent for Hudak, 17 percent for Horwath and 27 percent were undecided. After the debate, an Ipsos Reid survey showed that 36 percent of viewers thought Hudak led the debate, 27 percent thought Wynne won, and 26 percent favoured Horwath.
Bold statements were made from all parties in their closing statements.
Hudak said, "There's only one leader standing on this stage tonight who's been direct with you, who's been honest, and who's laid out a plan to bring jobs back to our province and reduce spending in Ontario. I made a commitment tonight as well: that if I don't actually carry out my plan, I'll step aside. I'm so confident that my million jobs plan will bring Ontario back to work. That's my commitment to you."
Next, Horwath said, "There's no doubt you have a very important decision ahead of you. You don't have to choose, however, between a corrupt Liberal government that wastes your money and a Tim Hudak plan to fire 100,000 people. You can choose a party that respects you with a plan that makes sense."
Wynne ended the debate by stating, "You're facing a choice between our party that is bringing you a plan that will move us forward; that will make the critical investments in people and in their talent and skills, and in the infrastructure that we know is needed in order for us to compete, and invest in a business climate that is going to allow businesses to thrive and allow them to expand and compete in the 21st century."
Quick links: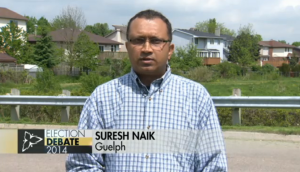 Question one came from Suresh Naik from Guelph regarding the ethics of government. To Kathleen Wynne he asked, "How can I trust a Liberal government with my retirement money when they squandered a billion dollars on a gas plant scandal and then tried to hide it. How can I trust there will be money left when I'm ready to retire?"
Wynne apologized and took responsibility for the decision to relocate the gas plant, which is costing tax payers $1billion over the next 10 years. "I know people are still angry and you have the right to be angry," she said, "because there was a breach of trust between the people and the government."
Horwath jumped in and responded to Wynne's apology, "The Liberals have betrayed you and they have wasted billions and billions of your dollars. I'm quite concerned that we won't see anything different coming forward. New Democrats have demonstrated very clearly that we listen to you."
Hudak chimed in, addressing Wynne's ethical decisions. "You were the one with the document in front of you. You were the co-chair of the Liberal election campaign. Yours is the signature on that contract that sold taxpayers up the river. You had a choice. You had an opportunity. You could have said no and saved us a billion dollars. It was in front of you—why didn't you just say no."
The grilling from Horwath and Hudak led Wynne to apologize again to Ontario.
The second question came from Zeeshaan Mustafa from Ajax. He asked, "What will your government do to ensure that energy in Ontario remains affordable and regulated in the best interest of the consumer?"
Horwath replied, saying the NDP plans to collapse the electricity system from four different agencies to one. They want to save on bureaucrat salaries and cap the salaries for not only the CEOs of hydro companies but also across the public sector. The NDP also want to take HST off Ontarians' hydro bills to give them a break.
Hudak stated his plan is to take $20 billion out of hydro costs by turning off the tap on expensive subsidies for wind and solar.
Wynne later stated, "The investments that we have made to build more than 10,000 kilometres of transmission lines were desperately needed to make sure the lights go on when you turn the switch on."
Hudak claimed the hydro bureaucracy has mushroomed in size. About 11,000 people at Ontario Hydro are making $100,000 a year or more. Hudak plans to downsize this.
The third question came from Debby Lovegrove from Peterborough to Tim Hudak. She said, "On the one hand you say you're going to eliminate 100,000 public service jobs, and in the next breath you say you're going to have one million new jobs. It doesn't compute for me—how are you going to do that?"
"We need to balance the books," said Hudak. "Just like at home, if you're running up the credit card bill you actually have to spend less. We'll go from 1.2 million to 1.1 million positions on the payroll. The vast majority of those positions will be through retirement people who leave the civil service."
Wynne responded by saying that she plans on investing in education, infrastructure and business. Having the government partner with businesses will bring jobs so they can expand from traditional to advanced technology, she said.
"[Hudak] would not have worked with the auto sector or supported the auto sector at the time when it was going through a crisis," said Wynne, criticizing Hudak's approach with businesses. "He would have walked away from partnerships that would have allowed us as an economy to expand."
To this remark, Hudak made a bold statement claiming he is so confident in his plan that if he doesn't carry it through he will step down from office.
Horwath said the NDP would reward job creators with tax credits. They would also lower the taxes for small businesses that create a lot of jobs in the province.
Question four came from Waterloo resident Anthony Hill and was directed to Wynne. "In order to eliminate the deficit by 2017, with population growth and inflation, we'll need to make approximately $10 billion in spending cuts. What programs are you planning to cut in order to meet the deficit reduction figures detailed in your party platform?"
Wynne responded that the Liberals will ask the top 2 percent of earners to pay a bit more, but they do not plan to raise HST or gas taxes. The party has a three-year path to balance. This will happen by making investments in order to make the economy grow.
Hudak answered Hill's question by stating that PCs will implement a two-year wage freeze, starting with the politicians. "I don't think it's fair to increase taxes to pay for more raises for government workers," he said. "There will be no wage increases for at least two years before we balance the books."
Horwath chimed in, saying the NDP would raise the corporate tax rate in the province by 1 percent to help achieve these goals.
Hudak was firm with his remarks. "If you think taxes are too low, then vote for Kathleen Wynne or Andrea Horwath. I think that's going to cost us jobs. If you want to balance the budget, you need to reduce spending."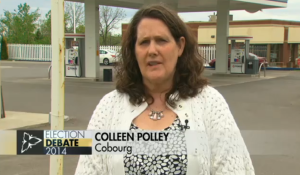 The fifth question came from Colleen Polley from Cobourg. She asked, "Do you think that Ontario drivers should have to contribute to the Toronto transit system when Torontonians, who use the transit system, are far better off than someone who has to drive their vehicle to work and has car payments, insurance, gas bills, and wear and tear on their vehicles?"
Horwath said the NDP are committed to getting a 15 percent reduction in auto insurance rates. They plan to invest in roads and highways; a 60 kilometre investment each year.
Wynne stated that the Liberals would invest $29 billion in infrastructure (roads, bridges and transit) divided between the GTHA ($15 billion) and outside of it ($14 billion).
Hudak said, "Our plan will ensure that every municipality gets their fair share of gas tax revenue for transportation, and I'll let local councils decide if they want to put in roads, bridges, subways or buses. Secondly, I want to make sure that we get Toronto moving again. My plan is to make sure we make subways in Toronto, starting with an east/west across town, then north of Richmond Hill and then north of Scarborough."
The final question was from Newmarket teacher Louise Howlings. She asked, "What specifically will you do for Ontario's elementary and high-school students, and to encourage hard-working teachers to remain in their positions and not be afraid for their job security."
Hudak criticized the province for spending $8.5 billion more on education despite the fact that there are 225,000 less students. Despite the costs, there is still a decline in math test scores. His party plans to bring specialty math teachers into classrooms and implement a Grade 8 science test.
Horwath, on the other hand, does not believe in creating "chaos" in districts. "I wouldn't pretend I can dictate what should be a process of discussion when dealing with your agreements," she said. She pledges $100 million to stabilize childcare systems. Horwath also believes there are too many kids going to school on empty stomachs. The NDP want to expand breakfast nutrition programs for our youngest children. They also plan to keep schools open in the evenings and on weekends, so young people have an alternative to hanging out.
"One of my goals is to have the best teachers possible for our kids," responded Hudak. "I want to see a teacher in front of the class who is going to inspire."
The Liberals believe in funding schools so students are able to compete in the 21st century economy, which means investing $150 million to make sure kids have the right tools so they can compete and go to post-secondary institutions or learn a skill/trade.