Words by Jay Kana
Photography by Ashleigh Stevens
*This post contains an invitation to go into a corn maze.
The Halton Region Pumpkin Trail runs for the month of October and it connects and promotes a variety of fall products in the close-by Halton Region. With several farmer's markets, restaurants, attractions and events, there's plenty to choose from. With a sunny Saturday set aside for this trip, here's a summary of my travels:
My first stop was Busy Liz's Farm Shop, where there's gorgeous scenery and a selection of pumpkins, gourds, squash, pies and decorations. A quaint roadside shop, Liz's is definitely worth stopping into.
Next up was the fabulous Stonehaven Farm Market. I spent a great hour and a half with the co-owner, Heidi Trenwith who walked me through the history of Stonehaven and how they're a key supplier of fresh strawberries for numerous grocery chains and farmers' markets. They boast a huge pick-your-own pumpkin patch, a market loaded with amazing offerings, a kid zone, very friendly staff, tractor rides and…and..a gigantic corn maze! If I had an extra hour, this whole post would be about me and the maze.
I picked up a bottle of Rootham's Fire Roasted Red Pepper Ketchup because really, based on a name like that, how can it possibly be bad? Also, the sample I had scored 11 out of 10 based on the very particular Kana Scale. I had a cup of cider on the way out and left this local gem with a pumpkin that'll show up on my doorstep on October 31.
Definitely check this place out and tell Heidi that Jay sent you.
Lunch was at the beautiful Mowhak Chophouse at the corner of the 401 and Guelph Line. A chef driven upscale casual restaurant, this was one of my favorite lunch spots in recent memory. My photographer, Ashleigh, and I started with the artichoke, mushroom and preserved tomato bruschetta and a pound of hot flavored chicken wings. The bruschetta was full of flavor and presented beautifully. The wings…Oh those oh-so-tasty wings! Those incredibly, tasty, juicy, amazing wings.
They say "go big or go home," so my main course was the Farmer's Platter, consisting of grilled pork loin, home-made sausage, pork schnitzel, perfectly grilled side bacon and mashed potatoes. It was so big that I couldn't get a picture of it. Seriously. I also had a side of saut?ed mushrooms, which were also great. Ashleigh had the Cobb salad and she truly enjoyed it.  Definitely worth going to for great food and great service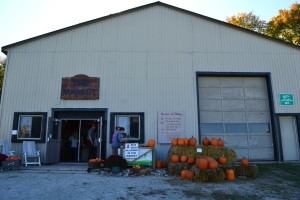 Wheelbarrow Orchards was next on the list. In the few years that it's been owned by Heather and Brad, they've grown hundreds of more apple trees with hundreds more on the horizon. Their "Harvest Goodies" products are mouth-watering—so much so that I picked up two bottles of zucchini salsa, a bag of apples and a jar of pickles. They have very friendly staff and boast nine varieties of apples. Small yet mighty check out their website, or just head out to see them.
The tail end was at Crawford's Village Bakery. Here's a bit of Canadiana for you: Lucy Maud Montgomery, the author of Anne of Green Gables, resided in nearby Norval for nine years during the time some books were published. They have her preserved cook book on-site.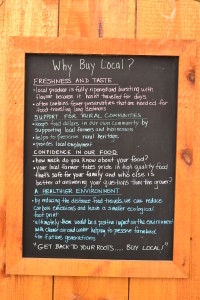 Full of great treats, this is a great stop if you're into scratch bakeries and a chocolate shop. I had to buy a piece of dark chocolate shaped like a guitar. Yup. No choice. Had to be done.
Look 'em up on the Internet, they're there.
So there you have it. An account of what I did this past Saturday. For more info, check out Halton Region's website and the Heart of Ontario website.
If you're up for the Corn Maze at Stonehaven, I'd love  go with you. But there's only two weekends left so don't put this off.