You get what you pay for" is an old adage but one that's especially true when it comes to food, says restaurant owner Tony Pereira. "We go out of our way to provide the best quality ingredients and the most attentive service possible, both in the restaurant and at our catered events."
Pereira likes to move when he talks, quickly moving to greet new customers or familiar faces. "Rogues Restaurant is still going strong after 31 years for a reason: we never let our menu get tired."
But it takes more than great food. At Rogues, he says you can expect traditional fine dining with a twist. "The Wild Game Festival is something I started nearly 30 years ago," says Pereira. "They thought I was crazy, and now it's huge."
Through the years, their Wild Game Festival has featured elk, caribou, deer, buffalo, water buffalo, kangaroo, duck, pheasant, quail and even rattlesnake. "You know, with rattlesnake I never had a chance to try it myself. After the first few days it was sold out!"
Looking at January, Rogues has another tradition on offer. "During the Christmas season we eat so much meat that I thought, 'let's give our guests a break and have a Fish Festival from January 10–31.' Fishing in winter is challenging, so selection can vary."
Rogues has some signature dishes, each with their own speciality sauces. Pereira recommends their shrimp and rack of lamb in particular.
"We make our sauces from scratch, roasting the bones then simmering them overnight with herbs and spices the old-fashioned way to a savoury reduction. It's time-consuming and a little more expensive," but obviously, well worth the effort.
Their techniques are a reflection of an authentic connection to the northern Italian blend of French, German and Swiss cuisine.
A quick tour of Rogues shows off a few surprises. For instance, they have no freezer—everything is always fresh. "We just order the food we need the night before, and it's delivered first thing in the morning every day. The markets are nearby and we make a real effort to buy locally, especially in the summer for exotic veggies and mushrooms," indicates Pereira.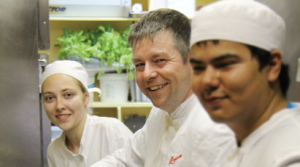 He suggests that together with their approach to local food and authentic techniques, it's also their creative flair that sets them apart.
"Everything is made here with the exception of course of most meats and vegetables," says Pereira. "We smoke our own meats, our pat?s are made here, we don't use chemicals and we make our own ice cream and sherbet."
That's why their staff stays, he says—they get to make things at Rogues, they get to create. Many of his 33 staff members have been with the restaurant for over 20 years. Head Chef Bevan Terry has been cooking at Rogues for 25.
Rogues has 700 different wines, most of which are private labels unavailable at the LCBO. Pereira notes that wine buying has changed dramatically from simply French, Italian and German selections to a worldwide range of choices from all the wine-producing regions. This includes Canadian wines as well.
Although they don't create their own label at Rogues, they do enjoy a lot of wine tasting. Otherwise, "how [would] you know what they're like? Every month we do a lot of sampling, and some wines are not as good one year as they were the last. So we have to keep track."
"We sell a lot of ice wine from local vineyards," he says. He walks over and pulls out a dusty bottle of port from 1887. When asked if it's still drinkable, he laughs and says of course—it just gets better each year!
2014 at Rogues will start off with a week of renovations, putting in new carpeting and painting the walls; all part of Pereira's belief that they're not getting older, they're just getting better.
Rogues Restaurant
1900 Dundas St. W.
905-822-2670
roguesrestaurant.com