A classic restaurant serves exquisite dishes.
Words by Tara Pepper
Bobby and I were looking for somewhere different to go for dinner recently and Terrace on the Green came to mind. It had been years since we'd been to this establishment, tucked away on a hill north of the 401 on Mississauga Road. It used to be called Someplace Else, and I remember going there for many business lunches. It still caters to the business crowd, but with such beautiful grounds and surroundings, it's also lovely for weddings and celebrations.
We were seated quickly even though we were early for our reservation. The room was comfortable and there were already quite a few tables full of diners who all seemed to be having a good time. I think there were two weddings that day, but the atmosphere was quiet and tranquil. Beautiful windows surround the dining room, allowing for gorgeous views to the outside splendour while we pondered the menus. Lots of dark wood, stained glass and sunlight streaming through the windows added to the ambiance.
We decided to start with our typical vodka martinis ($13) and I was surprised at the underlying sweetness in mine even with the twist of lemon. A little more vermouth than I'm used to, but it was incredibly smooth and tasty. Bobby's had enough olives in it to have the appetizer covered!
The menu was interesting, if slightly old-fashioned. All the classics were there: Caesar salad, cheese plates, French onion soup, and lobster mac and cheese along with a host of seafood delicacies ($11–18). Bobby decided on the grilled calamari ($15) since it's a favourite of his. Tender rings of fire-grilled calamari were served with tart caperberries, fresh cherry tomatoes and roasted garlic tossed in a brown butter vinaigrette. It was best when I had a little of each on my fork; the tastes did a pleasant dance on my tongue. I decided to go for a blast from the past and have escargots in mushroom caps ($15) floating in garlic butter and smothered with cheese. The marriage of the combined flavours reminded me how much I like this dish—it was good.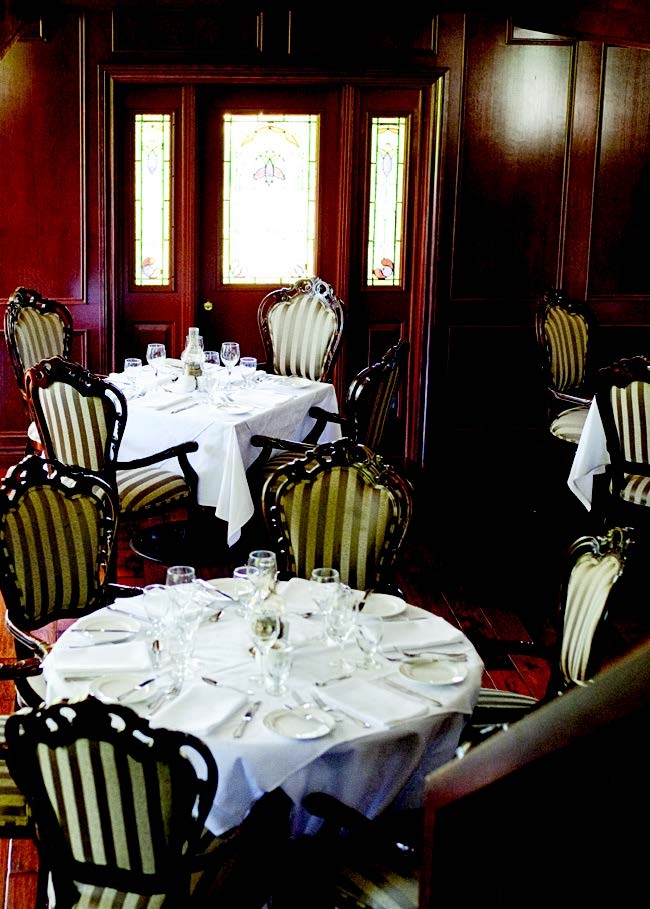 For wine, we chose the 2010 Chateau Tanunda Grand Barossa Shiraz ($65). It was lovely; peppery yet fruity, dry and flavourful. It paired nicely even though it was a little heavy for our dinner choices.
For our mains, Bobby decided on the veal chop special ($42). He was served a generously portioned chop on the bone, which adds to the flavour. It also had a nice sear that significantly added to the delicious taste of the meat, and was served with mashed potatoes, green beans, carrots and parsnips. The veggies were perfectly cooked, bringing out their individual flavours. What I noticed most were the carrots, which were also served with my meal. They were of heirloom varieties ranging from orange to almost red, and they were so sweet you could swear they added sugar—but they didn't. Delicious!
I chose the sea bass and scallop duo ($48) and was amazed at the huge fillet that was served to me. I love sea bass when it's properly cooked; dense and meaty yet flaky and juicy. The scallops were expertly seared and delectable, and served with those wonderful carrots.
For such a lovely restaurant, I was a little disappointed in the service. We poured our own wine, I had to ask for the bread basket to be brought back when it was abruptly removed from our table before the mains arrived, and I felt rushed when placing our orders at the beginning and again when ordering dessert the instant our dinner plates were removed. We hadn't even finished half the wine. I asked to wait a bit so we could savour the rest and I don't think that went over very well. I was a bit taken aback; it's not like there was a lineup waiting to get in or the dining room was waiting for its second seating. Bobby and I took our time anyway and enjoyed the evening nonetheless.
Dessert was lovely. Although we were full, we still decided to have the warm ginger caramel spice cake ($9), a decadent treat served with vanilla ice cream and fresh berries. It was mildly spicy and tantalizingly sweet, and made for a great ending to a good meal. I really must learn how to make this for myself.
There you have it. Another great meal. If you're looking for a romantic spot for a tasty dinner, try Terrace on the Green. You'll be glad you did!
Terrace on the Green
8672 Mississauga Rd., Brampton
905-459-4447
terraceonthegreen.com