Words by Tara Pepper
Bobby and I were looking for somewhere new and exciting to go for dinner and we decided to give Bistro Narra a try—and I'm sure glad we did! It was a great night and a memorable dinner.
Located on Thomas Street close to Winston Churchill Boulevard, Bistro Narra has been open since December 2010. Who knew? Owned by the same folks that run The Apricot Tree at Sherwood Forrest Village, it's a small, modern space with a great vibe. We were greeted warmly at the door and quickly seated at a table. The staff were friendly, accommodating and attentive. But what would the menu bring? I was excited to try something new.
We decided to start with cocktails while perusing the menu. I opted for the Lychee Narra Tree Martini ($9.50), with vodka, lychee liqueur, pear juice and lychee puree—it was very tasty and refreshing. Bobby had a Berry Wildfire ($8.50), with Canadian whisky, cranberry juice and raspberry pur?e. It was also very good, and a great way to start the meal!
The menu, while not huge, has something to suit every taste. They offered a tasty-looking four-course menu ($28) with an appetizer, entr?e, dessert and a secret surprise, but Bobby and I wanted to try a number of different dishes. As we were deciding on what to order, we munched on delicious fresh-baked bread served with some amazing butter spreads—it took basic bread and butter to a whole new level!
We sampled a few different dishes for our appetizers. Bobby chose ahi tuna tartare ($12) and was delighted with the flavours of ginger, soy, pickled daikon and yuzu sorbet. I chose scallops with cauliflower pur?e and fris?e ($12) and was amazed at how delicious it was. It was smooth, creamy and simply exceptional. Yum!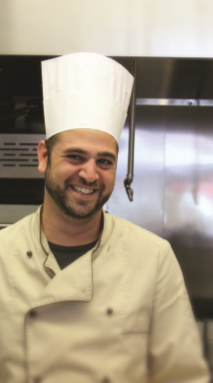 While we were enjoying the appetizers, we chose a bottle of Rodney Strong Russian River Valley Pinot Noir 2011 ($48) and it perfectly matched the food. It also brought back fond memories of our trip through that area of California. For our second appetizers, Bobby had the grilled calamari ($11) and again, it hit the mark—grilled to perfection with a great seared bite. I decided on the warm wild mushroom salad ($9) and was thrilled with the combination of the warm mushrooms, cool greens and vinegary dressing. I could easily make a meal out of a few different appetizers.
I was full by the time our mains arrived but enjoyed the Muscovy Duck breast ($26) with a delicious orange and mango coulis, served with leek, bacon dumplings and glazed baby carrots. I loved the richness of the duck and the pairing of the sweet/tart flavour of the coulis made my taste buds pop. Bobby's fillet of beef ($26) served with blue cheese souffl?, asparagus tips and port syrup was also very good. The beef was tender and flavourful, and the dish was nicely presented. There are many other choices on the menu that I'd like to go back and try—the cr?pes and pastas sound very interesting!
I don't know how we managed to have enough room for dessert but I ordered it anyway. I couldn't leave without trying their cr?pe gratin ($7), with fresh fruit, Grand Marnier sabayone and raspberry sorbet. What a great taste sensation: warm, cool, creamy, with a bite of liqueur—what more could you want in a dessert? The Toblerone chocolate fondue is calling my name as a must-try for next time!
Next time you're looking for something different and fun, give Bistro Narra a try—you'll be glad you did!
Bistro Narra
3030 Thomas St., Unit A404
905-567-8555
bistronarra.com
Check out my weekly blog, Tara's Tales and Tastings, on www.mississaugalife.ca. It's published every Monday and contains articles about food, events, recipes and even the occasional rant when the mood strikes! Enjoy!