Words by John Fraser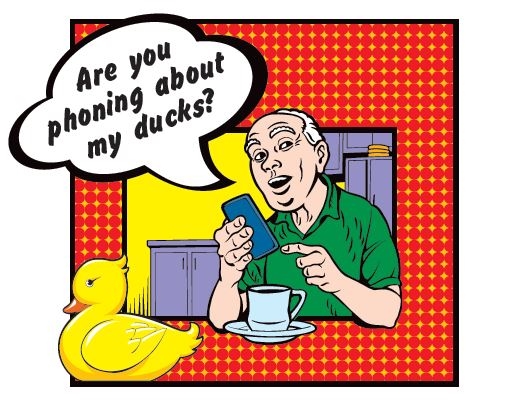 The phone rang.
"Hello?"
"Is this John Fraser?"
"Are you phoning about my ducks?"
"Excuse me?"
"My ducks, my ducks… seems like you phone every second day about cleaning my ducks. I keep telling you, I don't have any ducks but I do have a golden retriever that could use a good bath."
"Sorry, but I am not calling about your ducts. I'm calling to tell you that you've won—"
"Right, another free cruise in the Caribbean, I suppose? Not catching me on that one again. Last time you cost me $75. What did I get for it? Zilch, nada, no more, no thanks."
"Please, if you'll let me explain. I'm not selling anything. You attended the Starr's on The Credit fundraiser for the Trillium Hospital. You signed up for item 76 in the silent auction. You were the only bidder and so item 76 goes to you. Congratulations!"
"Really? Sorry about the rant. I'm just a little phobic about phone solicitations. That's terrific news! My grandson will be delighted."
"Your grandson?"
"Yup. He's keen about hockey. He plays goal—he's nuts about the game."
"Hockey?"
"Hockey. Our national sport. Surely you've heard of it?"
"Of course I've heard of hockey. And my name is Alice, not Shirley."
"Well Alice, this is great. I suppose you want my Visa number. $35, right? Where do I pick it up?"
"Whoa, hold on, I think there's been a little mix-up."
"What mix-up? I'm John Fraser and I was at the fundraiser on Thursday night and I bid in the silent auction for a goalie stick personally autographed by Johnny Bower. I'm blown away that I got it for only $35. It wasn't a genuine game stick, but the autograph is real. Randy—that's my grandson—he'll be over the moon. Where do I pick it up? Hold on, I'll get my credit card."
"Sorry, but I think your grandson is going to be disappointed."
"Why? I told you he's crazy for hockey."
"Item 76 is not an autographed hockey stick."
"What is it, if it's not a Johnny Bower hockey stick?"
"It's $480 worth of personal relationship counselling."
"Personal relationship counselling?! What's he going to do with that? He's not married. He's only 10; he doesn't even have a girlfriend!"
"I don't know, but you're John Fraser and I obviously have the right phone number."
"I didn't sign up for relationship counselling. I'm not married and I haven't been for 25 years since my fourth wife left me. What do I need with relationship counselling? Listen, just give me the hockey stick and forget about the counselling."
"I'm sorry, Mr. Fraser, but it doesn't work that way. You are responsible for whatever you sign up for and you signed up for $480 worth of relationship counselling. Perhaps you could give me your Visa number."
"But what about Johnny Bower's goalie stick?"
"I just checked on it: item 75 went for $200 to another gentleman. Look at it this way: you get $480 worth of counselling for only $35. That puts you $445 ahead. Maybe you could sell it on eBay?"
"Well, thanks for nothing Alice. Guess I'll head over to a sports store and pick up a goalie stick. Maybe en route I'll run into some gal who's as big a loser in the relationship game as I am. We could take counselling sessions together. I'd split the $480 with her even-steven."
"That sounds nice."
"By the way Alice, you don't happen to be married, do you?"
---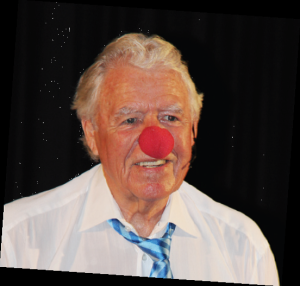 John Fraser is a comedian, actor, speaker, special event cause celebre, and general gad-about. Need an entertaining speaker? He's the guy for you! iloveaging.com | [email protected].